Palafox Sangria
Drink pairs well with apps and a cool outdoor setting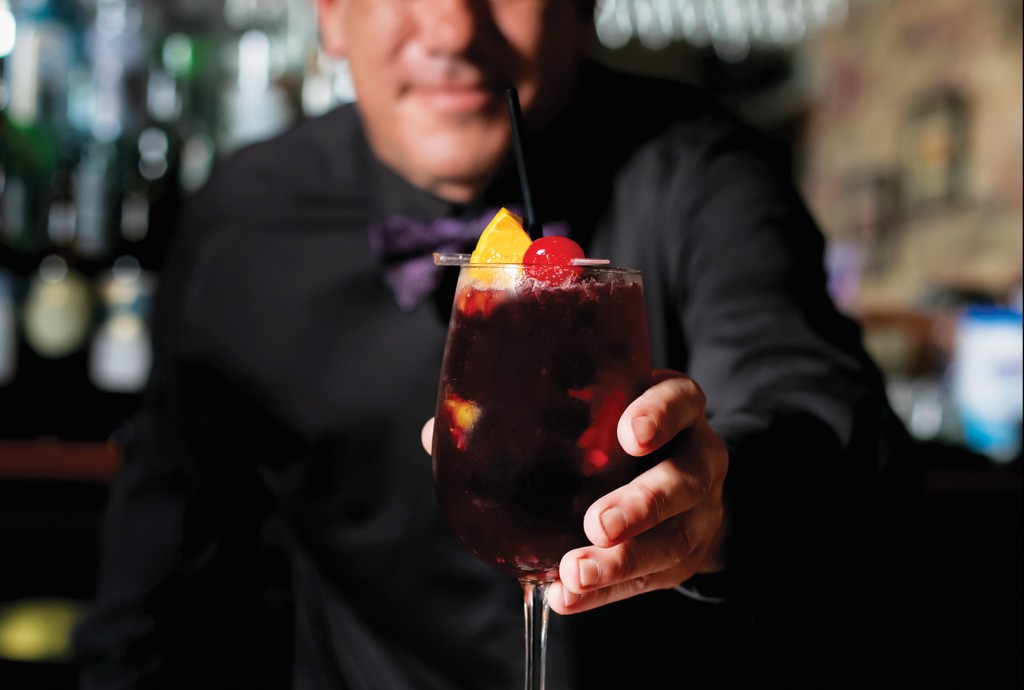 At Skopelos New World in downtown Pensacola, head bartender Tony Lazaro estimates he has made between 10 and 15 Palafox Sangria cocktails during each of his shifts in the past two years.
"It's a hot seller," Lazaro said without hesitation. "And I prep everything. I got it down to a science, once I made the first 10."
It contains lots of muddled fruit — strawberry, blackberry, blueberry, raspberry, lemon, lime and orange — with Fosco Sparkling Lambrusco as the main ingredient, described this way on the bottler's website:
"This sparkling wine has a color of intense ruby red with purple nuances. The fragrance is intensely fruity, of ripe berries. This wine shows a pleasant balance in its body. Sparkling sweet. Fruity taste, fresh and harmonious."
Compliments from customers are the norm, Lazaro said, adding, "I haven't had any negative feedback on it yet."
For Lazaro, the cocktail is especially refreshing.
"It's great when you can sit outside in the courtyard and order it with appetizers," he said.
Celebrity chef and director of operations Gus Silivos is the main man at Skopelos, which has been open since 2016 at its current location at New World Inn, not far from the Port of Pensacola on South Palafox Street.
"Tony does a really great job," he said. "With the cocktail, the right balance of flavors and ingredients makes a difference. It gives the drink uniqueness, and it has been well received because of that."
Like other Greek immigrant families who moved to Pensacola, the Silivos family is from the island of Skopelos, located in the western Aegean Sea off the eastern coast of Greece.
"When Chef Silivos' family opened their Pensacola restaurant in 1959, they named it after their former island home," the restaurant's website notes. In 1987, it moved from Cervantes Street to a bayfront location on the Scenic Highway.
Skopelos was closed shortly after celebrating its 50th Anniversary in 2009.
Later, given the opportunity to partner with Jim Homyak of New World Landing & New World Inn, Silivos knew it was the right time to bring Skopelos back.
The Palafox Sangria, in an earlier iteration, was known at the Skopelos Sunset.
"When we came downtown, some of the ingredients stayed the same, but some people wanted to give a new twist to it," Silivos said. "We experimented until we found the flavors we were looking for."
Silivos began working in the family restaurant at age 11. He earned a business degree at the University of West Florida, and then attended the Culinary Institute of America for two years.
He was instrumental in setting up the culinary program at Pensacola State College.