Paint the Town
The Bay Arts Alliance brightens a cityscape with eye-popping murals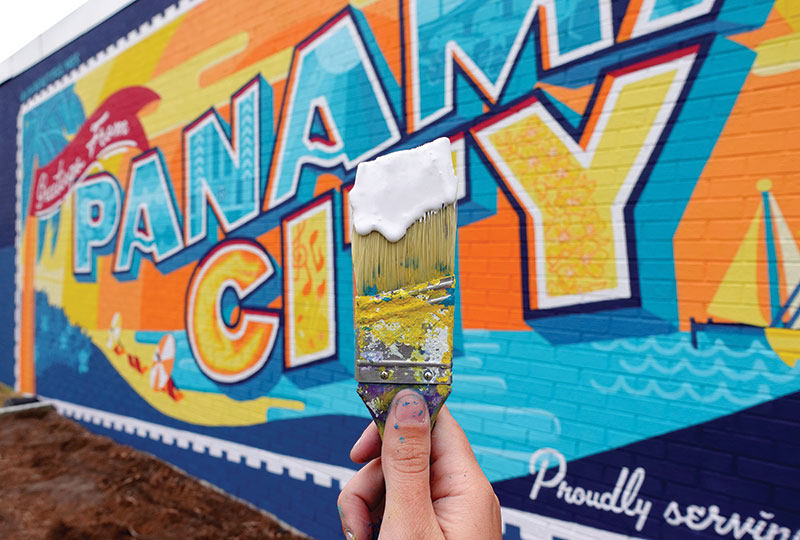 Morgan Summers, a lettering artist and muralist inspired by the sign painters of the '60s, is leaving brush strokes all over Panama City Beach as part of the Bay Arts Alliance's mural project, an ongoing push to expand the presence of public art in the city.
Perhaps the most notable of Summers' contributions is a postcard-style mural commissioned by the alliance that lines the Bay County Chamber of Commerce. The mural, which features Summers' characteristic limited color palette and mod lettering style, pays homage to the historic post office across the street as well as several notable landmarks throughout the city. Hidden among the letters in "Welcome to Panama City" are depictions of The Hathaway Bridge and the Martin Theater, sites that hold significance to both Panama City and Summers, herself.
"My favorite little detail is the facade of the Martin Theater," Summers said. "It's got a very distinctive logo in there as an Easter egg. I used to do talent shows and dance performances there, and they have been working on restoring it since the hurricane came through, but that has taken a lot of time. The view of the bridge is from a little park that I used to go to as a kid."
Jayson Kretzer, the executive director of the Bay Arts Alliance, floated the idea to develop a mural walk in Panama City many times over the years, but there simply were no systems in place to get the idea off the ground until late 2018. The devastation of Hurricane Michael in October of that year instigated efforts from multiple Bay County organizations to not only repair the city's damage, but to beautify the area's urban spaces and invest in community-sourced talent.
"In a time like that, people wanted to see color," Kretzer said.
It was no surprise then, that Kretzer found overwhelming support from organizations like Destination Panama City, the St. Joe Community Foundation and the Downtown Improvement Board. Grants help to cover the cost of materials and pay the artists for their work.
"Our mission is to help creatives," Kretzer said. "We want to make sure artists get paid for what they do; it's really a win-win. It's good for the business that gets the mural, it's good for the artists and it's a nice thing to look at when you are walking around."
The murals are not, as Kretzer emphasized, advertisements. He and the board at the Bay Arts Alliance carefully select each artist for their unique style and personal connection with the area. The vast majority of muralists to contribute to the project have called Bay County home for more than eight years, though it did not start out that way.
"There weren't a lot of muralists in the area at the time, so we brought in Cameron Moberg, who has been televised for his work, to paint our first mural," Kretzer said. "Then we figured we would pay him to do a free mural workshop for our local artists to help get their chops up."
Summers grew up in Panama City but fled to design school in Orlando to pursue an artistic career. Once there, however, she found the city's arts community to be uninspiring. When she heard about the mural project happening in her hometown, Summers packed her bags and moved back, starting her first mural project, Small Town Walls, a series of murals dedicated to her favorite small towns around the country. This project, which is on display in Summer's home studio, Uh Beautiful Mes, helped to hone her skills and prepare her to work with the Bay Arts Alliance.
"It was exciting for me to see that having a creative career in a small town is possible because I was looking to get out of the city," Summers said. "It was an absolute joy to get in on that project and work with Jayson and Bay Arts."
Today, dozens of murals decorate Panama City and Bay County at large. Many of the works, which depict natural scenes, animals, historical figures and a few recent abstract additions, are a product of the Bay Arts Alliance's Mural Project, but not all. The efforts of Kretzer, his board and band of artists have inspired a wider movement among the community to invest in public art.
"Public art is important," Kretzer said. "Our vision is to put art on every corner. We want to make art accessible to everybody regardless of their socioeconomic status. You may never notice that brick wall on your commute, but put art on that wall, and it can speak. I just think that those things are important to a community. It builds pride. It brings community itself."
---
---