Paddler's Paradise
Stand-up paddleboarding enjoys a strong following on the Emerald Coast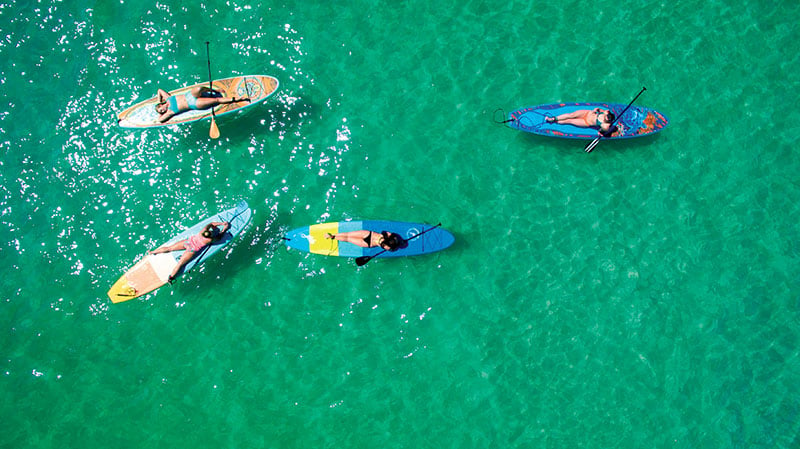 "It has become super, super popular, because everyone can do it," says Rhys Sharp of Liquid Surf and Sail in Fort Walton Beach. "We tell customers every day, it wouldn't be so popular if it was hard to do. If you walked into the store, you can paddleboard."
Stand-up paddleboarding, or "SUP" for short, has its deepest roots in Polynesian culture, but it first gained mainstream popularity in Hawaii in the late 1990s, when big-wave surf legend Laird Hamilton and others used it to oversee surf classes.
Today, people of all ages, backgrounds and physical abilities are using SUP to pursue a wide range of adventures, from backcountry expeditions to tournament fishing to cruising their local bay.
Paddleboards are sleeker, lighter, tougher and even more inflatable than ever before, and they're also readily available at big-box stores and popular online retailers.
"Everybody's got one," says Sharp, who, having worked with Liquid Surf and Sail since it opened in 2005, has witnessed the SUP explosion. "Market saturation is there. … Any place that has a coastline has a paddleboard company."
Florida's Emerald Coast is no exception. In fact, it's home to two major players in the SUP industry: the pioneering YOLO Board, which started in Santa Rosa Beach, and leading innovator BOTE Board, out of Destin.
A Long Adventure
When YOLO Board Founder Jeff Archer describes his introduction to SUP, it makes perfect sense that he went on to build one of the most successful brands on the market.
"My first time on a paddleboard was something of a spiritual encounter," he says. "I paddled up on a mother dolphin teaching her young ones how to fish. It was such a powerful moment that I felt that everyone should have the chance to feel this incredible connection to nature."
Fueled by their motto, "You Only Live Once!," Archer and his team started YOLO Board in 2007.
"We just saw what seemed to be an obvious void," he says. "Incredible waters, great weather, hospitable locals and visitors with active souls that craved sun, salt and beauty. I felt compelled to add paddleboarding, period. I soon realized that it was going to be a long adventure."
Ten years later, YOLO Board has become known worldwide for paddleboards that are not only highly functional, but works of art in the eyes of their customers.
Bold colors are paired with YOLO Board Creative Director Jake Meyer's custom designs to reflect the company's love of nature and adventure — whether that takes the form of touring, fishing, yoga or racing.
In 2017, YOLO Board will introduce 17 new board models in celebration of its 10th anniversary.
"If I stop and think about all the people who have given so much of their time and spirit to this dream, it chokes me up a little," Archer says. "Celebrating this year, working on new things and planning for next year and beyond really keeps me stoked every day."
Archer's team of employees happily spread the SUP gospel, holding beginner's classes, offering tips and answering questions at its main retail store, YOLO Board & Beach, on U.S. Highway 98 in Miramar Beach and at YOLO Board & Bike on 30A in Santa Rosa Beach.
The company also has expanded its YOLO Adventures program through which it partners with other brands, communities and resorts to provide activities such as kids' camps and SUP yoga.
"The YOLO Tribe is how we think of our family, friends and followers," Archer says. "The tribe gets together to ride bikes, paddle, workout and just hang sometimes. Everyone is welcome, which is perfect for the newbie that wants to absorb a little paddle culture!"
With SUP at its core, YOLO Board has grown into a full-scope lifestyle brand, thanks to those loyal and close-knit customers.
"Passion draws everyone together and embodies a way of life," Archer says. "We've designed and produced bicycles, custom paddles, apparel, signature coffee — all born out of the vibe of the tribe!"
Your Water Life
In 2009, Corey and Magda Cooper, two water-loving Auburn graduates who fell hard for the Emerald Coast, launched BOTE Board. Their aim? To improve and customize what was out on the water.
"The stand-up paddleboard market wasn't really, per se, a market," Corey says. "It was essentially an off-shoot from surfing. People had started making bigger surf boards to stand-up paddle. What I really wanted to achieve was a hybrid vessel." At the time, the country was also reeling from an economic downturn, and folks were spending less money on recreation. "This was a very simplistic and minimal way to get out on the water and enjoy what our area offers," he adds.
After eight years in business, BOTE Board now sells to more than 350 retailers across the country and is known for simple yet groundbreaking advancements in customization.
"The idea is, the board starts off as a bare bones platform, and we make a variety of accessories to outfit your life," Corey says. "You can pack a cooler on it. You can load it full of gear. You can fish from it. It's essentially a man-powered boat."
While rugged enough for duck hunting and fly-fishing, the boards are also stylish and unique, with vibrant color schemes and wood inlays, and easier to carry than ever before.
"Honestly, it's becoming what we wanted it to be when we first started,"
Corey says. "Paddle with your kids, paddle with your dog. Go fishing, go hunting. … Our theory was this was going to be the platform for your water life."
The Coopers love hearing about their customers' adventures and innovations, and like YOLO Board and so many other brands today, they showcase those stories on their company website. "That's how you keep something going and moving forward," Corey says.
BOTE Board, which has a retail shop on Mary Esther Cut-Off in Fort Walton Beach, also holds on-water SUP demos at its main location on U.S. Highway 98 in Destin. "People can come and we'll have all of our board models out and they can try them," Corey says. "We joke that it's almost like fitting a suit to someone. It'll put you on the right track from the start. We don't want you to have a bad experience on a board that's not fit for you."
Find Your Flow
Ultimately, for many locals, SUP has become a fun, affordable way to interact with the local environment. "It literally opens up a whole new world to you," says Jason Kelts, a Fort Walton Beach resident and avid paddleboard fisherman.
"You can go places where boats can't go. … It's a therapy session, honestly. It's quiet. You can see ospreys flying. You don't have a motor running behind you."
Stand-up paddleboarding also offers an up-close look at marine life. "We've had dolphins swim right underneath us. We've gotten in the middle of hundreds of ducks," says Mark Wise, who tried SUP with his wife Anita about 10 years ago during a vacation in Blue Mountain Beach.
Now the Pensacola Beach couple is out on their boards every couple of weeks in Santa Rosa Sound.
"We just love the leisureliness of the paddling," Wise says. "You can go as slow or as fast as you want."