Once Homeless, Ace Adams has Begun to Shine
Through struggle and sacrifice came an entrepreneurial jobs generator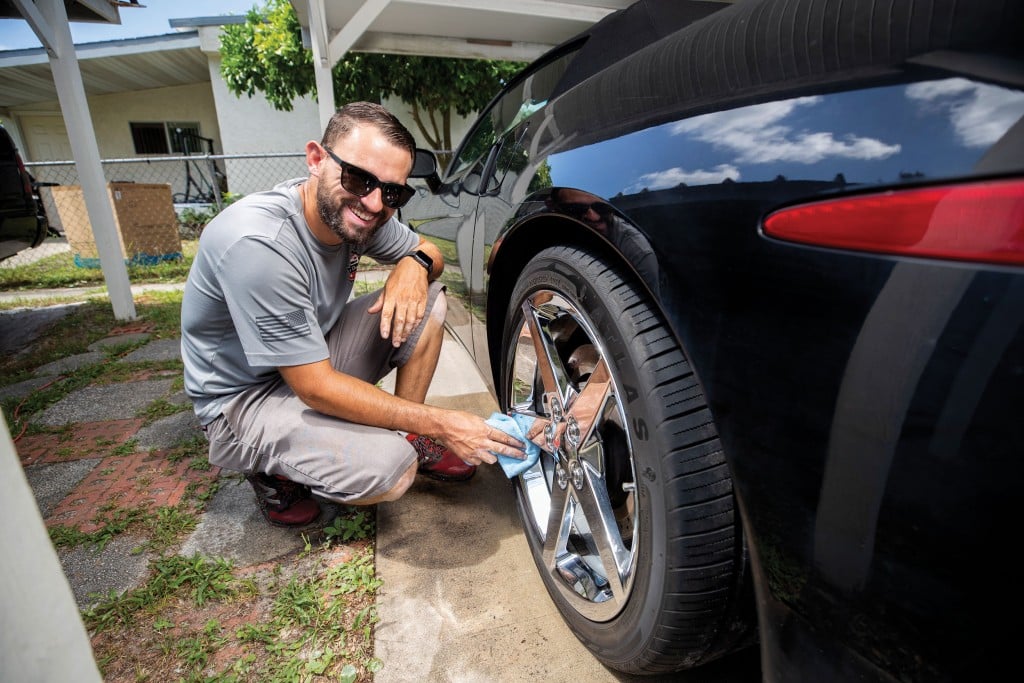 To say that Ace Adams is a self-made man, while true, doesn't give him sufficient credit. Even more profoundly, he is a self-saved man.
Adams was 15 when his relationship with his mother went irretrievably south. He had been told all of his life that he was an only child and was angered when finally he found out that he had siblings living out of state.
"Then, one night, my mom came at me and words were said, and I left home at 12:30 in the morning," Adams matter-of-factly recalled.
For the next three years, he would live on the streets, scrounging and, often, dumpster diving.
"It wasn't my proudest moment, but I was doing everything I could to survive," Adams said. He did not finish high school.
Survival, for a time, meant knocking on doors and offering to do yard work — with the homeowners' tools. Ten bucks a job. He got along without any transportation until his father bought him a "Chinese scooter" that Adams rode into the ground. He worked at a Burger King, saved what he could and bought a 1981 Honda 400.
Six months after meeting a woman, Sarah, whom he would later marry, Adams located his siblings in Ohio. He moved there and for a year worked as a "floater" at Rubber City Harley-Davidson in Cuyahoga Falls near Akron.
Upon returning to Florida, Adams, 28, lived with his future father-in-law for nine months, worked shopping mall jobs and did restaurant work. Then, in 2013, he successfully applied for work at the Harley-Davidson dealership under construction in Panama City Beach.
He stayed there for six years, working four of them as a detailer and two as a technician.
"But I wasn't making the bills, so something had to give," Adams said. In any event, he had grown weary of working for others and started his own enterprise after watching YouTube videos on business basics.
Today, Adams Detailing is doing well. Adams, at this writing, is looking around for a shop and has plans to employ others. The one-time homeless teenager is now an entrepreneurial jobs generator. He speaks with confidence and seems unaffected by the vitiligo that has overtaken his hands and parts of his legs.
"It's time that I hire people, step back and focus on the business of running a business," he said. But a facility will come first. Adams is exclusively a mobile detailer at this point, and the weather can wreak havoc with schedules.
Adams — Ace is his given name on his birth certificate — is sure to hold his eventual hires to the same high standards he adheres to. He has a hard-earned reputation to safeguard; honesty and integrity are critically important to him.
"I have had a high success rate. I'd say 98 percent of my customers have been 100 percent satisfied," Adams said. In fact, he has had only two dissatisfied customers, and one of those figured in a job he never got the opportunity to start.
He arrived at the Bay Point home of a woman who had contacted him by phone. They were executing paperwork when she looked beyond Adams to his beater pickup truck and told him she would be getting somebody else.
"That really devastated me," Adams said. "She judged the quality of my work based on the vehicle I was driving. I was just getting started in business and I needed a better truck, but I couldn't really afford one. I didn't know how my company was going to do, and I didn't want to get in a financial bind."
He consulted Sarah. They decided they could swing a 2019 Tacoma.
As it happened, a friend of Adams detailed the car of the Bay Point lady and described her as rude and impossible to satisfy. Adams had dodged a bullet.
The other problem customer contacted Adams some four months after he detailed her car and her son's car. She complained that he had ruined seats in one of the vehicles and demanded that all the money she had paid him be refunded.
She took the dispute to her bank, and Adams then supplied his bank with documentation, including after-photos of the cars and text messages in which the customer said she was fine with the work. He prevailed and kept the money.
Adams is a motorcycle specialist and has thus become accustomed to exacting customers.
"A lot of people who own bikes, that's their baby, their pride and joy," Adams recognizes. "Some bikes today cost the same as an SUV. Thirty-five grand, 50 grand. I deal with a lot of Harley owners, and they are real meticulous."
Adams detailed 40 bikes during Thunder Beach week in Panama City Beach in May. He set up a booth outside Sharky's restaurant and worked on bikes from 8 a.m. until 1 the following morning. He will do likewise during Thunder Beach in the fall. The detailing of a single bike can consume about four hours.
Detailing a car is a process.
The car is washed using a microfiber mitt and then "clayed." Clay bars are used to remove imperfections in paint, including tree sap, road debris and water spots. They provide an optimal surface for three buffing stages that eliminate swirls and waviness in paint.
"The main work is in the paint correction," said Adams, whose average ticket runs about $200. The final step, applying the ceramic coating, is the "easiest part of the whole process," he said, although it proceeds painstakingly, one small section at a time. Adams is a certified authorized dealer for Nanopro, a Boyton Beach-based maker of ceramic coatings.
Given his close relationship with cars, Adams has noted tendencies. Red Fords fade, the clear coat used by General Motors from 2000–2013 often cracks, Dodge paint jobs can be flakey. He sometimes encounters cars that need to be repainted versus detailed.
Adams takes care not to set himself up for failure. On the advice of a friend and fellow detailer, he once declined to work on the high-end suede interior of a $145,000 Escalade after finishing the exterior.
"Don't touch the interior," warned the friend, who had his own experience with the car's owner. "You mess it up, he'll take you for everything you've got."
Sarah works full time at Central Supply at Gulf Coast Regional Medical Center where her responsibilities include cleaning equipment used in surgeries, preparing instrument trays and readying crash carts. She is studying at Gulf Coast State College to become a degreed surgical technician. In addition, she helps keep the books and schedules at Adams Detailing.
Three dogs share Sarah and Ace's home in the St. Andrews section of Panama City. One is mostly boxer, one is mostly pit bull and one is mostly shar pei.
"Business is starting to pick up," said Adams, who keeps close track of click-throughs on his website.
Last month, 148 people clicked on a button to get directions to his home.
"That's almost $30,000," he said, slightly incredulous, "if I don't lose 'em to car washes."