On Pointe
For an uncompromising ballerina, dreams came first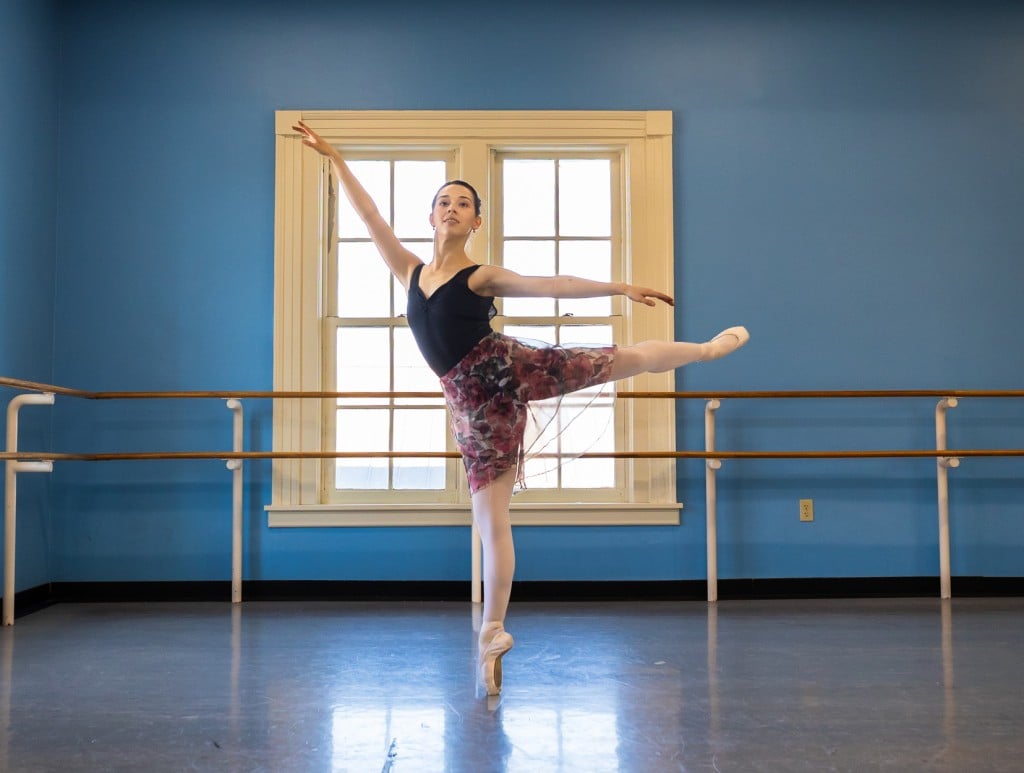 Her feet are blistered and bloodied, but she doesn't notice. The stage is Hannah Holtsclaw's happy place.
Ballet can be a brutal art form, both physically and psychologically. It requires the dedication of a priest, athleticism of an Olympian and focus of a scholar.
Holtsclaw learned early what the pursuit of her dreams would cost her and knew that they might never be realized. But she was given to unwavering passion.
"I was 12 when I decided this is what I really wanted to do," Holtsclaw said. "It's not easy, and people tell you that you're not going to make it. You have to believe it and never stop."
Holtsclaw is the senior principal dancer at Ballet Pensacola, the area's only resident professional ballet company.
Classically trained in the Vaganova style, Holtsclaw, 23, has starred in dozens of large-scale performances. Offstage, she serves as youth division manager for Ballet Pensacola Academy, teaches modern dance to students age 7 and up, and has established herself as a respected choreographer. Most dancers don't branch into professional choreography until much later in their career, but Holtsclaw has been choreographing both classical and original pieces since 2017.
"Hannah is a prime example of excellence in our local and national arts community," said Ballet Pensacola artistic director Darren McIntyre. "She has done nothing but excel to new horizons as an artist with her dynamic portrayal of Lucy in Dracula to her exquisite execution of the role of Clara in The Nutcracker."
Holtsclaw has become a Pensacola treasure during her four seasons with the company. She balances graceful, flowing movements with crisp precision. Her enchanting facial expressions, nearly as much as her dancing, have positioned her for leading roles in shows including Snow White, Dance of the Sugar Plum Fairy and Paquita.
"That is the best way I can communicate and express everything inside of me. By taking on another character, I can create and share these emotions with the audience," Holtsclaw said.
This month, Holtsclaw will take Pensacola down the yellow brick road in the role of Dorothy in The Wizard of Oz. Performances will be held on Fridays, Saturdays and Sundays from April 22 through May 1.
While sweet and graceful, Holtsclaw said that her favorite role was that of Lucy, the female lead in McIntyre's original adaptation of Dracula.
"I had to transform into a vampire on stage," Holtsclaw said of a performance that was her most physically demanding. "One moment, I was this normal girl getting engaged, and then all of a sudden I was Dracula's first victim. Pensacola is used to seeing me as Snow White, so I loved getting to change up my character and be the bad guy for once."
Holtsclaw's journey has been one marked by long hours, sore muscles and a lot of hairspray.
Like most professional ballerinas, Holtsclaw started training young. By the time she was 12, she was far more advanced than the other students at her hometown recital school and enrolled in the Connecticut Concert Ballet. Schoolwork and ballet consumed 12 hours a day, but Holtsclaw was committed to both.
She transferred to boarding school at the Maine Central Institute's Bossov Ballet Theatre. There, she achieved both academic success and trained under celebrated dancers from around the world. She grew exponentially under the tutelage of Moscow Ballet star Natalya Getman during her years with Bossov. Getman could be demanding. She wasn't satisfied with good dancers. She wanted her students to know their history, respect their craft and be good people.
Despite a rigorous dance schedule, Holtsclaw graduated with honors as class president and continued her education in the University of Cincinnati's dance program.
She began choreographing for the Student Choreographer's Showcase in her free time and developed Letters From Reims, an original work inspired by her great-grandfather's service in World War II and the love letters he sent home to his wife. In the midst of this process, she was called upon to contribute choreography for Bolero to the university's 150th anniversary celebration performance.
Holtsclaw was juggling classes, a part-time waitressing gig and rehearsals while choreographing two major performances. That's when she met former Ballet Pensacola artistic director Richard Steinert.
Steinert was a visiting instructor and stopped by to observe Holtsclaw in rehearsal. She was exhausted but didn't let her tiredness show. When the class ended, he tapped her on the shoulder.
"Do you have plans for next year?" he asked.
She shook her head no.
"You'll hear from me," Steinert said. "Oh, what's your name again?"
A few months later, she packed her bags, registered for online classes and flew to Pensacola. After five weeks as a trainee, Steinert made her the principal dancer for his company.
"It's amazing how things come together," Holtsclaw said, looking back. "If you're patient, and you put the work in and stay focused, sometimes things go perfectly. Your dreams are right in front of you."