Old Pros With New Tricks
Senior investigators thaw out cold cases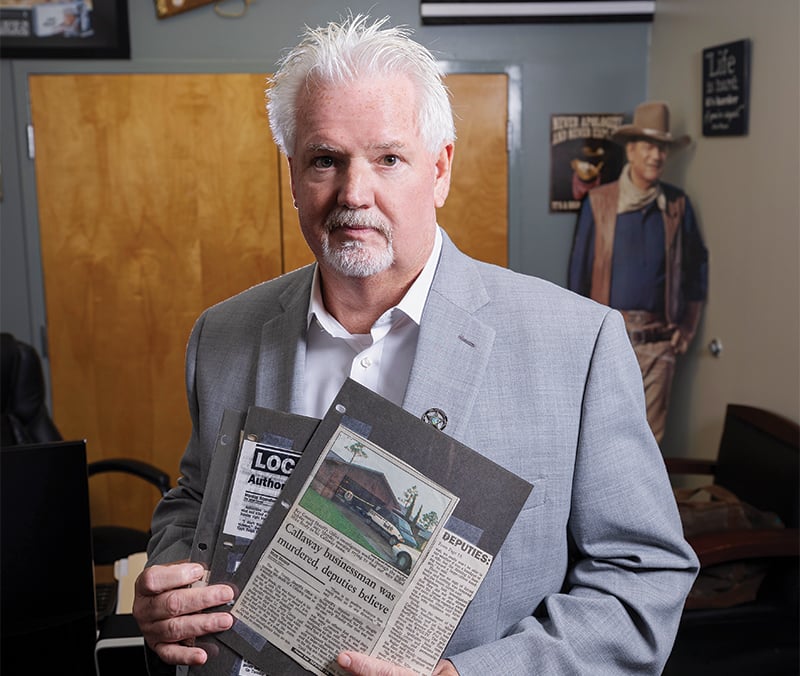 Forty-two years after he started in law enforcement as a patrol officer with the Panama City Police Department, Jimmy Stanford retired in June from the Bay County Sheriff's Office, where he had attained the rank of major and oversaw the office's investigations division.
Still, he is not abandoning his passion for crime busting.
In his final weeks on the BCSO payroll, Stanford organized an all-volunteer group of retired investigators who will work to solve murders and missing-persons cases that have long gone uncleared. The group comprises Stanford, former Bay County Sheriff Frank McKeithen and four additional retirees Steve Harbuck (BCSO), Paul Vecker (BCSO), Koren Daniels (BSCO) and Mitchell Pitts, who was a commander with the Panama City Police Department.
"We all have more than 40 years of law enforcement experience," Stanford said. "Frank and Steve have worked tons of homicides, and Koren is the finest crime scene technician I have ever worked with. It's a pretty impressive team that we are pulling together, and I am hoping that we can have some success."
Daniels, in particular, stays current with new and improving technologies that aid in criminal investigations.
The "Stanford Squad," let's call it, will focus on cases that have been worked before. Indeed, several cold case task forces have been assembled in Bay County in the past.
Stanford has on his desk a list of brief synopses of cold cases dating to 1976. Several developed before DNA fingerprinting was used for the first time in a criminal trial in England in 1986.
The most recent case on the list involves a woman who may have been "suffering from schizophrenia" and went missing in January 2008 from her motel room on Thomas Drive in Panama City Beach. There was no sign of foul play at the scene.
"We haven't added cases to the list recently, and that's a pretty good barometer as to the quality of law enforcement we have had over the past 50 years," Stanford said. "We have several cases that appear to have been domestic in nature, and the husbands are suspects. The toughest cases tend to be gang and drug related."
As those tough cases are, law enforcement in Bay County has enjoyed success by rounding up anyone in the area of a crime scene who may have witnessed something or may have information of value. A large number of investigators, at times from multiple agencies, divvy up the group and conduct interviews.
Stanford had just moved from the Panama City Police Department to the BCSO when the approach was first used in Bay County in 2004. Members of a gang calling themselves the Crazy White Boys had bludgeoned a teenager, Jeffrey Shane Alexander, to death with a baseball bat in a drug deal gone bad.
"We had possible sources in every room at the Sheriff's Office," Stanford recalled. "We'd get a little information from one and go interview another one and maybe catch him in a lie. We were able to play them off each other."
Multiple arrests in the murder were made four months after the crime was committed, and Stanford came to be a believer in the full-court press. He had been used to a system whereby "case agents" and an assistant were assigned to work specific crimes. He recalled that by instead "getting every person we could involved," the BCSO made an arrest in the murder of an elderly resident of the Northshore development near Lynn Haven.
"He had been tied up and tortured," Stanford said. "We worked 17 straight days on that case and finally made the arrest." Investigators succeeded in ensuring that the case never got cool, much less cold.
Assembling a group approach requires adequate human resources relative to the crime rate, and in that regard, Stanford said, Bay County is fortunate.
"Lots of departments can't take all crime as seriously as we do, and there may come a time when we are too busy to do that," Stanford said. "In some large cities, a robbery occurs and they just take a report over the phone. But so far we are blessed. We are certainly busier than we used to be, but all cases are investigated.
"We have a search-and-rescue team, horses, a dive team, canine units, a helicopter. We have a lot of resources that we didn't used to have."
The proliferation of security cameras and video doorbells has extended the reach of law enforcement. The BCSO has agreements with businesses throughout Bay County that allow its Real-Time Operations Center, dubbed BAYROC, to view scenes surveilled by cameras at their properties.
The center is dominated by a large wall of screens that invites comparison to a sports bar. A BCSO employee working in the center turns to a visitor and says, "Let me show you my hot tub." Moments later, live footage of a deck at a Panama City Beach condominium appears on a screen.
BAYROC is also linked to license plate readers (LPRs) and unlimited public records.
"Let's say your bad-boy cousin Johnny Johnson is at your house, and he's drunk and showing his ass, and you call us for assistance," Stanford created a scenario. "Before the deputy gets there, BAYROC has done a records search, and we know if there are any outstanding warrants for Johnny, and the officer is furnished with a picture of him. We can immediately call up Johnny's criminal history. Before the deputy even gets on scene, he's been given all this intelligence. If you got some guy who likes to fight the cops, it's kinda good to know that going in."
LPRs were key to solving a case involving serial thefts of dump-truck doors containing valuable computer chips in Alabama and North Florida. The doors are secured to truck cabs by pins that are easily removed. When LPRs discovered the same tag number near multiple door-theft sites, the case was all but made.
"I mean what is the chance that you are innocently going to be at theft locations in Mobile, Marianna and Panama City on different days at 2 in the morning?" Stanford said.
BAYROC also has access to contact information for homeowners and businesses that have registered their doorbell cameras with the BCSO. When a crime occurs in a given neighborhood, sheriff's personnel email people in the registry from that area requesting footage.
"Technology has been good for the good guys," Stanford said, but it has also added to workloads.
"You can hardly go anywhere without being on a video camera, and that helps solve a lot of crimes. The downside is that it is so time-consuming to watch all that footage. If we have a homicide, we go to every neighbor to get their video. We can't ask them to review it to see if a suspect shows up."
DNA evidence has been a game-changer, Stanford said, and phone forensics can be used to place a suspect at a location at a particular time. Fingerprints remain important. New procedures and chemicals are used to detect trace amounts of blood not detectable to the eye. Social media are scanned with an eye toward keywords that may relate to a planned takeover incursion like the one that took place in Panama City Beach in 2022.
"We get so many people with phones," Stanford said. "Most crimes are not premeditated. Someone finds his girlfriend with another guy, and he shoots and kills him, and now he's panicked and trying to cover things up. But he had his phone with him, and we can place him at the scene."
Increasingly, the BCSO is making homicide cases against drug dealers. Text messages exchanged between dealers and suppliers are often central to them.
Bay County, at greater than 60%, has one of the highest crime clearance rates in the state. As a result, its jail is full and its operation is expensive. And, for law enforcement agencies along the Emerald Coast, it's not just the resident population that figures in criminal activity.
"We hear about a homicide in Kentucky or an escaped prisoner from North Carolina, and we joke that they will be here in Bay County before long," Stanford said. "And it is amazing how often that happens. We are a magnet for more than tourists. For some reason, a lot of people on the run think that Panama City Beach is the place to come."
Or it may be that in fleeing south, they can't go any farther when they hit the Gulf of Mexico.
All of this means that the contributions of the Stanford Squad will come as a welcome supplement to the efforts of salaried officers.
Once, Stanford was a mullet-wearing member of the Panama City Police Department's newly minted SWAT team. Now, he's working for free.
For some law enforcement careerists, unfinished business is like an open wound.
For them, justice has no expiration date.
---
Cold Cases: Notes from the Bay County Sheriff's Office
» 1983: VIVIAN LEE EDWARDS – White Female, 32
Discovered missing from her Dolphin Drive residence on Jan. 26, 1983. Blood was found inside the residence, and in 1988, her body was found in a wooded area in Walton County, Florida. Possible serial killers — Ottis Toole and Henry Lee Lucas.
» 1996: MIKE BRADY – White Male, 28
Discovered shot to death inside his Callaway residence on Oct. 6, 1996. Prominent businessman, lots of twists with this case.
» 2004: ELIZABETH PRESCOTT – White Female, 19
Went missing on April 30, 2004, from her residence at Abalone Apartments, located at 522 North Tyndall Parkway. Has not been seen or heard from since. Husband suspect.