NWFSC Showcases Training Center
New facility is focused on career education and meeting the needs of region's employers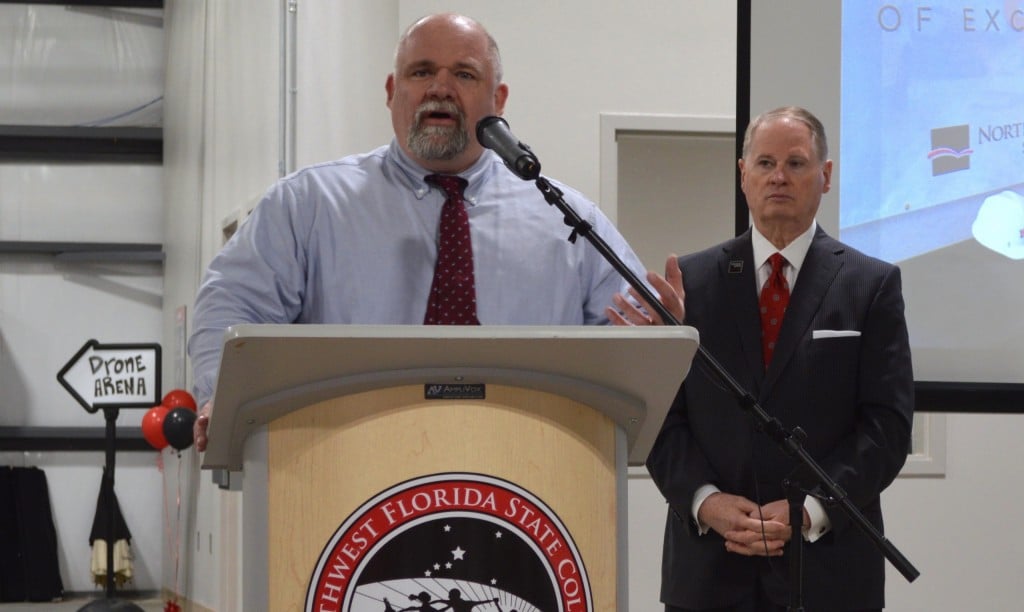 Northwest Florida State College president Devin Stephenson made a point of noting the success of a student who obtained a welding certification at the school and immediately thereafter went to work making  $38 an hour.
It was the applause line of the night.
Stephenson's remarks came at a Feb.18 ribbon-cutting ceremony held to celebrate the opening of NWFSC's $5 million Walton Works Training Center of Excellence in DeFuniak Springs.
The center, Stephenson said, "is all about taking people where they are and bringing them to a higher standard of living so that they can comfortably sustain and raise their families." To do so, the school will closely align center curricula and programs with the needs of area employers.
The project was funded substantially with a $2.7 million award from Triumph Gulf Coast, Inc., the nonprofit established to disburse damages paid by BP following the Deepwater Horizon oil spill. NWFSC, Stephenson said, has been awarded a total of $10 million in Triumph funds, more than any other school in the region.
Looking about the Walton Works building, located next to the NWFSC Chautauqua Center on U.S. 90, Stephenson said, "This is a dream and a vision that has been brought to reality." It will succeed, he said, on the strength of partnerships with the Walton County Sheriff's Office, the Walton County Board of Commissioners, CareerSource and others.
"We can bolster community education by working together," Stephenson said. "I don't care who gets the credit just so long as we make a difference."
As a condition of the Triumph funding award, NWFSC entered into a contract with Triumph Gulf Coast whereby it pledged that students will obtain 1,570 industry-certified credentials within five years. Via established career education programs, some 300 students, including the welding student that Stephenson singled out, already have secured credentials.
"We're on track to meet our goal," Stephenson said.
The Walton Works Center will house expanded programs in public safety, cybersecurity, drone technology and building trades.
Walton County Sheriff Michael Atkinson joined Stephenson in predicting that the county will become home to the finest public service academy in the state.
Atkinson spoke in particular about a program that works to make prison inmates employable upon their release from confinement as a way to combat recidivism.
"If you don't think that's the moral thing to do, I'll give you a fiscal argument," Atkinson said, citing the $50,000 cost to keep an inmate incarcerated for a year.
Lori Kelley,  a Freeport native and chair of the college's board of trustees, saluted the efforts of NWFSC faculty and staff and their "laser focus on career education to meet industry needs."
The center's impact, she said, will be "transformational."