Not So Loopy, Really
Long-distance boaters are buoyed by kinship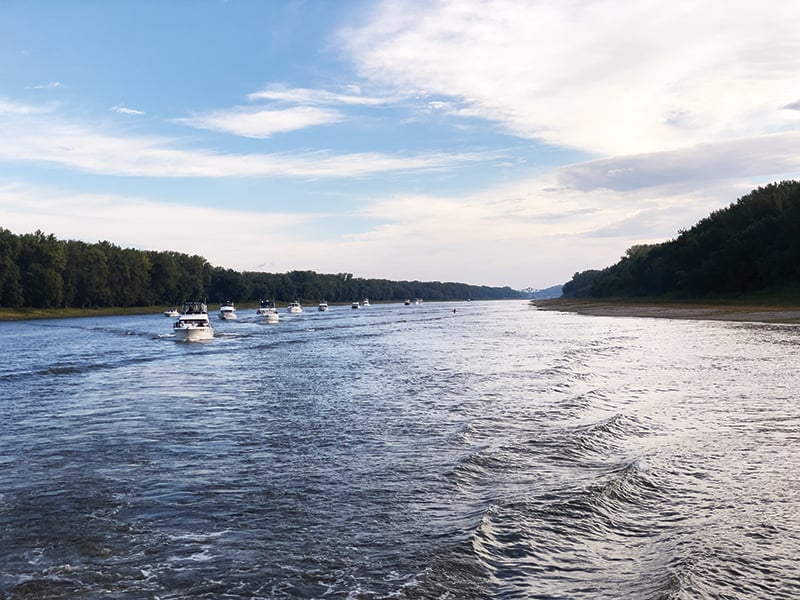 More than one person has told me that boating the Great Loop restored his faith in humanity.
How can a boat trip have that effect? It's all about the people involved and people met along the way.
America's Great Loop is a 6,000-mile circumnavigation of eastern North America that most Loopers complete in about a year's time aboard their own boats. I've had the opportunity to ask many who have completed the route what the best part was. Almost without fail, they speak to camaraderie and a shared love of adventure.
The Great Loop attracts exceptional people. Perhaps that's because those who are attracted to this ambitious activity are usually pragmatic, easygoing and willing to accept what can't be controlled. Weather and mechanical delays can quickly persuade those who are impatient or high strung to opt out, making Loopers a self-selecting group that seeks to solve problems rather than complain about them while on an adventure of a lifetime.
When 200 to 300 boats are traveling the same route at roughly the same pace, and everyone has a common interest, fast friendships form. In fact, Loopers have been known to assist each other along the way whether their paths have crossed before or not. It's common for us to catch dock lines, offer information and advice, and share stories.
Many Loopers go above and beyond to be neighborly. Need an obscure part to complete a repair? Ask the Looper a few slips down and he probably has a spare. Left something behind at a marina? Reach out to the Looper network because there's likely someone at that marina now who will be headed your way shortly.
But it's not just the other Loopers who offer genuine kindness reminiscent of yesteryear. For so many Loopers, the locals we meet on our route enhance the experience appreciably. We travel through the nation's biggest cities and smallest towns, arriving without ground transportation for restocking food, supplies, medication, etc. People I've just met have lent me their cars to do grocery runs, or invited me to their homes for a meal, or offered the unrecorded history of their towns.
Often, when something goes wrong, locals have been our heroes. Last summer when a lock had a mechanical failure, several Looper boats were stranded. Options were to wait a week or more for the lock to be repaired, or backtrack hundreds of miles. Waiting a week is preferable, but for some who hadn't expected the delay, supplies were dwindling. Locals came to the rescue offering rides to the nearest grocery which was about 20 miles away.
That's not the only time everyday people have assisted. A few years back when flooding made the Erie Canal impassible, several boats were stranded for weeks. The locals adopted them, offering rides, bringing them food and treating them as honored guests in the town while they waited.
Many Loopers are retirees who came of age in a time when you not only knew your neighbors' names, you knew their stories. The Loop brings back that culture. It's a step back to days gone by when people looked out for one another. It's a community where people go out of their way to say hello or offer assistance. Where else, these days, can you find that kind of selfless spirit?
Loopers who have been in difficult situations and received assistance remain poised to "pay it forward," showing that same kindness and generosity to the next person who needs it. And thus, the cycle continues. For those longing for that sense of community, take to the waterways! You might just find that your faith in humanity is restored on the waters of America's Great Loop.
---
Kim Russo is the director of America's Great Loop Cruisers' Association. She and fellow Loopers paused for a time recently at the Point South Marina at Bay Point in Panama City Beach.
---