New Level of Luxury on Rosemary Beach
The Pearl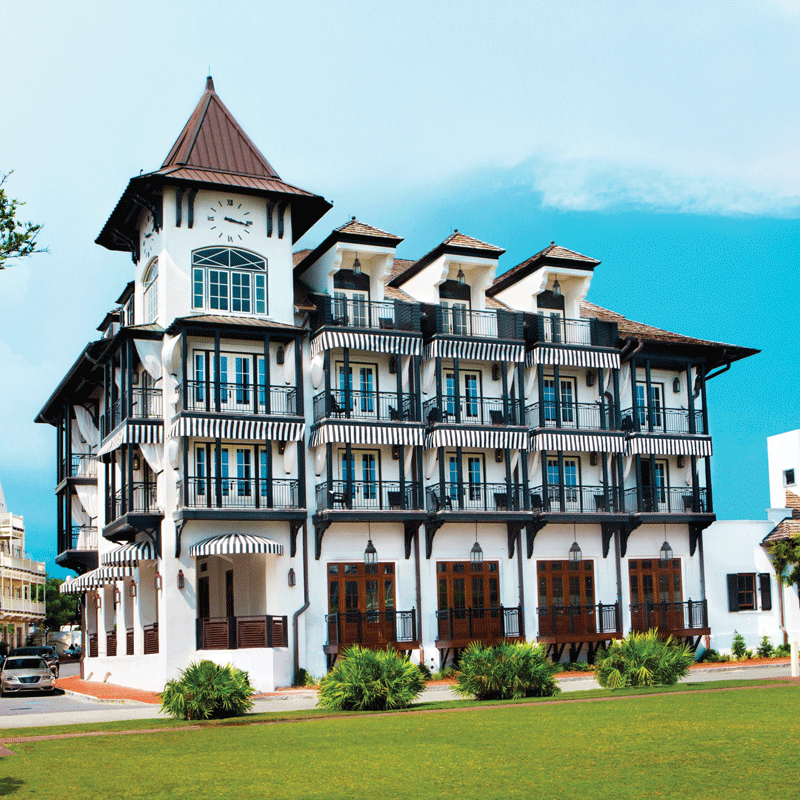 It takes years to create, is simple and unique and is one of nature's most beautiful creations — the pearl. Nestled on 30A, within the confines of Rosemary Beach, after years of meticulous work and a great investment by two visionaries, a simple and unique boutique hotel — The Pearl — opened its doors early last fall.
Although it takes a year or so to qualify and be designated as a five-star property, there's no question in my mind that The Pearl and it's Havana Beach Bar and Grill will earn this award, hands down. Not a detail was overlooked nor an expense spared in the development of this 55-room property. From the moment you enter the lobby, you know you are in for an exquisite experience. You'll be warmly greeted by the reception staff, who will personally escort you to your room and orient you to the many extravagant amenities — such as a bedside iPad to call up your car, set your dinner reservation or read one of several online newspapers.
The Pearl's luxurious appointments including (top to bottom) the island-style Havana Beach Bar & Grill, the guest rooms, and the pool area.
You have a choice of Direct TV or Apple TV on the large flat-screen and can sip chilled water that has been filtered to perfection at the property's distillery. Everything — from the lighting package and furniture, to the carpet and bedding — is a couple notches above what you might find in most of the country's finest hotels.
One of 30A's renowned photographers, Tommy Crow, was commissioned and sent to Cuba to capture images of people and the island nation's '50s-era lifestyle that has been frozen in time. This pictorial art is seen throughout the hotel and perfectly sets the mood of an international experience. He also captured video of everyday life that has been edited and plays silently on screens at the resort's fine dining restaurant, the Havana Beach Bar & Grill.
Executive Chef Michael Guerra, from Montage in Park City, Utah, has created a dining experience that only one, or maybe two, Northwest Florida restaurants could compare to. His cuisine is a fusion of ingredients and flavor found in the Gulf and Northwest Florida. Everything is fresh and made from scratch. In all of the dining experiences of my life, Wade, our server, ranks in the top five, creating an experience it would be hard to find anywhere. The bar is a re-creation from Ernest Hemingway's home in Havana — it is the focal point of the restaurant and produces an array of traditional Southern cocktails that complement the cuisine and overall experience of fine dining or just hanging out. The décor includes a 1938 mug shot of a 23-year-old Frank Sinatra hanging over the piano bar. The charge against him, it says, was "seduction."
The hotel and restaurant, as well as Sol Luna, its cabana poolside bar and eatery, and Spa Pearl are fast becoming 30A's hot spot for the "players" of Walton County to see and be seen.
The back of your door card sums up the experience that awaits you for a getaway weekend:
"Today is a great day to fall in love all over again."
You will not regret this investment in your emotional, mental and gastronomic health.
---
IF YOU GO
Find this luxury hotel in the heart of Rosemary Beach on the east end of 30A off of Highway 98.
The Pearl 63 Main St., Rosemary Beach thepearlrb.com
(850) 588-2881
Havana Beach Bar & Grill
(850) 588-2882