Mr. Big Is The Personification of High Energy
Local band continues to make a splash with their nostalgic tunes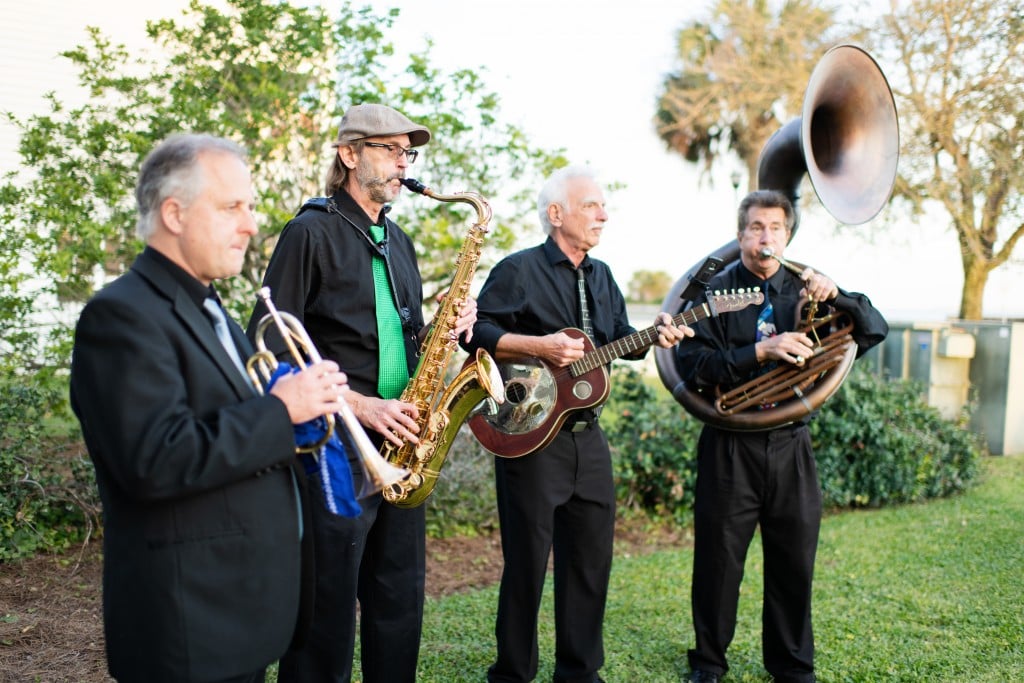 Folks with a taste for nostalgia and a love of ritual are sure to get down to the musical reiterations of Mr. Big & the Rhythm Sisters. True it is that innovation isn't their main jam.
No, Mr. Big's hook is an omnibus of over 200 multi-generational pop songs from "Puttin' On the Ritz" to "I Like the Way You Move," including many others from the '60s, '70s and '80s. With every song performed, Mr. Big mimics the original version, a kind of musical chameleon act.
Mr. Big is a musical theater troupe, an ensemble of eight singing, playing and acting performers, plus a "technical," sometimes called the DJ. Styling itself a band, the pumped "Red Bull Eight" offers audiences musical performances tailored to the occasion, be it birthday, wedding, "just because," sloshed or some combination thereof.
Look at the Mr. Big website! Whatever the scene — from outdoor flip-flop and mai-tai concerts with a Gulf view to serious formal balls in swanky hotels — beach folk, society types and society wannabes can all be viewed dancing off their coats and ties, their floppy hats, their shawls and finally their asses in a transport of pleasures.
"Oh, I remember what I was doing the first time I heard this!" all must be saying.
"Mr. Big can't do the bar scene," said band leader/director Tim Jackson. "That's not where the money is. Aside from pay, we've got wardrobe and props and equipment to maintain. Sometimes there are side features like palm readers, as well. So playing for beer and jalapeño nachos won't cover it."
Jackson is initially guarded, seeming to deliberate about almost every word. As the leader of the band, he regularly calls on the spirit of the bass and switches to trombone if he feels it.
Jackson has more than one iron in the fire. Mr. Big is only a piece of his Prime Time Entertainment business, but a pretty big piece, so his wariness isn't too hard to figure out.
"See, Mr. Big isn't one of the band members," Jackson declared seriously. "Mr. Big is like the band's personification."
After a while, Jackson loosened up and went psychological for a second or two.
"Mr. Big, is a cover band, in a way," he said. "We want to tap into the pre-established emotional associations from the original renditions and, in the meantime, to up the (band's) game."
Taking the band higher is no doubt an interesting exercise. Because once Jackson has the bass bumping out the beat, joined by Joe Lyon's drums and Ronny Levine's singing six-stringed axe, and George Petropoulas and Chuck Schwartz blare in with trumpet and sax, there's nothing left but the out-front, vocal locomotions of Pearl Ash, Joanna Hayes and Demetrius Singleton wailing with the intensity of a '77 Firebird Trans Am getting rubber. In 20 years, Mr. Big's members have changed, and this iteration is a tight one. It entertains, interacts and does cover songs with a lot of flashy mojo.
But something's up with the Emerald Coast music scene these days, something reminiscent of what happened with Austin's cosmic-cowboy music during the '60s and '70s, when a rebellious bunch of outsider musicians walked out on Nashville and landed in Texas. Musicians from Bangor, Maine, to San Diego flocked in after them and brought about rich music venues like "Austin City Limits."
Today in the Florida Panhandle, flocking songwriters and hot-shot musicians are lighting all around the bay. Every crab-shack bistro and juke-til-you-puke joint has live entertainment at least once a week. Recording studios and sound facilities are popping up like mushrooms.
What are the odds that both talent and technicals would jam up in the same place with enthusiastic audiences, audiences ready for any old festivity to begin?
One might hope that in the midst of a Panhandle music rush, Mr. Big & the Rhythm Sisters won't be satisfied to serve only as a place where high-grade talent can keep up their chops and get decent pay. That may be a fine start, but it doesn't begin to tap into Mr. Big's big-time potential.
The band is perfectly positioned to find its own voice and become far more than an A-grade cover band, if it recognizes the opportunity.