Movement Through Color
For Elena Filshtinska, art stirs emotions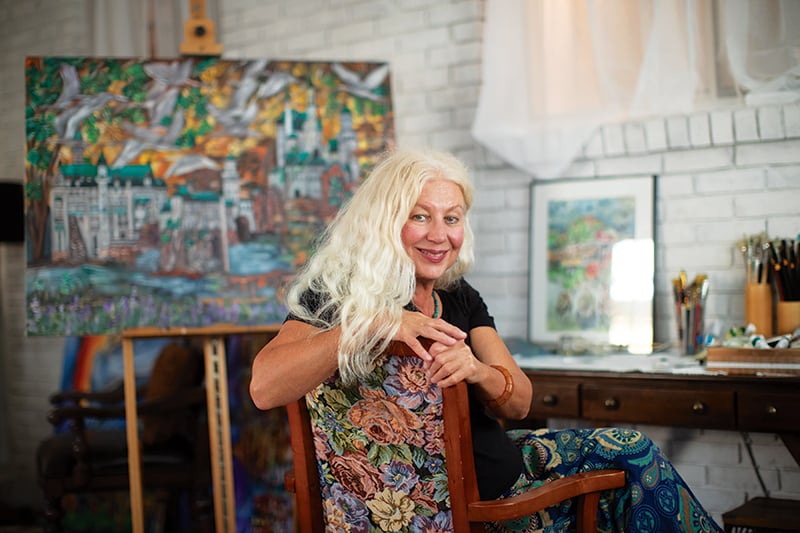 An artist may draw inspiration from many sources. Elena Filshtinska's art reflects her heritage.
Born in Novokuznetsk, Siberia, and raised in Kharkiv, Ukraine, Filshtinska's influences include art from those two regions that predates the formation of the Soviet Union. She incorporates elements from the natural world and yields to the power of dance and music in pursuing her primary genre, fantasy art.
Recently, she and her husband David Burwell moved to Northwest Florida, where Filshtinska has discovered a liking for walking on the beach and exploring state parks.
"You must be in a place where you can relax and enjoy yourself to find inspiration," Filshtinska said. "It's almost a meditative state."
Artists, Filshtinska said, accumulate joy that they then pour into their work. She has been painting familiar subjects — marinas and sailboats — in coastal colors but adding unique touches of "poetic fantasy."
"Water has always inspired me and especially the ocean, its movements, and its moods," Filshtinska said. "Now, my dream has come true. I live near the Gulf of Mexico, and I can see it every day, hear the gentle rustling of the palm trees in the wind, see the birds flying, watch the intricate patterns of the clouds — it all lends itself to an inexhaustible source of inspiration."
Filshtinska studied piano as a child — finishing music school at 13 and continuing to play after graduating college with a degree in engineering — and developed her skills as an artist by copying portraits by Rafael and Leonardo da Vinci.
For years, Filshtinska led art and music classes, but after arriving in the United States in 2000 with her teenage son, she shifted her focus to drawing and painting.
In the tradition of Russian and Ukrainian folk art, Filshtinska painted on trays and plates, often including elements from literature, music and fairytales. Her fondness for abstract, magical art grew.
"Dance as a means of expressing emotions through movement always had a huge influence on me," Filshtinska said. In addition, she has found that art encourages and sometimes enables people to speak to their emotions.
Filshtinska works in oils, acrylics, watercolors and pastels. She achieved notoriety first for her use of color and detail in Russian Palekh and Zhostovo styles. She has been recognized for her contributions to local arts communities in the United States, Ukraine, Germany, Mexico, Taiwan, Japan and Australia.
Filshtinska and her husband live in Fort Walton Beach. Burwell provides her with marketing and public relations support.
"I want to share the energy that I feel with the rest of the world," Filshtinska said, "and help people feel the movement through color."
---
More To See
Works by Elena Filshtinska are on display at locations including Fort Walton Beach City Hall, HH Arts in Fort Walton Beach and the J. Leon Gallery and Studio in Miramar Beach. Learn more about the artist at ElenaFilshtinska.com.
---
---