More Tomorrows for Turtles
Center rids environment of hazardous litter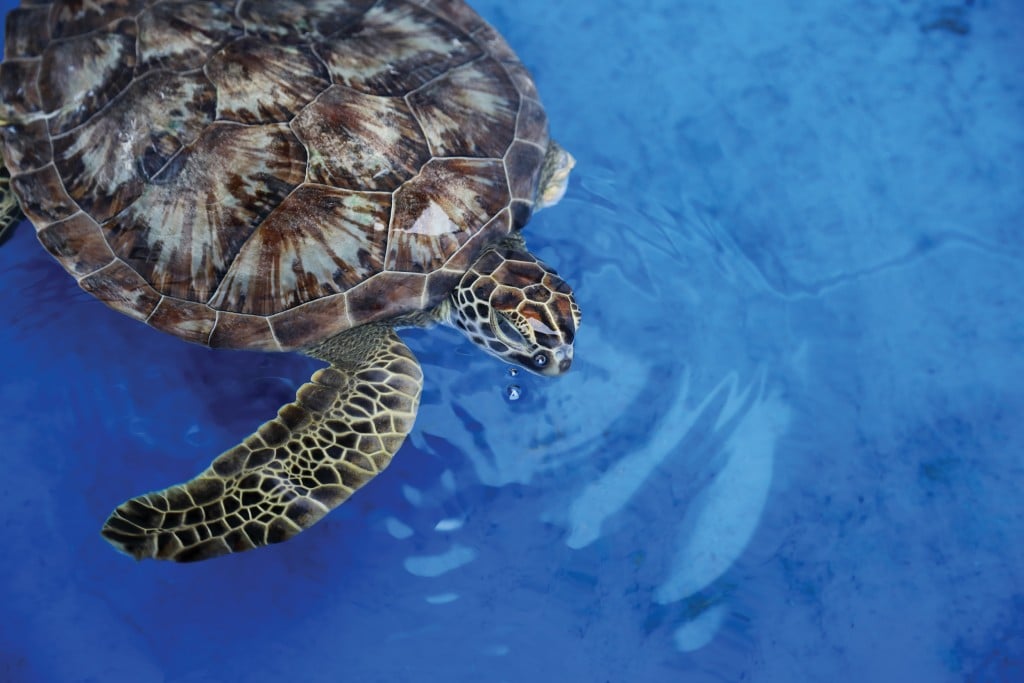 Tangled up in a fishing line, a young green sea turtle lay prone in Orange Beach, Alabama.
Already suffering muscle and tissue damage and missing a chunk of her carapace, the turtle had been sliced to the bone in her left front flipper by the line, rendering her immobile.
Following an amputation and 1½ years of rehabilitation at the Gulfarium on Okaloosa Island, the turtle, who came to be called Sweet Pea, began to show signs of recovery.
Despite never regaining use of her left rear flipper, she might rely on her right side to get by. But the Florida Fish and Wildlife Conservation Commission, knowing Sweet Pea's disability would challenge her survival in the Gulf, deemed her non-releasable.
Now serving as the Navarre Beach Sea Turtle Conservation Center's (NBSTCC) ambassador in residence, Sweet Pea is well cared for and doesn't seem to mind life in her 15,000-gallon saltwater tank. She is the first creature that visitors encounter upon entering the Gulf-front facility, which is staffed primarily by volunteers and aims to prevent similar injuries to turtles through conservation education, grassroots initiatives and partnered research.
Even in February, the center was packed with volunteers, tourists and small children and their parents. We gathered around Sweet Pea's tank to learn her life story from Alex Fox, a marine biologist and NBSTCC's animal care team manager.
"We like to first tell people her story and let them ask questions to introduce them to sea turtles and the species we have here on the Gulf Coast," said Fox, who has been with the center since 2016. "More importantly, people learn hers is a story not resulting from predation or natural events, but from human activity. I think that really drives the point home of how much we impact the environment."
Those impacts are dramatically displayed in the next room, where litter collected by Trash-Bash, a monthly beach clean-up activity and one of the center's largest conservation efforts, fills tall glass towers. Hundreds of discarded plastic straws, bottle caps, swimming goggles and cigarette butts nearly reach the ceiling.
"The last Saturday of each month, we invite the community to join us on the beach to collect litter," Fox said. "Last year, we collected close to two tons of trash. Often, the sea turtles we rescue get X-rayed and are filled with these plastic bags and straws. You read about these statistics online, but it's just like with Sweet Pea; seeing it in person is powerful. You're seeing what it does to these animals, and it hits your heart in a different way."
Fox said that last year about 50,000 visitors made their way through the conservation center, where you encounter everything from sea horses and lionfish to rehabilitated reptiles and terrestrial turtle species.
Among them, diamondback terrapins Handsome, Stubby and Pumpkin figure in NBSTCC's partnered research with the University of Florida. Data collected locally provides clues as to species distribution, nesting patterns and the utilization of salt marsh habitats.
The modest facility, full of exhibits and hands-on learning stations for children, makes the most of its space by covering its walls with informative infographics and interactive video displays. One such video shows NBSTCC volunteers in action, preserve nesting sites and embarking on live rescue missions as part of the Loggerhead Marinelife Center's Responsible Pier Initiative.
The Navarre Beach Fishing Pier, the longest in Florida, joined forces with NBSTCC to save sea turtles like Sweet Pea who find themselves caught in fishing line. It is important anglers not cut these lines or attempt to reel in the turtle, said NBSTCC volunteer and Responsible Pier first responder Bob Blais, as this could exacerbate injuries.
"When we get the call, we head out on our UTV and, working with pier marshals, drop down a net to safely bring turtles up over the rail," said Blais. "We typically bring them back here, do paperwork for Fish and Wildlife and transport them to the Gulfarium or Gulf World in Panama City. They can then safely remove the hook and provide veterinary care and rehabilitation before releasing them."
Blais said NBSTCC participated in 55 turtle rescues last year and only one, a 220-pound loggerhead, didn't make it.
"Ours was the highest number of rescues last year out of all the pier initiatives in the state, and that's because of the team we have here," Blais said. "They respond quickly and are good at what they do. We like to go out and talk to the fisherman, talk to the tourists and let them know about the number to call. It's a good, coordinated effort."
That kind of cooperation, said Fox, ultimately drives the organization's mission of "giving sea turtles more tomorrows" and, ultimately, preserving our ecosystems.
"It's funny because as the only animal on the planet who pollutes, humans affect the environment the most, but we are also the only ones who can save it," Fox said. "Adults who come through here with their children, or pick up trash on the beach in front of their kids, are setting an example of how to care for the environment. That's why, for us, education and impressions are huge. It's not just about saving sea turtles, it's a planet mission."