Journey Down the Rabbit Hole as MOMIX Presents Alice
Opening Nights performance features Tallahassee dancer Seah Hagan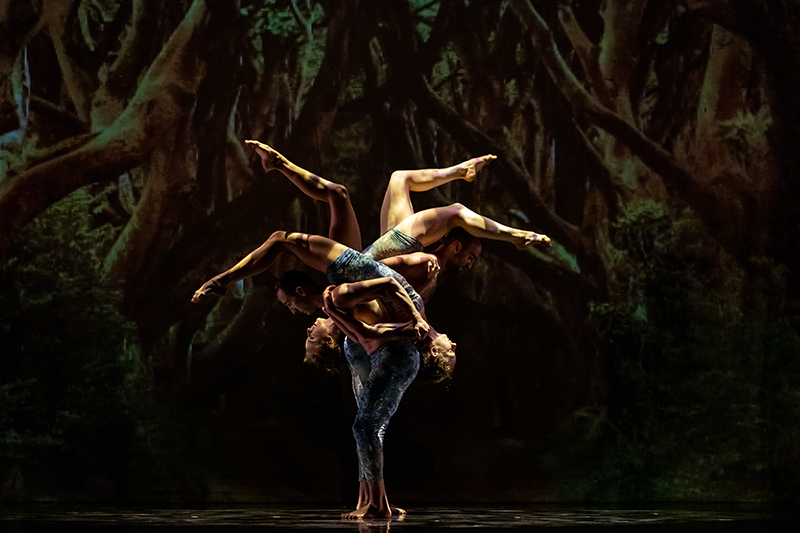 In its original depiction, Alice navigates the mystery and magic of Wonderland with a sense of fascination unique to childhood. She greets the weird and the whimsical with equal curiosity. This sense of wonder is the guiding force behind Moses Pendleton's latest MOMIX show, "Alice," to be staged at Ruby Diamond Concert Hall on Feb. 14 as part of Opening Nights.
The audience is invited to travel with Alice down the rabbit hole into an enchanting world whose story unfolds through dance, music, projected imagery, lighting, special effects and costuming. While the production is largely based on Lewis Carroll's tale, MOMIX adds dance illusions and optical confusions.
"It's more like Alice in MOMIX-land — a visually pleasing spectacle with big projections and props set to modern dance, ballet and acrobatics," said Seah Hagan, company member and dance captain with MOMIX. "As Alice grows, morphs and multiples, you have to allow yourself to be taken into a new dimension, immersed in this world of illusions."
Hagan, who joined the company in 2017, is a Tallahassee native. Her years spent studying ballet at her parent's studio Pas de Vie Ballet proved to be invaluable. Upon high school graduation, Hagan flew to New York to audition for MOMIX and within two weeks was traveling with the company on a six-week tour in Italy. 
For five years, she has travelled the world, calling Tallahassee her home base in between tours. Her Opening Nights debut is something she's highly anticipating.
"Since a young age, I've attended Opening Nights. It's actually where I saw MOMIX for the first time many years ago," Hagan said. "It's surreal that I will get to perform professionally on the stage in the theatre I grew up performing on and seeing performances on. I know I'll hold this dear forever."
Besides submersing herself in new cultures and meeting new people, Hagan's favorite part of traveling is seeing each audience's reactions to the performance. Each city reacts differently to various parts of the performance, the "wow factor" changing night by night.
Hagan, herself, is entranced by MOMIX's ability to focus on the human form while integrating elements such as musical scores and dramatic sets. These concepts are choreographed into reality under the direction of Moses Pendleton, the founder and artistic director, and Cynthia Quinn, associate director, and performed by a tight-knit company of nine dancers.
"Moses has expressed that with this show, it's important to let the childlike youth inside you come out and be present," said Hagan. "MOMIX intends for you to let your inner child navigate this imaginative world, allowing your emotions to take you where they want you to go."
The MOMIX presentation of "Alice" will premiere on the Ruby Diamond Concert Hall stage at 7:30 p.m. on Feb. 14, 2023. To learn more and purchase tickets visit: https://openingnights.fsu.edu/events/momix-presents-alice/
---