Mastering Many Roles
For "AJ," life is a laboratory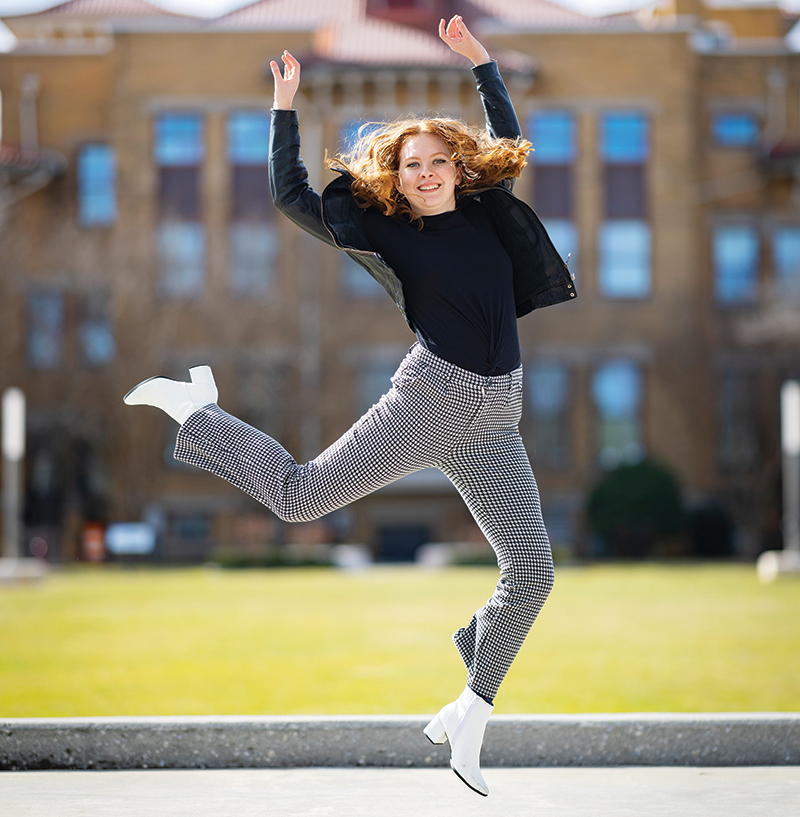 Anna Johnson relishes silence. A theater and dance instructor as well as an actor and playwright, Johnson says that even in her written compositions, the moments of silence are the most powerful.
"I love the challenge of seeing how much you can say without actually saying anything," Johnson said. "It brings the storytelling out of your hands to where the actors, the dancers and the audience control their own interpretations."
Johnson, who goes by "AJ," believes her affinity for the unspoken stems from her nine years with Ballet Pensacola, where stories are shared through music, movement and unspoken emotion. It was an environment not unlike theater, she said, but shifting from a ballet brain to that of a thespian was "tricky."
"I didn't get into theater until I went to college at Samford," she recalled. "I had some great mentors who showed me acting techniques that were specifically for dancers, to help them transition to theater. It was lots of Laban method — exercises in movement that made me feel comfortable enough to explore a new performance mode."
While pursuing a degree in theater for youth at the Birmingham-based university, an emboldened Johnson further stretched her creativity when she began writing original works. She began with 10-minute scripts for her classmates to direct and, through the school's Underground Theatre, produced her first full-length, original play, Love Isn't Real.
The play, which was named Original Script of the Decade by the theater news site BroadwayWorld, centers around a would-be scientist who concludes that love is nothing more than a blend of chemicals and psychological trickery.
"It's cheesy, fun and packed full of rom-com references," Johnson laughed.
She doesn't take herself seriously either, admitting to being a walking cliche. She can often be found writing in coffee shops across downtown Pensacola and jokes that her fashion sense is the result of an "across the board" personality.
"Sometimes I'm dark academia — patterned pants, dark shirts and my favorite leather jacket. Other days it's colorful and bright, '70s-era things. There's a pair of white, Mamma Mia!-style go-go boots I wear almost every day. I just like to have fun, bring a little bit of the stage to everyday life."
That range is nowhere more apparent than in her work as a research coordinator in the robotics lab of the Institute for Human & Machine Cognition, a nonprofit affiliated with multiple Florida universities.
"Right now, we're doing some work with exoskeletons in humanoid robots, so yeah, it's kind of different from the other half of my life," Johnson laughed. "My dad's a scientist here, and I've been around this type of work my whole life. I never thought I would find myself in this line of work. But when I read about the position they had open, I realized it was basically everything that I do with stage managing in theater that I love: coordinating between projects, making sure everything's on track and that the lab doesn't burn down — things like that."
That's Johnson's 9-to-5, but the flexibility allows her to teach drama to children and adults at Pensacola Little Theatre and Neighborhood Children's Theatre, as well as grow her acting repertoire. Currently, she's performing in the Little Theatre production of The Addams Family, plus attending rehearsals for her original play Evidence.
The murder mystery is an examination of the true-crime phenomena and the media's sensationalizing of cold cases, Johnson said, acknowledging that there is a "delicate balance" between raising concern about such cases, while simultaneously turning victims into entertainment.
Debuting this March at Pensacola Little Theatre, Evidence is the first of Johnson's plays to be produced in her hometown, a prospect that she said is as "exciting as it is scary."
"You never know how people are going to react to your writing," she added. "But I've completely turned my script over to my friend Megan, who has made it her pet project and will be directing the play. I recently got to hear the cast dissect their characters and the story, and they found things even I haven't thought of. I didn't think that was possible, because I went over that script with a fine-tooth comb."
But Johnson tried to follow the advice she often shares with her theater students: "You can't perfect something unless you have something to work with. You have to let yourself fail and be bad at something, and know that you can fix it later. If you're so frozen in fear of being perfect, you'll never achieve anything."