Marketing Quality, Modeling Success
Shantelle Dedicke adheres to high standards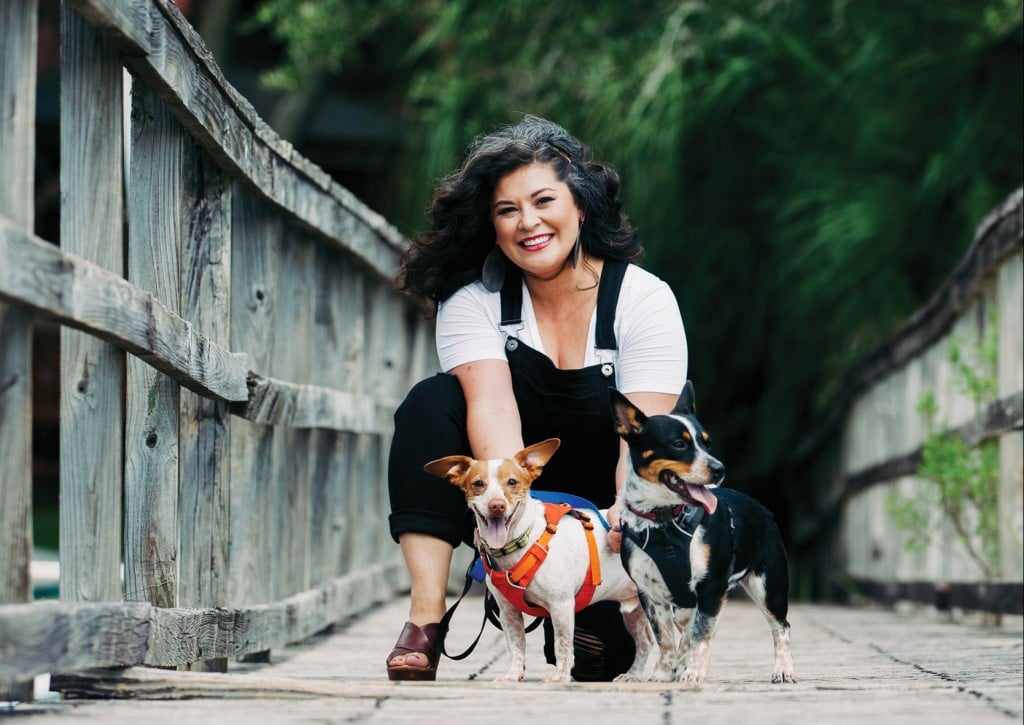 At the Capriccio Café in Destin, Shantelle Dedicke, a woman at once sprightly, serious and driven, nurses her favorite pick me up — an Americano with a splash of hazelnut syrup and almond milk.
Family surfaces early in conversation with Dedicke. She has been married to Greg, a retired U.S. Air Force flight engineer, for 22 years. The couple has two twenty-something children. When she established her Niceville-based marketing communications firm in 2016, she named it in honor of her grandparents, Frances and Roy.
"I don't compromise on quality," Dedicke said of her work at the Frances Roy Agency. "If I wouldn't be proud enough to show it to my grandparents, it won't see the light of day. I'm uncompromising and unapologetic on that." 
Frances would be proud of the people-first company culture Dedicke is fostering. The agency offers staffers flexible schedules, an option to telecommute and even family leave for new pet adoptions.
"I truly believe if people are happy, they do better work," Dedicke said.
A self-proclaimed "serial entrepreneur," Dedicke relishes taking a fresh approach.
"I'm obsessive about dismantling and disrupting things," she said. "I believe it's a misconception that harmony must be positive. For example, sometimes you need things to be removed for things to be smooth. I will break something for harmony every day." 
Dedicke worked promoting tourist destinations in Cheyenne, Wyoming, before relocating to the Emerald Coast in 2014. Sustainable tourism remains one of her passions.
"For me, it's more than just having environmental awareness," she said. "Sustainable tourism encapsulates buy-in by residents, giving a pedestal to arts and culture and attracting tourists who care and who will leave a place better than when they came."
Consistent with that outlook, the Frances Roy Agency supports local organizations including the Mattie Kelly Arts Foundation, Choctawhatchee Basin Alliance and Youth Village.
Dedicke said about her sense of style that "it's a mix of what I am going to feel strong in, that is interesting, cool and comfortable."
Gray, black, white and blue comprise her go-to palette for both her home and her wardrobe tailored to what she describes as her "atypically short and curvy body type."
"There are short people, and then there is me and my mom," Dedicke said. "My natural height is what I call invisibility."
Like actress Diane Keaton, Dedicke loves to mix men's wear and feminine elements. She will pair a graphic T-shirt with tuxedo pants, for example. Her closet is stocked with tees emblazoned with "Self Made" and "La Fierce," along with classic pieces such as jean jackets and black heels.
"I'm an intuitive, in-the-moment person," Dedicke said. "I never lay my clothes out the night before, because I always feel different in the morning."
Flexing her creativity, she's trying her hand at ceramics and digital design.
"Life is very decisive, and so I don't hesitate. I love big decisions," said Dedicke, who describes herself as curious, strategic and deliberate. 
Sipping her Americano, she said, "I want to say 'yes' to life, and whatever I have to do to say 'yes,' that's what I'm wearing."