Maintaining Connection
He speaks grief to the wind and is soothed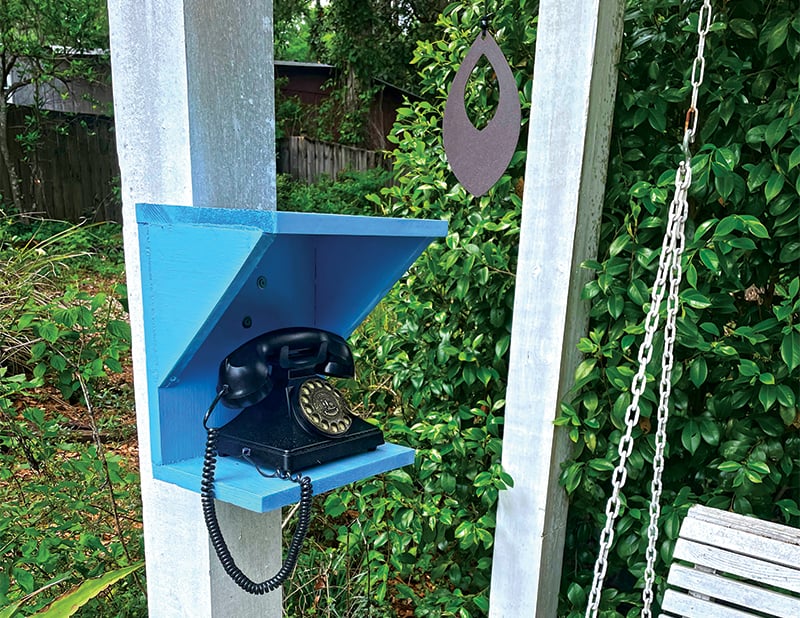 Above my late wife Mindy's swing in my backyard hang wind chimes, also known as fenglings, which have their roots in China and date back to around 1,100 B.C. In the Far East, these wind bells were used as decorative art at private homes and sacred structures. Hundreds of years later, they became popular in the Western world, including the U.S.
My son, Mark, hung the chimes for me at my Tallahassee home, and he mounted my wind phone on a beam that supports the swing. That swing is the one Mindy and I had at our Alligator Point beach house for decades.
Sitting on Mindy's swing is comforting. There was something very, very special about watching the sunset over the Gulf of Mexico while holding hands with the one I loved more than anything in the world.
Most people I know love the sound of chimes when the wind blows. Mindy and I always had wind chimes at our cabin in Banner Elk in the Blue Ridge mountains of North Carolina, but when strong north winds ripped across Beech Mountain, we often had to retrieve chimes scattered around the property. That's not a problem in my backyard.
I built a bright blue box for my wind phone, an idea that Japanese garden designer Itaru Sasaki originated in 2010 as a way to deal with the death of a cousin. The wind phone is unconnected to any earthbound grid, but Sasaki believes it is a means by which people can speak to loved ones who have died.
Sasaki installed an old rotary phone in an abandoned roadside telephone booth. He experienced comfort and healing by virtue of the connection he felt to his cousin through the phone, which he named kaze no denwa, which translates to "the phone of the wind."
Tens of thousands of people have visited Sasaki's original wind phone since 2011 when it was first publicized. There are now wind phones in places throughout the world, including Tampa. A wind phone can be placed anywhere, including my backyard.
In November 2021, CBS Sunday Morning broadcasted a segment about a wind phone placed by an amateur carpenter on the trunk of a massive tree in a rainforest near Olympia, Washington. He thought it might be helpful to his pre-teen daughter who had lost a friend to infection, and then found himself using the phone to speak to his departed mother.    
CBS correspondent Lee Cowan concluded that segment, saying, "Whispers on the wind; you might not hear them unless you listen."
I don't expect my "phone of the wind" to ring, but that's alright with me. The sound of the wind chimes, coupled with the presence of a wind phone and my faith and imagination, provides solace and comfort to my soul as I talk to Mindy and all the other loved ones who have passed on.
Peace be with all.
---
Bob Jones was, for decades, the executive director of the Southeastern Fisheries Association, an organization that represents the interests of commercial fishermen throughout the region.
At age 90, he is devoting his still considerable energies to finding the graves of some 900 Minorcans, including ancestors of his wife, Mindy, who died and were buried at a plantation in what would later become New Smyrna Beach.