Love + Grow
Customers flood children's clothier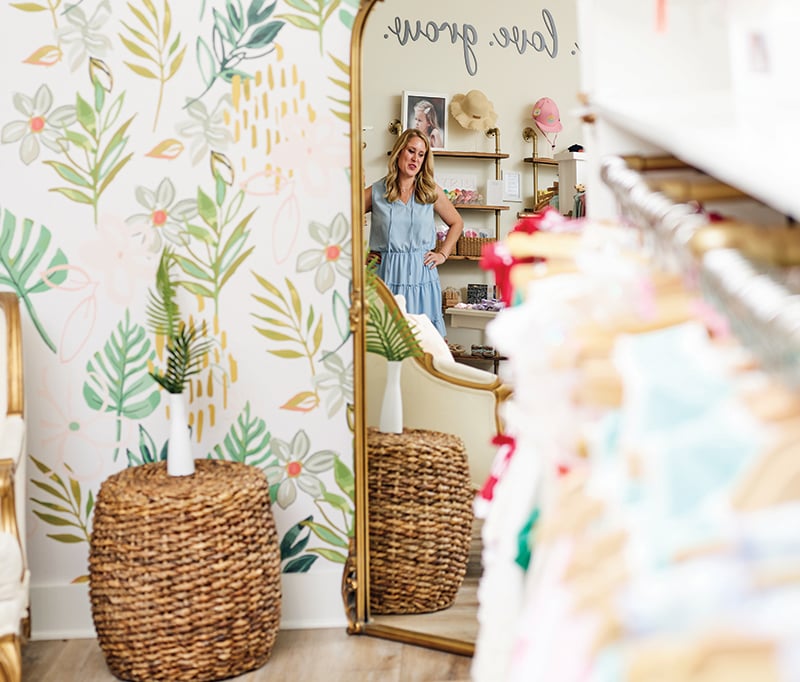 ---
Creative ideas can sprout out of the most challenging situations. That's exactly what happened when Lindsey Smith had to find a solution to her baby's wardrobe and all the quick changes that babies need growing up. Her daughter was 9 months old and needed to wear bibs almost all the time. Right then, Lindsey realized she either must buy more bibs, or she could make her own bibs out of fabric, as well as matching dresses and rompers. All she wanted was for her baby to look cute in her matching outfits.
The idea quickly developed into a business venture, and Lindsey's bibs started selling under "Bibly Baby." It was doing well, but the creative juices kept flowing, so Lindsey started making matching outfits — dresses, rompers, sets for boys and girls, you name it! The brand started growing and shaping into its own thing.
Soon after, her husband Nick joined the team, and they took off on this exciting adventure together. During the pandemic in 2020, when everyone was shopping online, the brand gathered a lot of attention, and it was crucial to work as a team. He even came up with the name, Love + Grow. More orders started coming in, and they got busier by the minute. However, there were more exciting things coming to Lindsey and Nick. In 2021 they moved from Atlanta to the Emerald Coast and decided to call this their home. Nick was originally from this area, and it was only natural to bring the new "baby" home.
After the whole family moved and settled, Lindsey decided that she wanted to open a store showcasing all the fun designs and introduce the local area to their brand. With heartwarming support and help from family and friends, they opened the store in March of 2022. Since then, they've added more staff to their team and fresh outfits to their inventory. The husband-and-wife duo share responsibilities very well — Nick takes care of shipping, financials and the warehouse, while Lindsey takes on the creative role and handles the design and marketing part of the business.
The coastal area helped the business expand into new designs, and their line of swimwear has quickly become their customers' favorite. People travel to visit the store and get a chance to purchase exclusive in-store items that are not sold online. The local community response has been so great that it has been one of the biggest challenges so far to keep certain designs in stock.
Besides matching children's clothing, Love + Grow carries outfits for main holidays like Christmas, Fourth of July and Halloween for the whole family. They are always a big hit! Their custom, handmade embroidered pajamas are one of the most requested items. One of the most popular prints for the brand is "Rainbow Hearts" in a Candyland pattern.
Lindsey shared how grateful she was to find a watercolor artist to create custom graphics for the fabrics and manufacturers overseas to help her grow her business. The brand makes clothes for children ages 6 months to 12 years, both boys and girls, as well as men's and women's swimwear. Matching mother-daughter outfits and swimwear are hard to keep in stock, but this doesn't stop the brand from growing. The unique designs and custom fabrics are the main factors why Love + Grow is so in demand. In the future, Lindsey and Nick are looking to expand into beach-specific items like beach towels, casual wear and more.
As of right now, the store is operating out of a location in Santa Rosa Beach. With the continuing support from the community, Lindsey plans to open a second location on 30A, still keeping the online store and expanding its merchandise line. The sky's the limit here! "I design everything with my heart, and
I want families visiting this area to make great memories and look cute while they're doing it," Lindsey said
---
---