Key Player
Sour notes don't stand a chance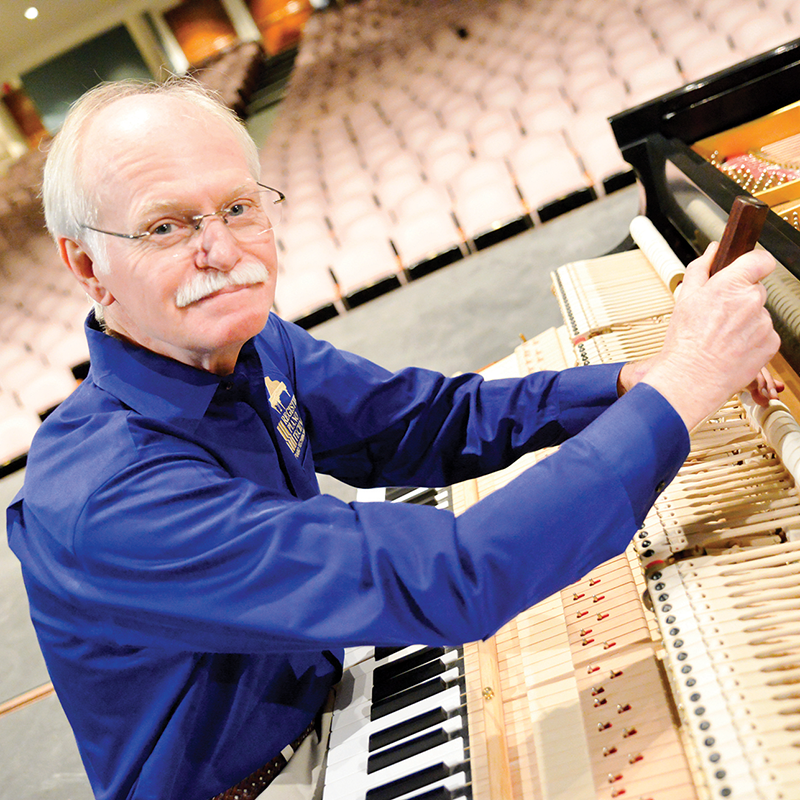 For professional piano tuner, guitarist, songwriter and family man Greg Pollard, making a joyful noise is not only his business but his philosophy of life.
From tuning pianos for Michael Bublé and Pentatonix concerts to keeping the 20-plus pianos at Northwest Florida State College and area churches in tip-top shape and tuning home pianos for budding musicians, Pollard is the quiet force behind much of the music along the Emerald Coast.
Pollard is a second-generation tuner, and the tradition continues with his son, Troy, whom he personally trained. A Miami native, Pollard grew up in a musical family. He recalls his father playing the piano after dinner every evening.
"I didn't realize not everybody's dad did that," he says. "That was normal for us."
In 1985, Pollard heeded his brother's call to be an interim guitarist for The Great Pretenders, the house band at Destin's Yesterdays, a beloved but now closed nightspot. Pollard's two-week favor turned into a four-year stint.
Desiring a change of pace, Pollard left the band and turned to his tuning to set the tone for his future. He joined the Piano Technicians Guild (PTG), purchased a tuning computer and attended a technical school in Los Angeles. Today, Pollard is a PTG Registered Piano Technician.
Strong relationships are what paved the way for Pollard's success. He jokes that he doesn't even have a website, but he tunes about 30 pianos a week. His faith, family and friends in the music community have been the springboard for incredible experiences and memorable encounters in his three decades of tuning throughout Northwest Florida.
A gentle spirit who shies away from the spotlight, Pollard hesitates to "name-drop" but lights up when sharing his adventures in piano tuning. He chuckles as he recalls being accosted by police who mistook his tuning tools for burglary implements. He remembers an evening at Choctawhatchee High School when Willie Nelson's band held a tarp over his head as he tuned a piano in the rain.
Pollard relishes the memories of incredible concerts by world-renowned musicians. He smiles as he realizes he now tunes pianos in the adult homes of people who took lessons from him as children early in his career. And he glows at the thought of his son coming up alongside him in his trade.
"I have been so fortunate," Pollard says. "I've worked with so many great artists and people who love music."