Kelley's Beach Liquors Is A Family Affair
Family owned business values relationship with customers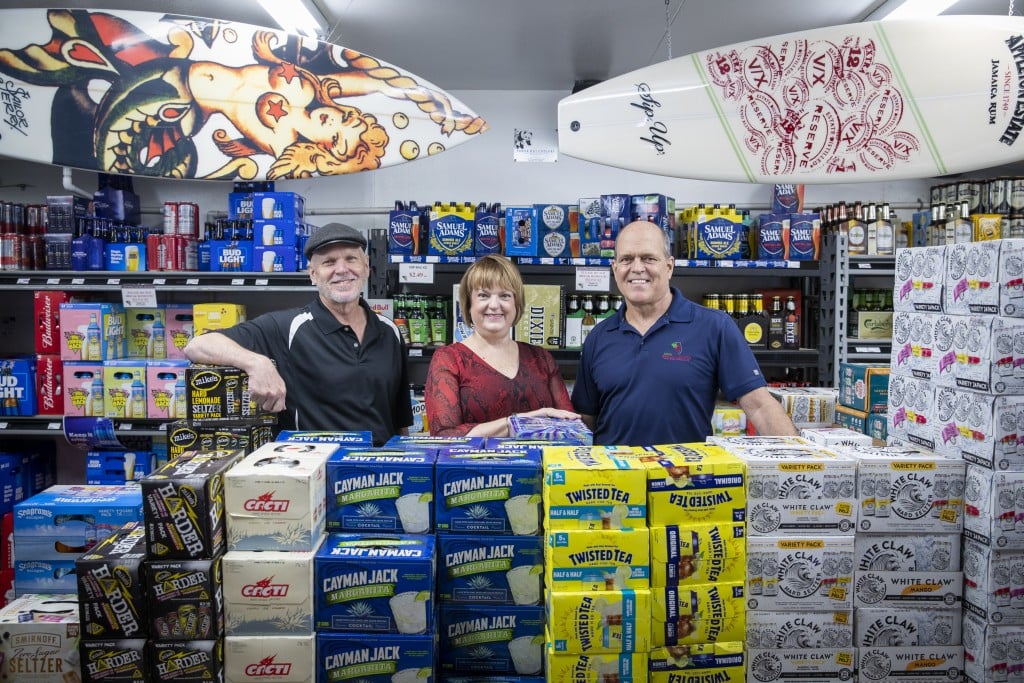 Chuck, Mike and Pat Kelley learned lifelong lessons growing up in a familiar Emerald Coast family business.
"Work ethic," said Mike Kelley, addressing one of those lessons. "You've got to work hard to show results. Nothing comes easy."
Kelley's IGA supermarkets were owned and operated by Roy Kelley and his brother Charles.
The current generation, two brothers and a sister, started Kelley's Beach Liquors in the year 2000 with a Panama City location. Since then, they have opened Crestview, Fort Walton Beach and Destin stores.
"Back in the day, we used the phrase 'hometown advantage,' and that is truly what we think we are and what we want to be," Mike Kelley said.
Local ownership appeals not just to locals, but to military personnel and visitors who make their way to Northwest Florida from all over the world.
Meanwhile, tastes in alcohol have become increasingly sophisticated and complex.
"You see the acceptance of craft beer in a younger generation," Chuck Kelley said. "And a lot more women are drinking craft beer. Also, like wine, you're seeing people matching the style of beer with whatever they're eating for dinner. Whether it's an IPA (India Pale Ale), a porter, a stout or a pale ale, it can match up like wine does with meals."
Local craft beer is sold primarily in cans.
"For the beach, for boating, for pools, people don't want a glass bottle around," Chuck Kelley said. "Where they used to concern themselves with the acceptance of cans, today it's just the opposite. Everybody's going to cans, and it's made it a lot easier."
The steady and impressive growth of local breweries has made for a steady flow of new products.
"When people travel, they don't necessarily want beer from the national breweries they're accustomed to back in their own hometown," Mike Kelley said. "They want to experience the local flavor."
Tastes have evolved, too, with regard to liquor.
"Generation Z is buying more upscale products, and there's more 'premiumization' in the categories," Mike Kelley said. "Tequila has become the 'new bourbon,' and shelf-aged tequilas are gaining in popularity."
Gen Z'ers also have surprisingly refined tastes in wine.
"With their buying power, we're seeing more entry-level people who are drinking sweeter wines," Mike Kelley said.
"All of the imports from Australia, South Africa, Argentina and Chile have declined in popularity," he added, "and it really goes to people, their palates, their education level and the strength of the domestic American wines. The only categories that have held their own are France and Italy. That's Northwest Florida for you."
Low carbs, great taste
"Seltzer has exploded, and it has maintained sales," Chuck Kelley said. "In the past, there have been items that have come on the scene and been a one-hit wonder that lasts maybe a summer or a season. Seltzers hit and grew to the extent that suppliers couldn't keep up with the demand and couldn't keep product in the warehouse."
Why such an impact?
"They bring alcohol content with low calories and carbs," Chuck Kelley said. "So where you used to think it would be female-oriented, that's not the case. Guys are walking in and buying 12-packs of seltzers all the time now. It's impacted all beer with more avenues to explore, and who knows what will be next?"
"The younger generation wants to live a healthier lifestyle," Mike Kelley said. "They're looking for lower alcohol content to line up with their healthy standards. Seltzers in the 'ready to drink' category are off the charts. Why? The convenience of it, and the low alcohol and they're willing to spend more money for that convenience."
These days, what constitutes convenience for many people means shopping from home and having products delivered to their door.
"We've had a website for eight or nine years," Mike Kelley said, "and we embarked on upgrading it about six or eight months before COVID-19 hit. It came together where we had our online shopping available the same time that we had our smartphone app."
Via the Beach Liquors app, consumers can place orders through City Hive or Drizly. DoorDash makes deliveries.
"We don't always look at the crystal ball and read it, but we knew prior to COVID-19 that shopping at home and having home delivery, that was going to be a big thing," Mike Kelley said. "And we are lucky to be in the right place at the right time."