Karma As Catch of the Day
Student of Mako Dude proves to be less than macho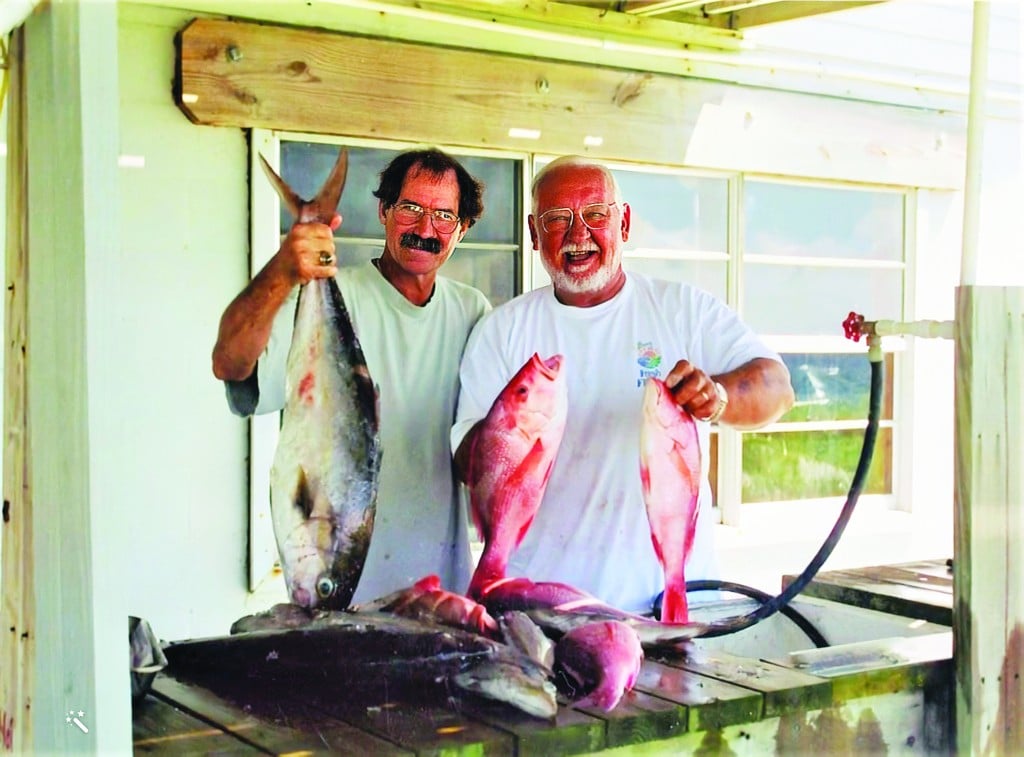 One summer day in the late 1980s, I invited Gene, Walter and my fellow St. Augustinian Charlie to go grouper fishing off Cape San Blas. I had some great Loran numbers for spots located within five miles of shore.
Charlie was a world-class hunter and gatherer from the git-go. He grew up chasing mullet on Vilano and St. Augustine beaches. He was well known for driving a skeeter — a vehicle with a motor, chassis, wide tires and homemade wooden body.
The seats were nothing but old orange crates that you had to pin to the floor with your body weight. You could see the ground rush by while riding in the skeeter through the holes that rust had eaten in the floorboards. But the big Ford engine ran like an Ingersoll watch, and Charlie brought home many a ton of roe mullet in croaker sacks stacked on the wooden plank that he called the back seat.
I met Charlie at 6 a.m. at Shields Marina in St. Marks to gather up my 22-foot Mako at the dry storage barn. We pulled onto U.S. 98 and headed to the Indian Pass ramp. Gene and Walter were there waiting for us with bait, cold drinks and enough sandwiches to feed twice our number. Nor did they forget the Vienna sausages and saltine crackers for snacks.
Our plan was to tempt grouper and red snapper with cigar minnows, sardines and squid and load up the fish box. This was before today's bag limits were imposed on sport fishermen.
We launched the boat without difficulty despite some current, and after loading food and bait onto the boat, we made our way through a narrow cut to deeper water. I punched in the numbers for the cut, designating it as "home" for our return trip.
Only his close friends knew that Gene got seasick sometimes when fishing offshore from a small boat. But the seas were running less than two feet this day, and the sun was bright with just a few clouds building up to the west. Odds were excellent that even Gene would not turn green.
On the trip aboard my boat Bigfish to our first drop, I thought Gene might be thinking back to his early years when he would set his gillnet around a school of mullet or Spanish mackerel. Whatever he was thinking about made him happy and put him at ease.
Walter and Gene are among the best freshwater fishermen I have ever seen. They know all the creeks and every turn in the Apalachicola River system throughout Gulf and Franklin counties. They have fished those waters since they were first able to crawl into a boat.
Charlie and I specialized in grouper fishing in those days. We could anticipate the slight brush of a grouper's mouth as it lunged for a cigar minnow. We preferred cigar minnows and menhaden as dead baits, and pinfish was our preferred live bait. We knew how to catch grouper. A cooler full of fish was more likely than not.
We hadn't traveled more than a couple of miles when we reached one of the spots that Gene had given me. Sure enough, we saw a four-foot rise on the bottom and marks that looked like big fish on my color depth finder. Gene flung an orange-painted bleach bottle and two-pound weight off the stern to mark the spot. I turned large circles around that bottle and looked at more bottom in the vicinity.
As we came within 50 feet of the marker, we got a promising reading again, so I decided to anchor up while taking the wind direction into account. We would find, however, that the current was running in a direction opposite that of the wind, and when we threw the anchor, we settled down 100 feet from the marker. A second attempt at anchoring produced the same result; we were still 100 feet removed from our target.
Thinking he could do better than I had, Charlie wanted to raise the anchor again despite getting testy and tired from pulling it repeatedly. "Suit yourself," I may have said. We swapped places. He took the wheel, and I threw the anchor when he gave me a sign to do so. No improvement. We just could not get the boat to come exactly to the marker because the wind was blowing one way and the tide was running the other. I said something to Charlie, and it wasn't complimentary.
After a fourth attempt, we decided to stay where we were. By this time, Charlie was bitching and moaning, and I would be lying if I said I weren't irritated, myself, my prowess having been questioned by Charlie. Gene and Walter were content to smile and take it all in.
Charlie had learned to grouper fish at the foot of a master angler whose call sign on the VHS radio was "Mako Dude." The Dude had a solid reputation among the best grouper fishermen in the Panhandle of Florida. I, too, had had a few lessons with the Dude and was no slouch when it came to boating gags and reds.
Once we were finally anchored, Gene and I fished off the port side, and Walter and Charlie fished off the starboard side. My bait had been on the bottom for less than a second when I sensed a fish mouthing my cigar minnow, and I set the hook and brought up a hard-fighting 7-pound gag grouper. I hooked another cigar minnow through the tail, sent it to the bottom. Boom. I had another fish as soon as the sinker hit the sand.
By the time I brought my sixth grouper to the surface and put it in the big Igloo cooler, Charlie had still not landed one. Things were uncomfortably quiet on the starboard side of the 22-foot Bigfish. Gene and Walter said nothing but enjoyed taking in the competition. Charlie had been a blowhard telling me how to anchor and fish.
Gene and Walter, too, caught several fish before Charlie finally got one. But that time, I had put 13 gags on ice. My left arm was getting tired. We decided that we had enough for all of us and the wind was picking up, so we pulled the anchor and headed for shore.
Charlie was a mentally whipped man that day. Not too much was said among us during the short run back to Indian or on our longer ride back to St. Marks, where we put the boat in storage and divided the fish. Charlie got into his trusty Bronco and took off.
My St. Augustine buddy and I never fished together again. I regret that. He was a damn good fisherman — except for that time when karma bit him in the butt for questioning the ability of Capt. Bob Jones.
Robert P. Jones is a fifth-generation Florida native. He is a U.S. Marine Corps veteran whose eighth great grandfather, Onesimus Futch, fought in the American Revolution. His uncle, Staff Sgt. Phillip Lester Brinson, was killed in action during World War II. Jones married his high school sweetheart, Malinda Usina, in 1955. The couple had five children, four of whom survive. For more than 50 years, Jones served as the executive director of the Southeastern Fisheries Association, representing the interests of commercial fishermen. In this photo, Jones, third from right, helped host a fishing excursion, sponsored by the Southeastern Fisheries Association, for children with muscular dystrophy.