Justin Gaffrey Grants Himself Expanded Artistic License
The chef turned artist is a modern-day Van Gogh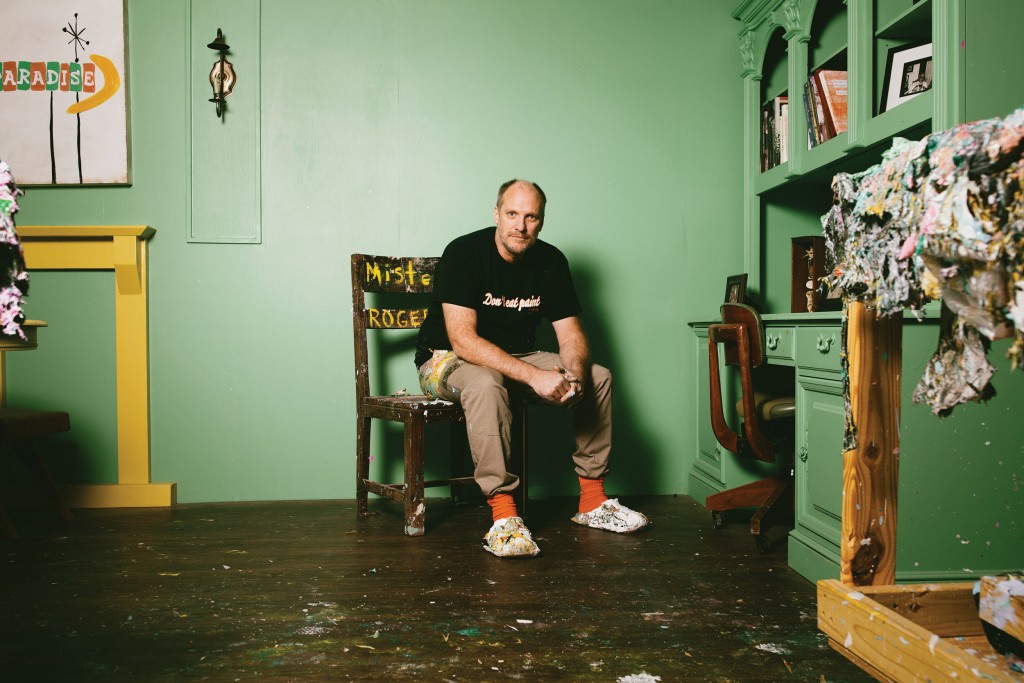 Since 2001, when Justin Gaffrey got his calling as an artist, his signature on a painting has become the sine qua non imprimatur of an exaggerated painting style with the visual appeal — primary colors and decorative piping — of lavish confections.
These days, Gaffrey paintings are cited as selling points in descriptions of luxury homes for sale. Along the Emerald Coast, his creations, both paintings and sculptures, are priced between $3,000 and $11,000.
Born in New Jersey in 1970, Gaffrey moved to South Florida as a boy.
"I've been in the Panhandle since 1980," he said. "The oyster-shell roads have gone to asphalt. I spent a good few years as a chef around Blue Mountain Beach but finally dropped out of the restaurant scene to be an artist."
Gaffrey attributes his success on the art scene to his work ethic, like a surfboard on 30A's tsunami of gentrification.
"I'm obsessive about production," he said. "Commercially, you have to be. I want to establish a legacy that will run itself, so I can retire and get more esoteric with my painting."
Gaffrey opened his business as a leap of faith. In the early days, he lived, painted and exhibited his work in a storefront gallery near Seaside.
By virtue of Gaffrey's Horatio Alger spirit, he has since added an industrial scale studio — a proper Florentine Renaissance workshop containing separate units for wood and metal work, pigment grinding, paint mixing, plus digital workstations and a photography setup.
Except for five or six employees, including a son and daughter, it's a veritable Fortress of Solitude where the artist can focus, uninterrupted, on the creative process. Then, it's on to the production line where birch panels and acrylic paint get transmuted into interior decorating gold.
Gaffrey's is a burgeoning legacy, for sure. Consider that not even Michelangelo, for all the Medici family's patronage, had a billboard north of Choctawhatchee Bay on Highway 331, with a picture of him tossing a bucket of paint onto a picture panel.
Gaffrey has now begun producing his own eponymous brand of art supplies, its most symbolic item being the Gaffrey line of art paints, packaged in cone-shaped plastic bags. If instead of being filled with acrylic paint, these bags were filled with sheet-cake frosting, one could snip off the pointy end, squeeze, and voila, decorate a cupcake!
Gaffrey's oeuvre would seem to fall into the art brut genre. His approach to the paint itself is based on the impasto technique, characterized by smearing colors onto a prepared surface, traditionally with the flexible blade of a palette knife. Or in Gaffrey's case, by gobbing on three-dimensional rosettes and arabesques with a piping bag and taking the impasto technique to an extreme somewhere between baroque and bizarre.
It's surprising that Gaffrey's specialty as a chef was not pastry but seafood. The luscious, sculpted slathering of acrylic paint, would, as butter frosting, assuredly set the hearts of birthday boys and girls racing in hyperglycemic joy!
About what sparked his switch from kitchen to studio, Gaffrey said, "As a chef, I was already painting a little. Really into Van Gogh! One day, I decided to do a rendition of 'Sunflowers,' and it had hardly dried before somebody bought it for way more per hour than I would ever have made cooking!"
Gaffrey's 3-D paintings come forth from the surface of the painting somewhat ominously in a manner reminiscent of sci-fi video productions that invade the viewer's world. While a major portion of Gaffrey's paintings tend toward the strictly decorative — coastal landscapes, floral fantasies — there is, in others, a creeping sense of surrealism in their dream-like images: a lady plummeting downward toward a bowl of gigantic grapes; a dog about to smash into a wedge of watermelon; a deer, ankle-deep in an idealized coastal pond, with roosters perched on its antlers.
Gaffrey views those surreal leanings as an evolving interest toward which his aesthetic compass is swinging.
"So what's next after Van Gogh?' I ask. "Justin Gaffrey goes Dali?"
At that point, a UPS truck arrives, and Gaffrey goes to see to a shipment of art stuff. He gets real busy, and the question goes unanswered.