Jenna Varney Is A Woman of Many Layers
2019 South Walton Artist of the Year reflects on her 'hyper' year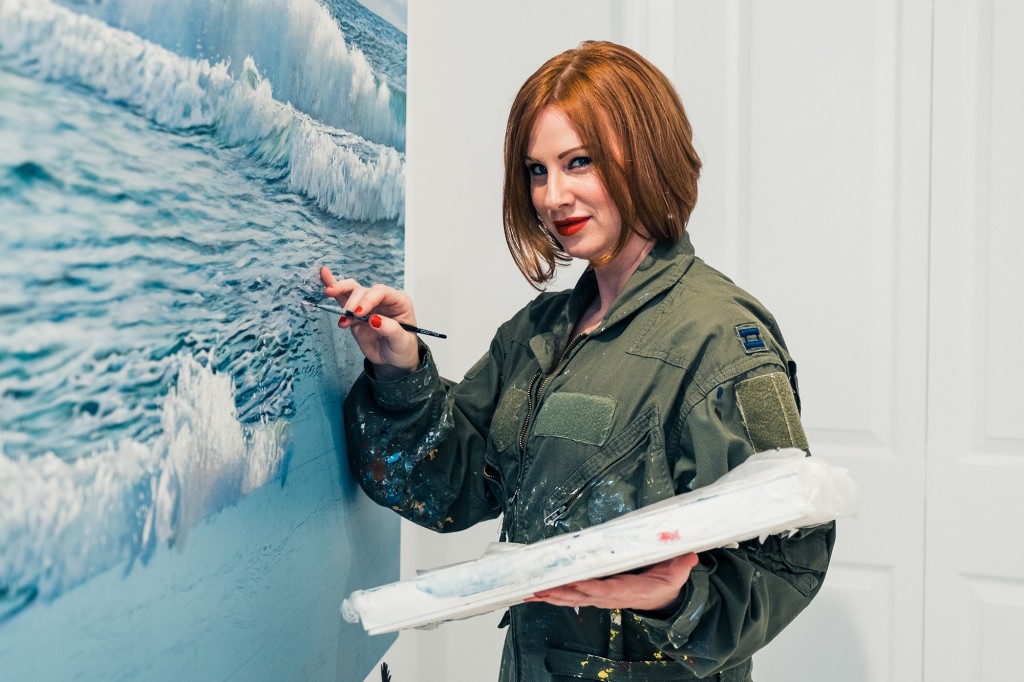 With flame-colored hair and smoky blue eyes, she looks every bit a siren of the sea. Clearly, 38-year-old Jenna Varney is no sea creature. Still, this plucky Pisces, who settled on the Emerald Coast in 2012, sure paints like one.
The 2019 South Walton Artist of the Year sat down with Emerald Coast Magazine over tea to share some highlights of her banner year as South Walton's arts ambassador.
"It's been a very busy year," Varney says with a sigh.
She was tapped to promote the arts in South Walton in different ways — from live painting demonstrations designed to promote corporate retreats in Nashville, Tennessee, and delivering public speeches on the economic impact of the local arts to giving media interviews.
Her message? "It's very important to support the local arts, because the arts help promote our community," she says.
"When a visitor buys a painting and hangs it on their wall, they remember the beautiful beach and the emotion it evokes, then others see it, hopefully they feel the same … and it spreads that we are a destination of art and culture, and that helps keep everything promoted … and growing."
The exposure of being South Walton Artist of the Year has helped Varney's career grow substantially, too.
"It's been one of my best years yet," she says. "Right after I won artist of the year, I sold my most expensive showpiece painting (Pink Pearl) which was in the window of The Foster Gallery in Grand Boulevard at Sandestin." (The honor went to Irma and Jack Tuder, who live on the resort.)
Since being honored, Varney has received numerous commissions and been invited to show her "hyperrealistic" work largely of coastal tableaus in Ruskin Studio in Seaside, as well as the East End Gallery and Crust Artisan Bakery in Santa Rosa Beach.
But the real highlight for Varney is the feedback she has garnered from people and fellow artists.
"The inspiration that comes from them — you see it reflected in their faces — it's very surreal."
In addition to being named Visit South Walton 2019 Artist of the Year, Varney won both the Best in Show and People's Choice Award at the Cultural Arts Alliance (CAA) Annual Member Juried Show in 2017.
She was the 2018 featured artist at the 30th Annual ArtsQuest Festival and also named Visit South Walton's 2018 Best Acrylic Paint Artist.
Varney majored in art at Farmingdale State Collage SUNY in Long Island, New York, where she met her husband, Matthew Nevius.
He was a double major in avionics and art. One day in art class, his salty pretzels paired well with her Hershey's bar with almonds, and well … that was that.
She started in oils, but they proved problematic for the globetrotting military wife of a pilot. "You can't ship oil paint, because it is considered flammable, so it was easier to shift to acrylics," she explains.
And with upwards of 30 thin layers of paint as part of her process, fast drying acrylics did the trick. Though sometimes, this award-winning artists' paintings are so realistic, they nearly trick the eye. "My paintings are really smooth and often mistaken for photographs," she says.
A Varney original begins with a vision. "I see a painting in my head," she says. "I go out and get the elements and create it from my imagination. If a crab painting, I get a crab, position it and nearly always work from my own photographs."
Now that her husband is no longer on active duty with U.S. Air Force (he's in the reserves), she is happy to be staying put in their newly remodeled Freeport home, equipped with an art studio, so Varney can "take my turn" and focus on her art career.
Though she has traveled the globe, Northwest Florida is the place that has ignited her passion to create.
"When I came down here, something went off inside of me and I was just inspired," she says. "I walk my dog and see a reflection in Dune Lake and think 'I've got to paint that.' "
After taking a "breather," Varney plans to focus on large-scale paintings and venture into some new creative lanes … maybe a 30A fine china line featuring the coastal dune lakes.
"So, I have a bunch of different ideas and then … maybe open my own gallery," she says her eyes sparkling.
Will it be on 30A?
"Definitely," she assures.
As a response to the pandemic, shops and pop-up galleries may not be open. Please check with the artist or gallery directly for inquiries on business hours or operations during this time.