In the (Big) Loop
Ambitious boaters see the country from the water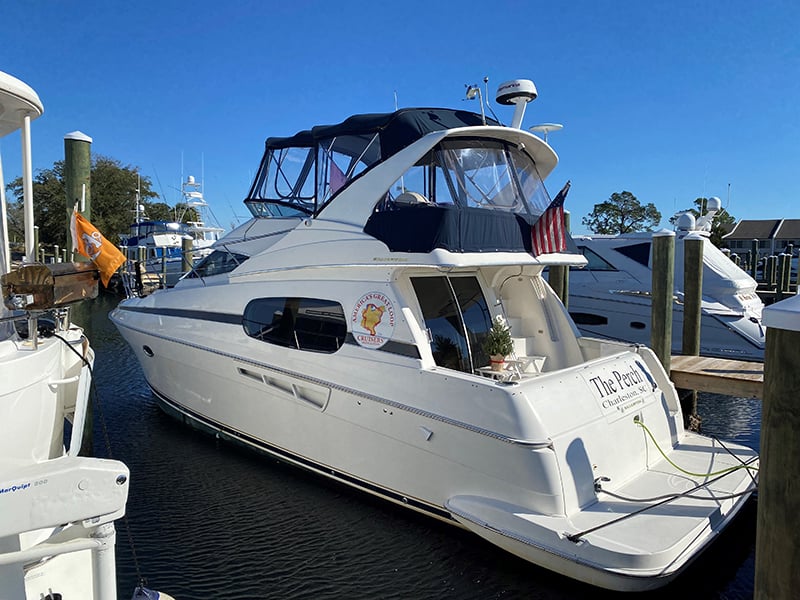 They call them "Loopers."
They're the thousands of boaters who, each year, circumnavigate the eastern United States and parts of Canada to complete the Great Loop, a system of waterways along the Atlantic Ocean, Gulf of Mexico, the Great Lakes, Canadian Heritage Canals and rivers America's heartland.   
Kim Russo, executive director of America's Great Loop Cruisers' Association (AGLCA), is not a Looper … just yet.
Her vessel, The Perch, is a 2001 Silverton 410 motor yacht docked at this writing at Point South Marina at Bay Point in Panama City Beach. She is just one stop shy of earning Russo her badge of honor. "We departed from Fort Meyers, Florida, in the winter of 2021, and plan to leave Panama City Beach for Fort Meyers this February to close the loop," said Russo, whose previous boating experience had been limited for the most part to waters near her home in Charleston, South Carolina. "My significant other and I decided to spend the winter here, and we're loving it. We're taking our time."
Russo said members of the AGLCA have completed the loop in as little as six weeks, but a year is about par for the course for sightseers.
"For some people, it's about being on the open water and cruising the waterway," she said. "For others, it's about the towns and cities they visit along the way."
Russo estimates there are about 100 or more possible stops along the loop, each offering its own history, culture and attractions. The AGLCA, now 6,000 members strong, was founded in 1999 to assist mariners in all aspects of the voyage for a "high-adventure, low-risk," experience.
"We have in-person seminars on the routes, how to plan for them and what kind of boat you need," Russo said. "We have an active discussion forum where you can have your questions answered by veteran Loopers, as well as a network of sponsor marinas who provide onsite information and generous discounts on dockage and fuel for our members. So, while anyone can do the loop, it's really a big bonus if you become a member."
Traditionally, most Loopers have been retirees with an open schedule and a decent pension, but Russo said the association is seeing increased membership among younger boaters and families. She attributes this to the increased prevalence of homeschooling and the remote work revolution, when "people found out you could work and obtain an education from just about anywhere," she said.
Ironically, Russo ran into a family of fellow Loopers at Point South Marina. They had recently returned from a detour up the Tennessee River to realize their dream of participating in the University of Tennessee's Vol Navy, a tradition wherein boats assemble in Knoxville to "tailgate" prior to a Volunteers football game. 
"I tell people whatever your thing is, you'll find it on the loop," Russo said. "Even if that thing is sports. If you're a city person, you'll sail right by Chicago and New York City. If you're a history buff, small towns such as St. Augustine, Florida, and Beaufort, North Carolina, are rich in culture. There's something for everybody, and new things to experience each time you make the loop."
As someone who has presented countless seminars on the loop without ever completing it personally, Russo said her thing is the experience in and of itself.
"As director, I've heard and learned so much about the Great Loop over the years that I knew what to expect," she said. "But to be out here experiencing it is everything I've been told and more.
"Nothing really prepares you for the learning curve. Nothing prepares you for being in awe of the nature you'll see, of being intimidated by a rough body of water or the level of excitement you feel when you see the Statue of Liberty for the first time. The highs and lows and everything in between — it's much more than I could have imagined."
Learn more about America's Great Loop Cruisers' Association at www.greatloop.org.