In Decorating Walls, Your Own Instincts May Be Best
To be adventurous, deck the walls with the unexpected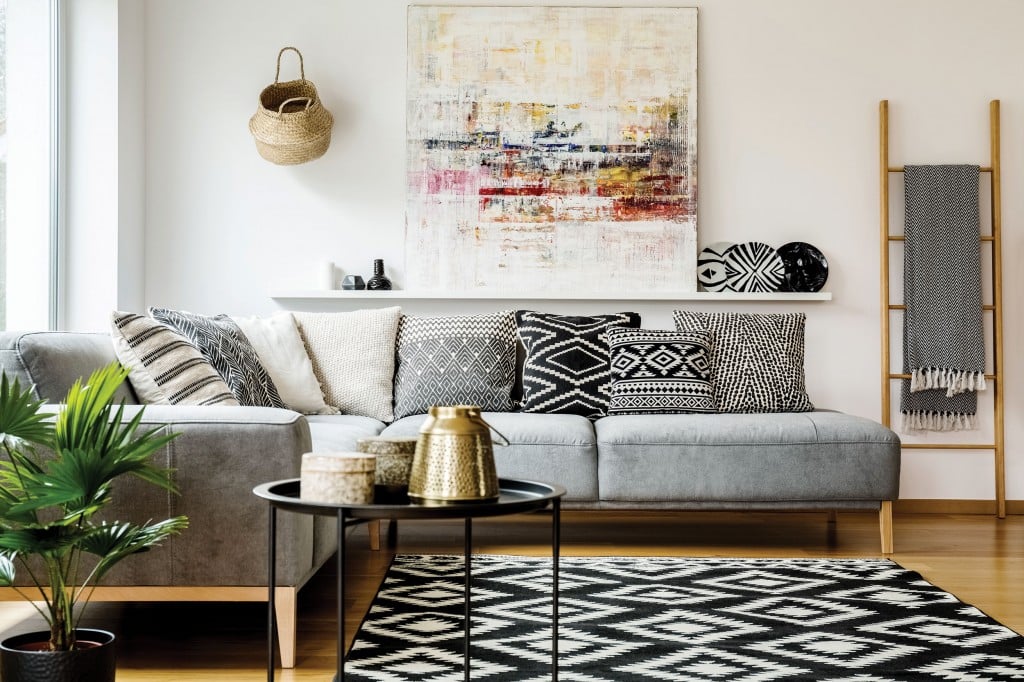 When Aunt Minnie passed on, Sara, a homeowner, was faced with what to do with the dozen family photographs Minnie had bequeathed her along with a note saying she hoped they would all go on Sara's wall.
Next door to Sara, Betty, another homeowner, stood staring at an empty wall, while a stack of framed awards, a billboard-sized abstract painting and a swatch of tattered weaving she'd found in Tibet sat brooding at her feet. Indecision prevailed, and at this point Betty felt like dumping the whole lot in the closet with her 20 never-worn straw hats.
Both of these women — we may have made them up, but their circumstances are real enough — needed to know how to "hang" a wall. Designers know about furnishings and rugs. But they also know about color, volume, balance and focus — all the things needed for the task. So we asked a couple.
Jeanette Turk, owner of Decorating Den Interiors in Santa Rosa Beach, said that, "Wall hangings and art are very personal, so they don't necessarily have to match the room. They should be things that speak to the person hanging them. It's helpful to have color schemes that match, but you can go a bit 'off the wall' with them, too."
Art is a little bit like jewelry, she said. If you're a vibrant person, you can have neutral furnishings and introduce some brighter colors by way of your wall hangings.
Alice Flournoy-Jones, owner of AFJ Interior Design in Pensacola, believes it's important to select wall accoutrements with colors that match the energy of the room they're in.
"The colors that we choose to surround ourselves with influence our own energy, too," said Flournoy-Jones. "There are areas in our house, such as the dining room and living area, that we want to be more stimulating. We don't want people to fall asleep at the dinner table. Energizing, colorful wall hangings perk us up and make us more animated and interesting."
While grouping according to a theme like "flowers" or "horse paintings" may work well, it's also enlivening to have an eclectic wall with no theme at all. "Just make sure your wall hangings scale with the size of the wall," Turk added. "If you have a huge wall, it needs a huge piece of art or a collage of several pieces. Art shows best when it complements the wall on which it's hanging."
Bear in mind, not every wall needs something on it.
"If you have something on every single wall, it becomes overkill," Turk said. However, on the walls you do decorate, you can make mixed sizes work well together as a "gallery" arrangement with a variety of shapes and sizes mounted together. "You don't want an entire rogues' gallery of personal photographs in your living room. Typically, you want your public spaces to be more generic. Framed photos can go on a bookshelf; break up a wall with a mirror, some artwork and other accessories to create a balance."
Flournoy-Jones is careful to lay out any art before putting a hole in a wall.
"I like to use string to grid a wall and create windows," she said, emphasizing the importance of geometry when grouping pieces. "Then, lay out your pictures and artifacts on the floor and play around with their placement as you visualize them on the wall."
It's fun to be bold and mix and match things that aren't alike. To be adventurous, deck the walls with the unexpected:
Mirrors expand a room and draw in light. A wall covered in a variety of mirror sizes and shapes can be sheer art.

Murals can cover a wall and be mounted with removable adhesive, turning a tiny alcove into a flowered bower or a boys' playroom into a brilliant beach.

Plates, especially beautifully painted or antique platters, become conversation pieces and may even capture memories of family, ancestors or even a favorite novel.
Basket groupings provide an organic, casual feel when wall-mounted. And just for fun, they can be moved around from nail to nail or have some fresh flowers placed inside.

A

nd don't forget shelves. If your prized possessions are glass or metal, perhaps their linear display is just the dramatic focus your wall needs.
And Betty? Betty had a crazy impulse and gathered up the hats from the floor instead. Now, scattered across her wall are the memories of dozens of summers, straw circles that seem to dance in the sun and shade.