Illuminating the Iris
Gia Roche brings her vision to life with eye-popping photography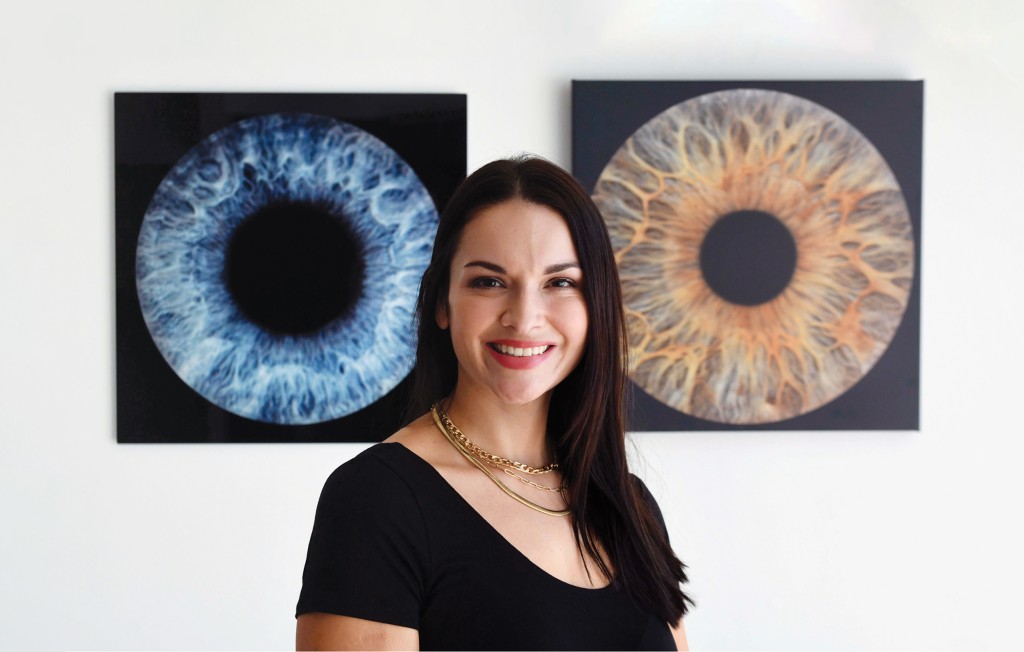 Eye Wonder offers people a unique opportunity to look into their own eyes and bring home a personalized art piece.
"I've always been obsessed with eyes," the Destin business's owner, Gia Roche, said. In her native Paraguay, owing to the influence of indigenous populations, most people have brown hair and brown eyes. When Roche moved to the U.S. in 2005, the range of eye colors piqued her interest.
Roche photographs eyes — irises to be precise.
She loves lighter-colored eyes because it is possible to see so much detail when images of them are enlarged. Still, she finds the many intricacies of even the simplest brown eyes fascinating.
"You never know what you're going to find — yellow on the edges, green rings."
The iris photographing process is simple and takes less than 10 minutes. Eye Wonder customers can purchase a digital photo delivered via email or order a photographic print. Either is ready in an hour or two. Acrylic, canvas or metal prints are also available. Metal is Roche's favorite, and it's popular with customers. It results in especially vibrant color.
Roche, even given her longtime iris intrigue, never expected to find herself running an iris photography studio. Not having studied photography, her only experience in the field was working at a Sears portrait studio in 2009 and doing a few shoots on the side. For a long time, she felt she was just another person with a good camera.
Currently pregnant with her sixth child, Roche said with a laugh that she has "a lot of kids" and is the type of person who takes a lot of photos. She was always inclined to take detailed photos of her children, zooming in on baby toes and fingers, and trying to get the perfect shot of her children's eyes.
Eventually, she fell into a portrait-photography funk, and when she tragically lost a daughter to brain cancer in 2012, she lost interest in business altogether.
After the death, Roche and her husband at the time divorced. She was living in Scranton, Pennsylvania, grieving and trying to figure out her next move.
"I was just like, I do not like Scranton, I do not like the weather," she said. She visited Destin on vacation and moved to Northwest Florida less than three months later.
On the Gulf Coast, Roche rediscovered herself and healed. She returned to photography and developed an interest in her specialty.
"Really, what inspired me was I wished I would have been able to get my daughter's iris, the one that passed away," Roche said.
She married a man with the "most amazing turquoise eyes," Roche said, and he became her first iris photography subject.
"I don't know if I hadn't met my husband and his gorgeous peepers if I would have been inspired to get those initial macro photos," Roche said.
She did research and found that there were no iris photography studios in the United States at the time. She wanted to be first and started shopping for a storefront. When Destin Commons showed interest, she went all-in on the project, opening in November 2021.
Eye Wonder has since been featured nationally on websites like PetaPixel and My Modern Met, and locally in the Northwest Florida Daily News. Roche is looking toward expansion, planning to open additional Eye Wonder studios in Panama City and Pensacola.
---
IRIS HUES
Common to humans and most mammals and birds, the iris is a thin structure in the eye that is responsible for controlling the diameter and size of the pupil and thus the amount of light reaching the retina. The iris is usually strongly pigmented, with colors ranging among brown, hazel, green, gray and blue. Despite the wide variety of colors, the only pigment that contributes substantially to normal human iris color is the dark pigment melanin.