Hurricane Season
Yo, ho, ho and a bottle of rum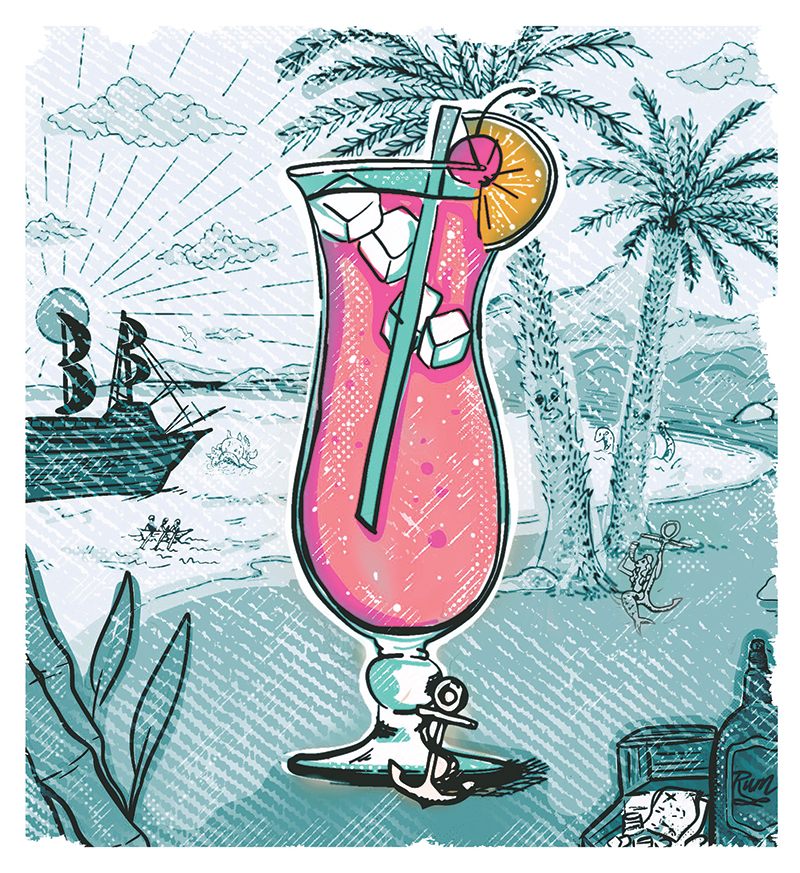 After capturing a region that included Panama in 1670, Capt. Henry Morgan ordered his men to be on the lookout for a Spanish vessel approaching the coastline. Such a ship would be sure to contain treasure that would make the captain and his men rich beyond their wildest dreams.
Before the desired Spanish vessel arrived, however, a merchant ship docked, and the pirate crew swiftly captured it. Aboard, they found not riches, but a cargo of casks of rum.
The crew helped themselves to the sugarcane liquor, so much so that when a treasure-laden ship reached the harbor, Morgan's crew members were so drunk that they failed to capture the Spanish ship.
Morgan, the owner of three sugar plantations in Jamaica, eventually was knighted and named the island's governor. He lives on as the basis for the character on the labels of Capt. Morgan rum, which is popular along Emerald Coast beaches today.
"Rum and the beach go hand in hand like the white sand and emerald waters of our Gulf Coast," said Brian Rabon, founder of the 30A Distilling Company in Santa Rosa Beach. "Rum is usually enough to cause you to forget all your troubles and relax on the world's most beautiful beaches."
Rabon's statement, while true for many, is a stark contrast to the first documented reference to rum made in 1651 by a visitor to Barbados.
"The chief fuddling they make in the island is rumbullion, alias Kill-Devil, and this is made of sugarcanes distilled — a hot, hellish and terrible liquor," wrote the visitor.
Robert Jacob is an expert on pirates and the author of A Pirate's Life in the Golden Age of Piracy and Pirates of the Florida Coast: Truths, Legends, and Myths. He is a former member of the Blackbeard's Crew that assembles at the annual Blackbeard Pirate Festival in Hampton, Virginia.
"Pirates really didn't have any more association with rum than anyone else," he laughed. "The pirates' favorite drink was actually hot chocolate."
Hot chocolate, well liked in Central and South America, quickly became a popular drink among Europeans, who often combined it with rum.
"Let me tell you a bit about grog," Jacob said.
The Royal Navy, he explained, would struggle to keep crew members hydrated during long voyages during which water stored in wooden casks would become undrinkable.
"So they just drank rum, which left them drunk or more dehydrated," Jacob said.
A Capt. Vernon mixed rum with water, brown sugar and lime juice. The mixture came to be known as grog after the captain, who was nicknamed Old Grog due to the grogram wool uniform he wore. Grogram was an inexpensive material not typically worn by someone of status. By wearing it, the captain endeared himself to his crew.
Sailors didn't realize it at the time, but the lime helped prevent scurvy. The rum purified the water, and the brown sugar made the drink more palatable.
"His crew didn't get sick, so within a few years the Royal Navy ordered all crews to consume grog every day," Jacob said. "Grog went a long way toward preventing scurvy."
Today, rum remains closely associated with coastal living.
Kelley's Beach Liquors in Fort Walton Beach boasts 55 rum brands. Store manager Bryan Rust is especially excited about a new addition to the roster.
"Grander the Oaks 12-year single barrel from Panama is one of a kind," Rust said. "It spends its last 11 months finishing in a used Blanton bourbon barrel."
The Hurricane, a popular drink that often commands its own style of glass, combines light and dark rum. The drink is synonymous with regions where tropical storms are common and often figures in hurricane parties that arise in stormy weather. On at least one occasion, a hurricane sunk a ship full of rum off the coast of Florida.
"Divers recovered some of the bottles intact just a few years ago," Jacob said. "They put them up for auction. A millionaire bought them and threw a big party. A friend attended and told me it was the strongest rum he ever had."
Thomas J. Monigan contributed to this article.
---
Editor's Note
Hurricane season, which officially began June 1, runs through Nov. 30. We encourage people to heed directives from public-safety authorities when storms threaten.
---
Hurricane
Makes 1 Cocktail
» 1 shot light rum
» 1 shot dark rum
» 1/2 shot lime juice
» 1/2 shot orange juice
» Splash of passion fruit puree
» 2 teaspoons simple syrup
» 1 teaspoon grenadine
Instructions 
Combine and shake light and dark rum, lime and orange juices, passion fruit puree, simple syrup and grenadine. Strain into a hurricane glass over fresh ice. Garnish with an orange slice and cocktail cherry.
---