How To Make Broussard's Cajun Luau
A cocktail that unites the bayou and the beach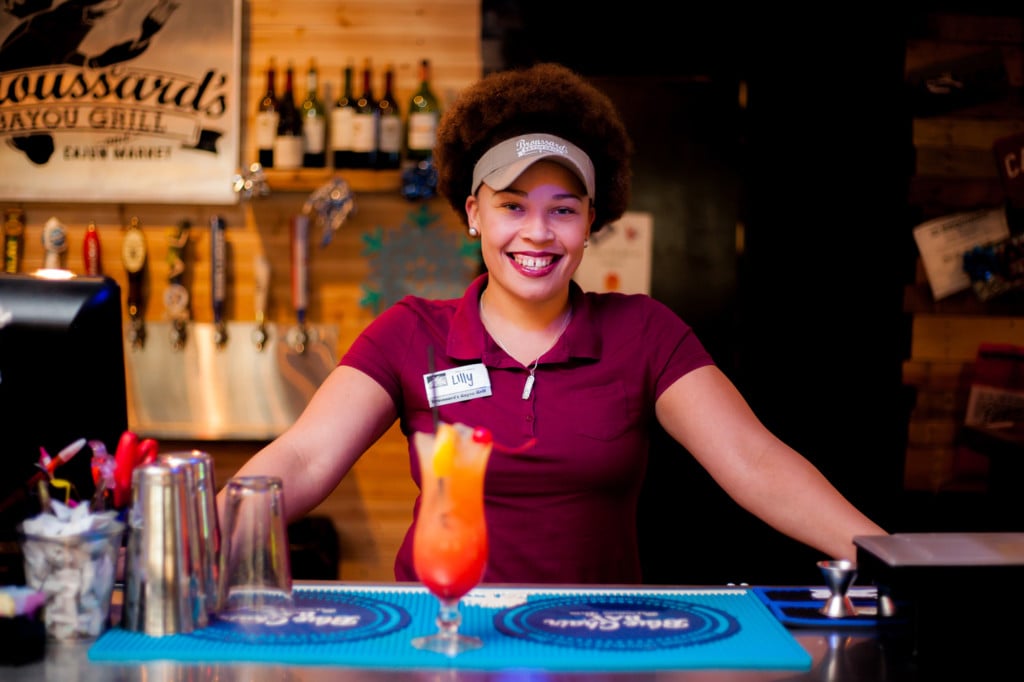 After more than 20 years of introducing folks in Pensacola to their Cajun specialties, Cory and Carl Broussard have landed in Navarre Beach.
Broussard's Bayou Grill and Cajun Market opened in October 2017 just over the Navarre bridge and not far from the fishing pier. It has six times more dining space than its sister restaurant to the west.
During its debut period, Broussard's bartenders got together to create a signature drink for the establishment.
Say hello to the "Cajun Luau."
"When we first opened, we were just going back and forth, bouncing ideas off each other, and this was actually the first drink we came up with," said mixologist Adam Fanion. "We just came back to it, and everybody loves it."
Just how popular is it?
"We sell a couple hundred a week during the summer season," Fanion said without hesitation.
Andy DeMartin was in charge of the bar when Broussard's opened. He has since become director of sales for the restaurant's parent company, Cajun Specialty Meats, Inc.
"The Cajun Luau is an easy drinker, and it's very appealing to the eyes," DeMartin said. "It's not too sweet, and it's not too tart. It's very refreshing to have out there on the deck while you're eating Cajun food. It has that cooling power to take down some of the spice in our food. It's a great complement to our menu."
DeMartin confirmed Fanion's estimate of just how well the Cajun Luau can sell during peak periods.
"It's been one of our biggest sellers. It's a very beach-oriented drink, so it went well with the theme of the restaurant, 'Where the Bayou Meets the Beach.' "
Regular customers quickly made Cajun Luau a favorite, according to DeMartin.
"It's a call, they come in and ask for it by name," he said. "It's an all-star drink, without a doubt."
Floor manager Samantha Baggett just smiled when asked about the Cajun Luau.
"I think that it's something you can't get anywhere else," Baggett said. "It's a special little twist for our restaurant. It's unique. It's ours."
"It's our top seller, especially on the weekends," bartender Lilly Markovitz said.
"What I really like is that it's got the ombré look," she added, using a term usually reserved for hair coloring. "I like how it goes from light orange to yellow to red."
Recipe: Cajun Luau
Directions

In a hurricane glass combine:
¾ ounce coconut rum
¾ ounce vodka
3 ounces of pineapple juice
3 ounces of orange juice
Top with ¼ ounce Grenadine.
Do not shake or stir, and garnish with orange slice and cherry.