High Volume, Good Outcomes
Fort Walton Beach Medical Center serves large region as stroke, chest-pain and trauma facility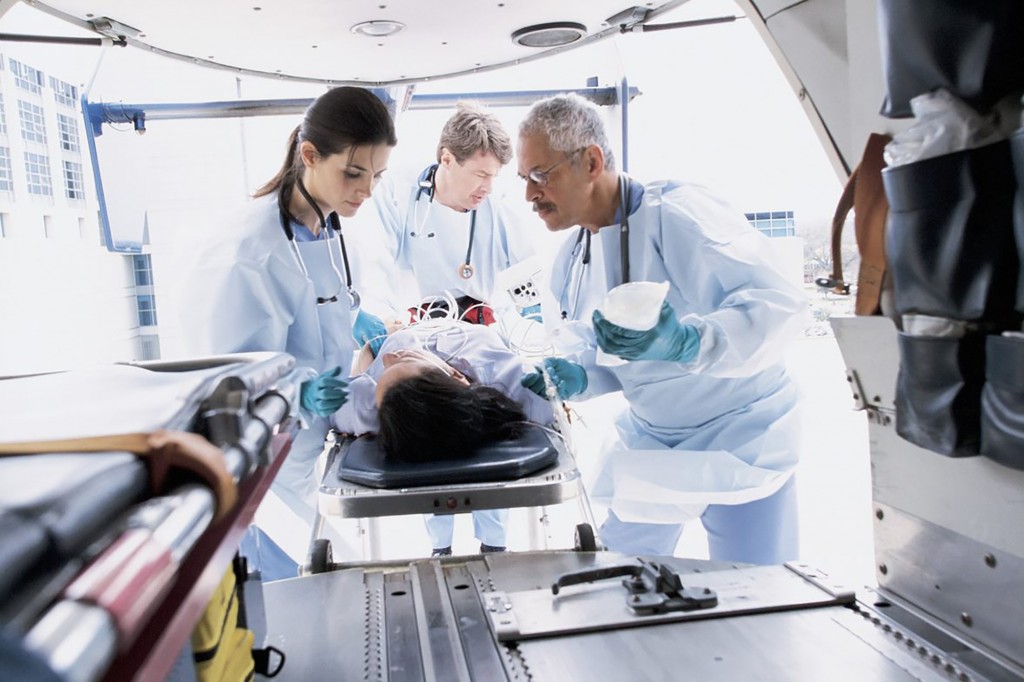 Given its status as a certified stroke and chest-pain center and as a Level II trauma center, the emergency room at HCA-Fort Walton Beach Medical Center is a busy place, seeing some 68,000 visits per year.
A second, free-standing ER in Destin sees another 4,000 visits annually. And, to further serve the region, the hospital is building a $10.1 million Navarre ER, scheduled to open late this year.
"We are the receiving facility for trauma in a large geographical area spanning the tri-county area of Okaloosa, Walton and Santa Rosa counties and including counties in South Alabama," said Denise Kendust, the hospital's director of public relations and communications.
"Our trauma volume has increased 198% in the last two years," she added.
While trauma volume is up, the mortality rate due to trauma in Okaloosa and Walton counties has fallen dramatically by 67 percent since 2017, when Fort Walton Beach Medical Center became a Level II trauma center.
"We see a lot of heart attacks, chest pain, strokes and other related symptoms," Kendust said. "And we see a little bit of everything, so nothing seems unusual to our team."
Too, the hospital is engaged in educational trauma outreach campaigns in an effort to reduce the number of cases handled by its ERs.
A "Think Before You Dive" initiative, for example, has succeeded in ecreasing the number of cervical spine injuries related to shallow water diving in areas such as the popular Crab Island.
Native Texan and retired United States Naval officer Dr. Todd Bell is the hospital's medical director of emergency services.
He earned his medical degree from Baylor Medical School and completed an emergency medicine residency at Vanderbilt. In 17 years with the Navy and Marine Corps, Bell served as an F-18 flight surgeon and ground forces reconnaissance battalion surgeon.
He completed combat deployments to Bosnia, Kosovo, Central Africa and Afghanistan, and he won awards, including a Bronze Star, Naval Achievement Medals, a NATO Medal and Combat Action ribbon.
The Fort Walton Beach Medical Center ER is open 24 hours a day, seven days a week and includes 44 treatment rooms/bays and a dedicated radiology room. Physicians, nurses and other specially trained health care professionals deliver emergency medical services at a moment's notice.
The ER team assesses and treats patients of all ages, from neonatal to geriatric. Department staff members are skilled in meeting the specific age-related needs of this wide continuum of patients.
The Pediatric ER is dedicated to treating the emergency health care needs of infants, children and adolescents.
In August of last year, the trauma center at Fort Walton Beach Medical Center was reverified as a Level II facility by the American College of Surgeons (ACS). That achievement recognized the trauma center's dedication to providing optimal care for injured patients. Each verification period lasts three years.
Prior to June 2015, many patients in Walton and Okaloosa counties were transported more than 40 miles to the nearest trauma center. The availability of a trauma center in Okaloosa County has reduced transport times for many patients during the critical "golden hour" immediately following a traumatic event.
Multiple studies, including a 2015 study in the Journal of the American Medical Association, have found that the sooner care is given within that hour, the better the outcome. Trauma is the leading cause of death among Floridians under the age of 44, and Florida's death rate for trauma remains higher than the national average.
Fort Walton Beach Medical Center
For a physician referral or more information, call (850) 864-0213