Healthy Snacks
Nutritious and Delicious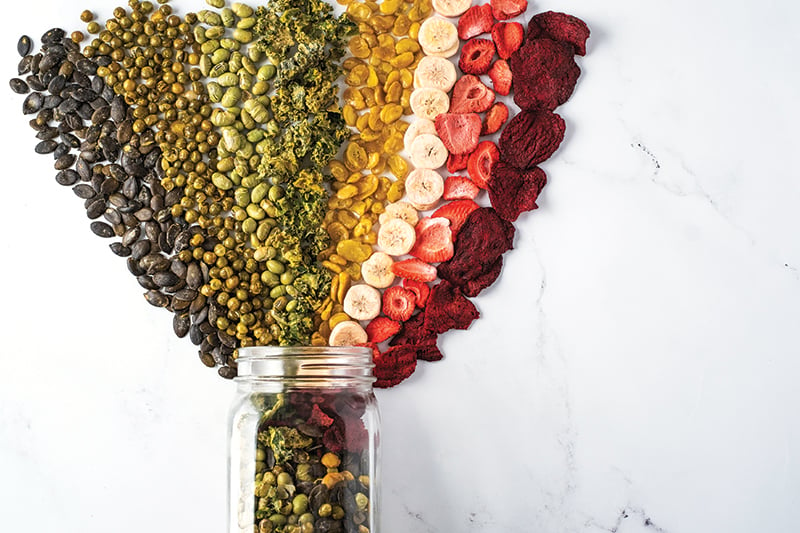 Healthy snacks are an important part of a balanced diet. They can help you feel fuller longer, especially if you have to take extended breaks between meals, and they can also be a great way to get some extra nutrients in your diet. However, unhealthy, processed "junk foods" can be hard to avoid. Finding snacks that are portable, tasty and nutritious may require a little extra effort, but it's worth it. Healthy snacking is a great way to boost your energy, stay focused and avoid overeating at meals. It's also a good way to get extra protein, fiber, vitamins and minerals throughout the day.
Healthy Snack Pack #1 – Dehydrated, toasted and freeze-dried fruits, seeds, beans and veggies
Proteins
Lots of snacks contain healthy amounts of protein. Whether you choose animal proteins (hard-boiled eggs, turkey, cheese, jerky, cottage cheese) or other sources of protein (chickpeas, hummus, lentils, edamame, popcorn), various options can help tide you over until dinner time. They are filling and loaded with vitamins. Healthy snacks for the whole family are reasonably accessible. If you know your family members are free of nut allergies, nuts and seeds are a great option. They contain minerals, vitamins, healthy fats, proteins and fiber. Plus, they can help you keep your cholesterol levels within normal ranges.
Fruits and Vegetables
Healthy Snack Pack #2 – Veggie sticks and hummus dip
Maybe the best types of healthy snacks include fruits and vegetables. They can be consumed fresh, dried or preserved another way, such as pickling. They are high in vitamins and minerals, but low in calories, making them ideal for people who want to watch their weight. Consider your preferences and allergy limitations, and be creative. Preservation processes cause fruit to become dehydrated, but it retains its flavor and has a light crispy texture. You'll be surprised at the cravings that apples, pineapples, apricots, grapes, strawberries, blueberries and dragon fruit can suppress.
Granola
Combine granola with yogurt, fruits and nuts for a breakfast that is like a parfait minus all that sugar. Granola can be enjoyed, too, as a midday snack.
Healthy Snack Pack #3 – Greek yogurt, granola and fresh fruit
Make your own snacks at home
Packaged foods often contain high amounts of sugar, sodium and fat — all ingredients that can harm your health over time. Make sure to read labels to discover the amounts of sugar, sodium and other ingredients that your snack contains. Educate yourself on your body's dietary requirements. Instead of relying on packaged snacks full of preservatives and additives, try making your own snacks as a healthy, educational and money-saving activity.
Mason jars — solid, traditional, attractive and transparent —are an excellent "storage medium" for snacks.
There are also lots of other types of healthy snacks available on the market today that don't contain just fruits or vegetables. They include energy bars and protein shakes, which can give you an extra boost when you need it. Instead of grabbing an afternoon cup of coffee with cookies, opt for a relatively healthy energy bar as a way to combat afternoon drowsiness.
Eat a variety of foods. Snacks should be more than just chips or candy bars. Try different things, and discover what excites your taste buds.
---