Have You Met The Witches of South Walton?
The spooky and special initiative enchants the lives of Northwest Florida children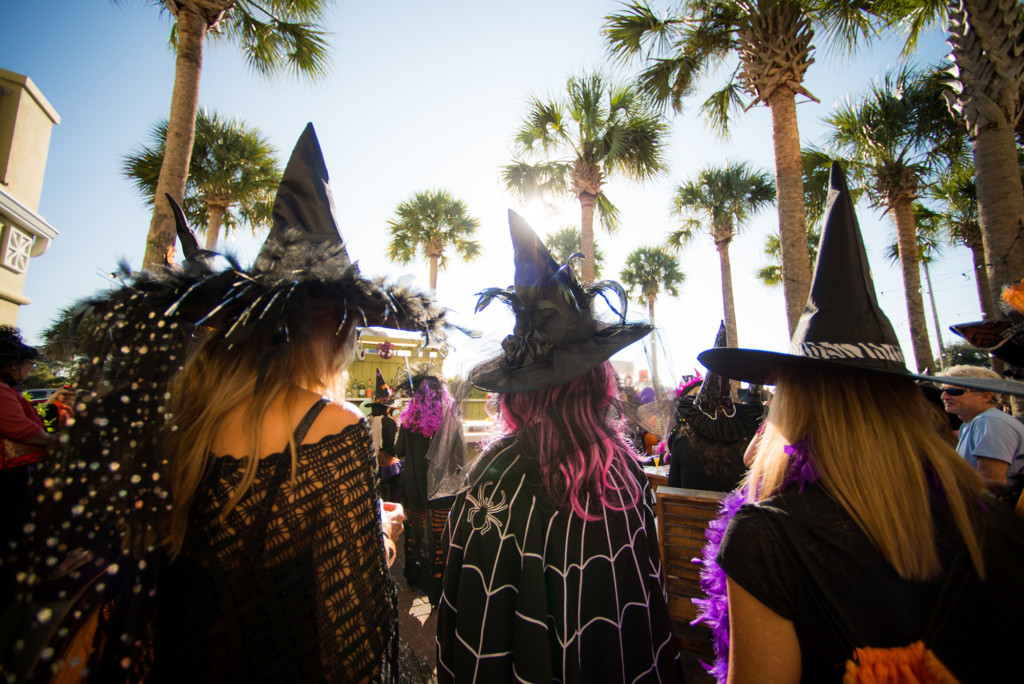 Carol Stafford never meant to head a coven of witches.
A lifetime Grayton Beach resident, mother, appraiser and co-owner of Tommy Sholes Inc., Appraisers/Realtors, she certainly doesn't seem a crone.
But come Halloween morning, you'll find her leading hundreds of witches on bikes-turned-broomsticks through their annual haunt of 30A.
Fortunately, they're not out to cast spells and spread mischief.
Known as the Witches of South Walton, Stafford, along with cofounder and "Beta Witch" Le Thompson and hundreds of other hags, ride to raise funds for the Children's Volunteer Health Network (CVHN), a local 501(c)(3) organization whose mission is to "seek to improve the health and well-being of children in need."
Stafford's witchery can be traced back to 2005 when she and two other women (who have since moved out of state) began embarking on routine bike rides down 30A.
"Halloween morning, I thought, 'wouldn't it be funny if we rode with our witch hats on?' " Stafford said. "The reaction was crazy. People blew by us, hooting and honking their horns."
Next year, renowned South Walton artist Billie Gaffrey wanted in on the wickedness. Stafford recalls Gaffrey crafting a "large, black paper mache witch hat that was so heavy, she could barely stay on her bike."
The subsequent Halloween, Gaffrey couldn't make it, but word of the witches caught on, and several more joined Stafford's brood.
When they flew by the Gaffrey Studio in Blue Mountain Beach, Stafford was shocked to find a broom that had been snapped in half in their path.
"There was a note attached that said something to the effect of, 'Ride witches, ride!' " Stafford laughed. "I knew it was Billie, but everyone loved it and it's just gotten crazier and crazier ever since."
The Witches soon attracted the attention of sponsors, and rides have been hosted by venues such as the Hibiscus Café, Gulf Place and, most recently, Shunk Gulley's Oyster Bar.
"The bigger we got, we realized we could actually help someone if we began to charge a riding fee," said Stafford. "Every year, our numbers seemed to double. Once we hit 100, it's been going up in about 50-witch increments each Halloween."
Last year, more than 250 witches yielded $15,000 on CVHN's behalf. Stafford said the decision to benefit CVHN was influenced by her mother, who had worked with the charity for many years.
Okaloosa and Walton County K-12 children eligible to receive free health care by CVHN are often from underprivileged families who are uninsured or under-insured.
They can receive dental treatment at CVHN's permanent dental facility in Santa Rosa Beach, or the "Just for Grins" Mobile Dental Clinic, which travels to various elementary schools.
"We've had the pleasure of watching CVHN really grow," said Stafford. "The witch ride is a complete non-expense for them, and we're happy to help fund children's dental and medical services."
The outpouring of community support — as well as those who travel from other states to participate — is something Stafford never dreamed of receiving.
"Just last fall, my husband and I were having lunch at a place on 30A, and I noticed this group of girls beside us just cutting up and having fun," Stafford said.
"They were so cute, that I went up to them and asked if they wanted to do something fun for Halloween. They said, 'Well, we already are, we're here for the witch ride!' "
Stafford said the Witches of South Walton have an established group of regulars that travel from places such as Georgia and Mississippi as an excuse for a fun, all-girls' retreat.
But the ride isn't as simple as strapping on a pointy hat and hitting the trail. Each hag is a contestant for superlatives such as "Best Broom Décor," "Most Witchy" and "Best Cackle" (gleaned from the most recent Facebook post), which often include raffle prizes donated by local businesses, or cash.
"The cackles are hysterical, because we usually hold the contest after we've all been enjoying mimosas at Stinky's Fish Camp," Stafford laughed. "They go all out. People put serious time into their bikes and costumes."
Stafford's seen everything from old-school and flapper-style witches, to Glenda the Good Witches and Wicked Witches of the West.
Bikes may opt for the classic broom look, or be "spooked-out" with "cobwebs," skeletons, lights and glitter. More recently, decorated golf carts have become a popular mode of transportation.
"It's always been an all-women's event," Stafford said. "But men who want to participate are always nice about helping us with our road signage and walking behind us to clean up if necessary."
For Stafford, one of the most remarkable facets of the experience has been witnessing its legacy. "I'm very surprised by the amount of takeoffs that have lifted from our event," she said.
"We had a group of women who came over from Fairhope, Alabama, because they just started their own ride and wanted to see how we organized it. Some of our friends in Delray Beach began one, and Le Thompson knows of some friends who participate in one in Chicago.
"It's always fun getting calls from people inquiring about the event as early as the beginning of summer. If they keep coming, we're going to keep on keepin' on."
Ride Schedule
Pre-Flight
Oct. 30, 5-8 p.m. The Perfect Pig, Gulf Place Pre-registration packet pickup, witches' hat raffle, refreshments
Founders ride
Oct. 31, 6-8 a.m. Gulf Place Amphitheater Stop by Stinky's Bait Shack for specials while the witches ride by
Gathering Brunch
Oct. 31, 8:15 a.m. –10:30 a.m. Shunk Gulley Oyster Bar Brunch, silent auction, raffle and contests