Haute Makeup Tips for Hot Weather
Make sure your look doesn't smudge or budge this summer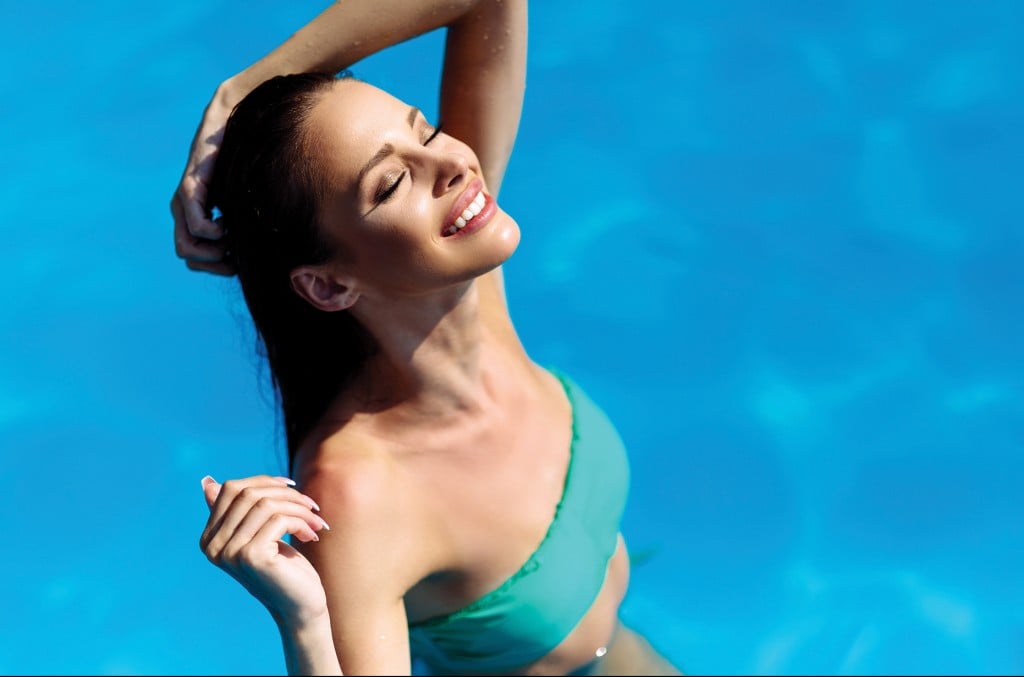 You take a plunge into the cool depths of the pool to escape the sweltering heat of the summer barbecue. Exiting the water, you reach for your towel and dry your face.
You're left with raccoon eyes, no brows to speak of and lipstick colored far outside of the lines.
Florida's heat and humidity and dips in the Gulf can spoil the time, money and energy you devote to your makeup. Fortunately, makeup is continuously evolving in ways that will help you avoid meltdowns.
"Often what is underneath your makeup is the most important step in helping it stay in place," said Brittany Sigler, owner and master artist at Destin/30A Mobile Beauty Box.
Think of your face as a palette, a palette that is clean and primed. Once you've washed your face, apply a facial sunscreen, preferably one with zinc. Next, apply a lightweight gel moisturizer to smooth the skin and hydrate it.
Melody Weber, a professional makeup artist in Pensacola, recommends the Image Skincare Vital C Hydrating Water Burst as a lightweight gel moisturizer. Lastly, apply a primer, which is the key to locking your makeup in place.
If you plan to swim, invest in waterproof makeup, which is easily removed with wipes, liquids or gels.
Stains and creams are the way to go for cheeks and lips. Powder blush cakes in the heat and lipsticks or glosses smudge or wear away quickly. A cream blush or lipstick blends nicely. A lip or cheek stain is much like a stain on clothing — it stays!
"Dewey skin is in," says Weber. "Natural, minimal coverage is popular right now."
Foundation looks worse in the heat the more you use. Instead, Weber suggests using a tinted moisturizer to add just a hint of color. Save your foundation application for areas that might need more attention such as under the eyes, blemishes or dark spots.
On top of your tinted moisturizer or foundation, add a swipe of bronzer. Sigler suggests that bronzer is the ultimate ingredient for a natural glam, sun-highlighted look. As a bonus, it also masks overheated cheeks and blends to cover sweat.
There is a way to avoid foundation and bronzer altogether, should you wish.
"Sunless tanning enhances your natural beauty, allowing you to select your ideal shade," said Allison Viviano, executive beauty director and certified spray tanner with Destin/30A Mobile Beauty Box.
The ultimate stay-in-place face trick is a setting spray or setting powder, which is applied at the end of your makeup regimen. If you're prone to oily skin, Weber advises applying the setting spray before makeup as well.
Whether it be for convenience or cost, more women are opting to cut out makeup application completely with permanent makeup.
"Permanent makeup eliminates daily makeup application and ensures your makeup stays in place no matter what you do from a beach day to working out," said Angie Hill, permanent makeup practitioner and owner of Permanent Makeup by Angie in Panama City Beach. "For many women, it's about the convenience but also feeling confident and beautiful no matter the situation."
Hill provides permanent makeup application of eyeliner, microblading, brow shading, lip liner and lip color as her most popular services. She also specializes in permanent makeup for those who have been through reconstructive surgeries, cancer and alopecia.
While it's referred to as permanent makeup, Hill said "semi-permanent" is a more fitting term as touchups are advised every 12–18 months for desired results. Hill and her team help each client decide the look that's best for them based on their relationship with makeup. Do they tend towards bold, or do they prefer a more natural look?
Makeup should complement your personality and contribute to your confidence and happiness. The least it can do is stay in place for you.