Harvest Wine & Food Festival Adapts with Intimate Dinners
The annual festival, on a much smaller scale, makes a big impact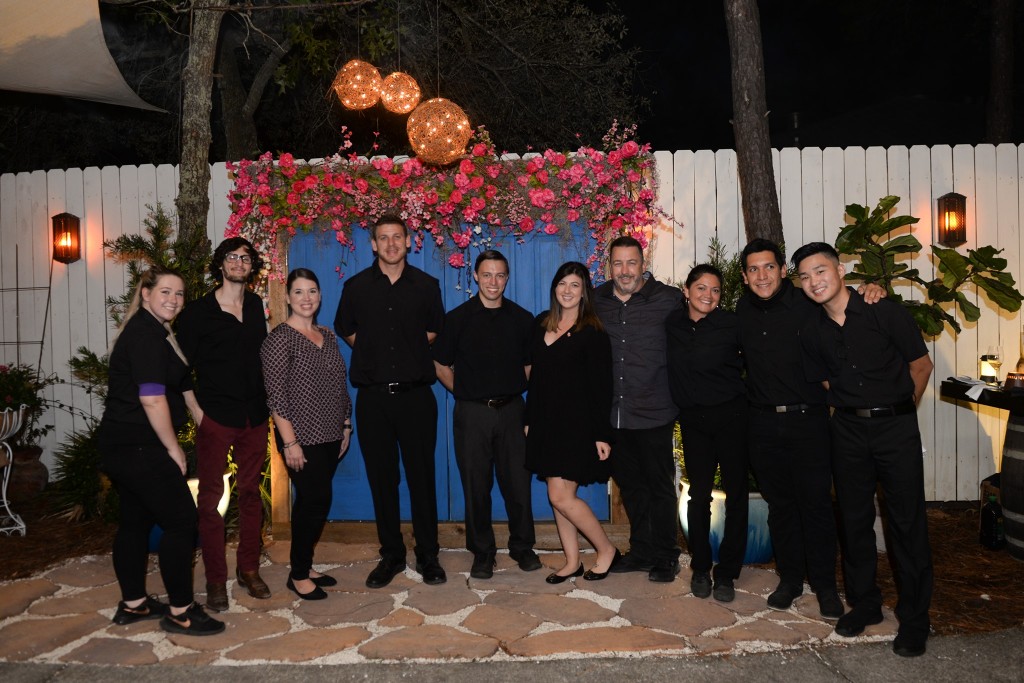 The sun set while attendees sipped fine wine and dined on epicurean dishes at their socially distanced tables that still felt very cohesive and connected. Although the Harvest Wine & Food Festival looked different this year, the eight wine dinners and one brunch managed to prove that when you break bread and share wine together, a sense of community is always created. 
In year's past, the Harvest Wine & Food Festival has been a large, multi-day wine and food festival in WaterColor featuring wines from all over the world, the best chefs in the region, vendors, a VIP tent, nightly wine dinners, and a charity auction with Destin Charity Wine Auction Foundation to benefit children in need. Due to the ever-changing environment of 2020, the festival featured an emphasis on intimate meals and the silent auction turned virtual. 
"We adapted rather than cancelled," said Kate Macmillan, communications manager of DCWAF. "We partnered with local restaurants that were able to provide outdoor and socially distanced spaces that were capped at approximately 40 guests, allowing everyone to be safe while enjoying themselves."
Wine dinners had been highly successful in the past, so they upped the count from four to eight dinners and one brunch. Tickets for the Nov. 5–8 meals sold rapidly. 
"The dinners sold out faster than ever because people were looking forward to a chance to be safe and responsible together at an intimate event," said John Russell, president of DCWAF. "This is a community that is used to this time of year being full of galas, festivals and events; we were able to provide some of those aspects with great wine and food for a good cause. We came together in very small groups but still created a large community of giving."
On Nov. 5, four wine dinners took place: Cast Wines at Cafe Thirty-A, Dakota Shy presented by Stephen and Joan Carter at Seagar's Prime Steaks and Seafood, Revana Estate presented by Emerald Coast Magazine at Cuvee 30A, and Pahlmeyer presented by Krueger, Fosdyck, and Associates Merrill Lynch at Vin'tij Food + Wine. 
The wine dinner presented by Emerald Coast Magazine featured epicurean delights prepared by Chef Tim Creehan. That included pancetta-wrapped grilled quail and portobello mushrooms with goat cheese paired with the 2014 Alexana Revana Vineyard Pinot Noir, Prime New York Strip, natural sauce and burrata mashed potatoes with grilled asparagus paired with 2017 Revana Estate Cabernet Sauvignon, and three additional courses. 
Creehan, who prepared DCWAF's very first wine dinner 16 years ago, was recognized as the honorary chef of the event. The evening took place on the spacious, sunlit patio as guests savored the flavors accompanied by live music.
On Friday Nov. 6, two wine dinners and a rum dinner occurred: Hatton Smith of Campesino Rum and Chef Nikhil Abuvala of Roux 30A, presented by Good Grit; DAOU Estate, presented by Emerald Coast Association of Realtors at the Old Florida Fish House; and Dakota Shy, presented by Stephen and Joan Carter and Seagar's Prime Steaks & Seafood. 
The rum dinner was a fun inclusion that had never been included in DCWAF's line up of events in the past. It featured island influences from Panama, Trinidad, Barbados, the Dominican Islands and Nicaragua. The Old Florida Fish House welcomed guests to their garden area next to the lake, which was lit with string lights to create a magical atmosphere to sample DAOU wines. 
Nov. 7 concluded the events with a brunch and a wine dinner: the Better Together Brunch, featuring Chef Kristen Hall, presented by Good Grit, and Fisher Vineyards, presented by Setco Services, LLC at Bijoux. 
Alongside wine, this year introduced cocktails to the event, including craft cocktails from the expert mixologists of Better Together Beverage. Infused vodka beverages were served with brunch at a beautiful home in WaterColor. The Eggs Benedict on a house-made English muffin with smoked salmon stole the show and could be paired with any of the five cocktail options. 
Throughout the weekend, the virtual silent auction took place offering rare wines, staycations and unique experiences. Over $75,000 was raised benefiting the 16 charities that DCWAF supports. 
This year, there was also the option to support those impacted by the fires in Napa. Close to $10,000 was raised to directly benefit the wineries and companies that support DCWAF every year.
"The festival and the auction were successful, but there are still so many in need from COVID-19, fires, hurricanes and more," said Russell. "Everything we do and are is to help children and communities in need. A community is only as good as their contributions to those in need."
To learn more about DCWAF and the charities they support visit: dcwaf.org.