Happy Gilmore
Career volunteer won't lie down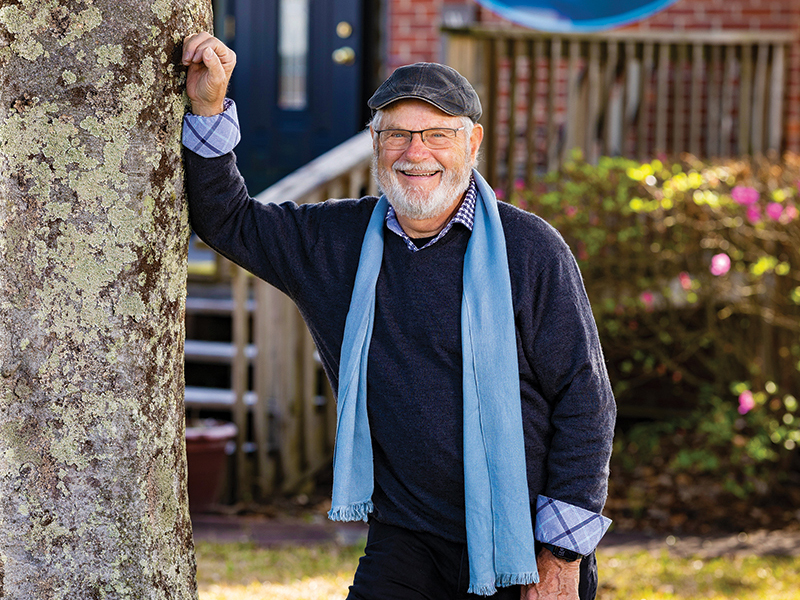 A smallish man with baby blue eyes, tendrils of raggedy gray hair crawling down his back and a newsboy hat, Bob Gilmore is unbothered and imperturbable.
There are reasons for this. He doesn't trade in gossip, he says, and he doesn't tote grudges.
"People are as they are and do as they do," he said, sipping tea purchased at a coffee shop in the St. Andrews neighborhood of Panama City. "And sometimes, there isn't much that I can do about that."
What Gilmore, 74, does tote is a boatload of good karma, accumulated throughout his adult life. He's a career volunteer.
Gilmore paraphrased a quote from Alexis de Tocqueville about Americans and social capital and said, "I believe in it; I live it." He is devoted to advancing causes, people and organizations he cares about.
He started young. In high school, Gilmore had a friend who volunteered as an aide at Hartford Hospital in Connecticut, and he decided to do likewise.
Today, he is the president of the Unitarian Universalist Fellowship of Bay County and an active member of the Bay County Audubon Society. He works to drum up support for efforts by the local chapter of the NAACP to combat racism. Forever, it seems, he has been a promoter of peace and a valuable ally of the LGBTQ community. He has been seen waving signs on Panama City's Hathaway Bridge in opposition to wars and in favor of reproductive rights for women.
"There is great satisfaction in trying to make the world a better place," Gilmore said, "even if it's on a personal level, working with Cub Scouts or helping out a stranger in a wheelchair."
Setbacks — the slow pace of progress and the nature of group work — can be frustrating, but Gilmore stays resilient.
"Inevitably in volunteer organizations, there is angst," he said. "There are people who want to go one way and people who want to go another way. People judge others because they are not doing enough. I find myself to be very forgiving. If all someone can do is pass out a flier or sign a petition, good enough. That's all they can do. I don't take things personally, and I have never carried judgment on people. So, when things start to fall apart, I tend not to get into the fray. I know there's a job to be done."
Anyone seeking inspiration, Gilmore said, can find it by looking at the "jaw-dropping" history of Blacks in America.
"They are not gonna stop. They are gonna get back up," he said. "They are going to sit in that diner even if people spit on them."
Twice in conversation, Gilmore mentions an Irish song, Croppies Lie Down, written in 1798. It dismisses Catholic rebels (with close-cropped hair) as cowards and calls upon them to suspend their opposition to Protestant rule. For Gilmore, Blacks are croppies who won't lie down. That is a spirit he admires and peaceably emulates.
For 17 years, Gilmore worked as a registered nurse in Connecticut, Ohio, and finally, in Florida. In Panama City, he worked for a home care agency and the Bay County Health Department.
"A big part of my nursing career was in public health," Gilmore said, "and some of the most significant changes in our health care have been about public health. Sanitation, immunizations. I'm a big believer in immunizations."
Gilmore departed nursing not out of disappointment, but given an opportunity to get into the motel business in Panama City Beach. His brother, Doug, had sold a property to a man who developed financial problems when an "entanglement of loans and mortgages was untangled." Gilmore and his wife, Arlene, wound up with the Impala Motel.
They didn't have much money to invest in the place, but they enlisted the help of their two sons and infused it with a lot of sweat equity.
"People warned us about a husband and wife trying to run a business together, but we did well," Gilmore said. "We had a good run."
Well, there was that one time when Arlene and Bob had a disagreement, the basis for which he no longer recalls.
"My brother-in-law Lenny and I were doing maid services, and at some point, we realized that Arlene wasn't around," Gilmore recalled. "She had gotten in her car and driven to DeFuniak Springs."
Her disappearance didn't last long — she was back in five hours — but from that day forward, whenever the least tension has developed between Bob and Arlene, he has defused the moment by asking, "Are we about to have a DeFuniak Springs?"
Gilmore at heart is a pacifist. As a boy, he killed a robin with a BB gun and so regretted doing so that he has never taken aim at a living thing since. He was an anti-war crusader during the Vietnam Era and thus alienated his brother, Doug, who was in the Air Force Reserves, and another brother, Rick, who was an active-duty Marine.
Doug would get around to telling Gilmore that he had been right about the war, and Gilmore and Rick would grow close.
Toward the end of his military service, Rick started to come out as a gay man. Among members of his family, Rick came out first to Bob.
"That was good for him and for me, too," Gilmore said. "I made so many friends that were Rick's friends. We would go out to clubs and dance the night away."
Rick would contract HIV and help found the Bay AIDS Service and Information Coalition in Panama City. He died of AIDS after failing to qualify for an experimental treatment program in Birmingham, Alabama, because his T-cell count, a measure of white blood cells, had already crashed.
"He just missed the cocktail," Gilmore said. "Crazy, huh?"
Rick's death further motivated Gilmore's activism. He aligned himself with the AIDS Coalition to Unleash Power (ACT UP) and the woman-initiated, anti-militarism organization Code Pink.
Now, he has begun to talk about scaling back his volunteer involvement. He wants to spend more time with aging family members in Ohio and has plans to travel to a park in Utah, a place free of air and light pollution, to watch a solar eclipse this October. He kiddingly says that he has already greatly curtailed his womanizing.
But don't look for this cropper to lie down. There's a lot of fire left in him.
Gilmore leaves the coffee shop, lowers the top on his two-seater, bright yellow Mazda convertible — a car that might properly be named Goldfinch — and is on his way.
It turns out that the newsboy hat was actually a roadster cap.