Green Screens
Good plants make good neighbors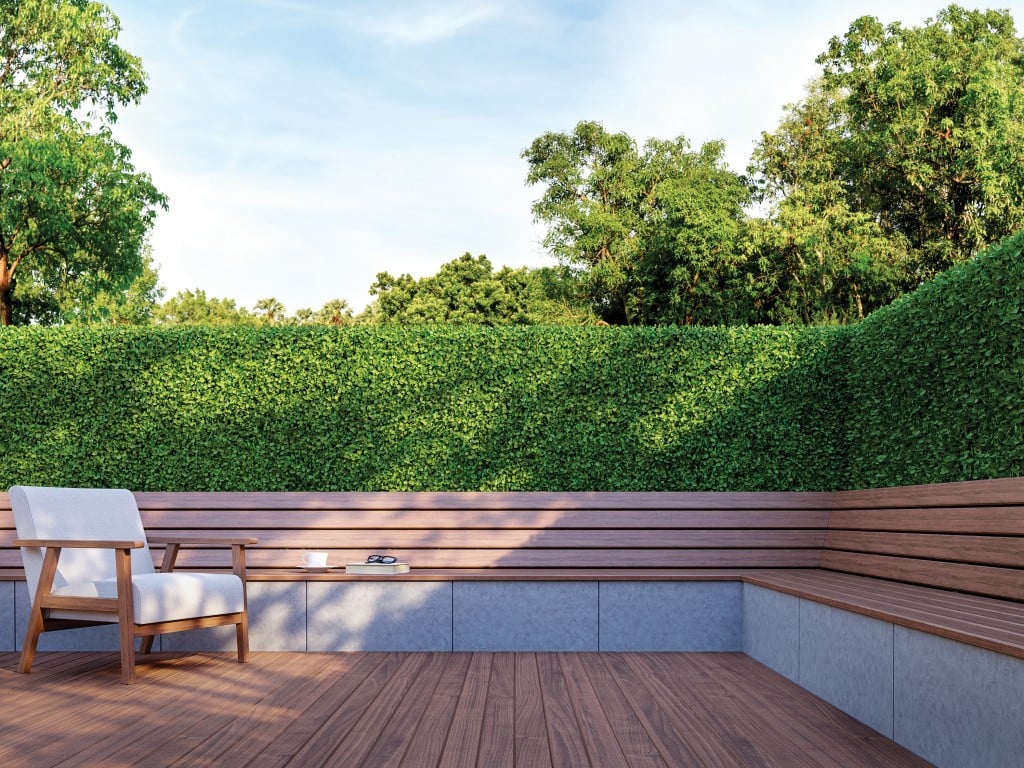 Many homeowners are saying "adieu" to homogenized, spartan, paneled fencing and opting for a diverse, vibrant and eco-friendly flourish of shrubs, hedges and tall, grassy textures for lush privacy screens.
"We often use shrubbery to create a subtle green background or canvas, which enables the coloring from other plant species or the house structure itself, to pop," said Callie Barker, a landscape architect at Callie & Co. in Destin. "These are often low-maintenance plants, and since there are hundreds of new zonal varieties introduced each year, the options and benefits are endless."
Popular among clients are plants that bloom, offer splashes of color and are evergreen. In recent years, landscaping design has shifted from a natural, forested look to one of intention. Modern, streamlined shrub placement that is properly maintained offers a clean-cut and crisp appearance.
"A lot of what we do encompasses dwarf variety plants that are mature," said Clint Hill, owner of The Turf Tailors in Fort Walton Beach. "In screening situations, we're seeing more people are wanting straight-lined hedges. Shrubs like podocarpus are good because most houses don't have a lot of area to work with, so you need something that will get tall enough to serve its purpose but also stay trim."
Podocarpus, or the plum plant, is an evergreen shrub, actually a conifer, with a moderate growth rate. It thrives in Northwest Florida's warm climate.
Barker said local landscapers use plant palettes that have been specifically tailored for the local planting zone and complement the environmental elements of a home site.
Mark Guerra, owner of Guerra Tree Farm & Nursery in Pensacola, says top sellers compatible with our climate include wax myrtles, boxwoods and yaupon holly. He has seen an increased demand for coppertop sweet viburnums, a compact, yet dense and metallic-hued plant native to Asia.
"In the South, it's not uncommon to find hydrangeas," said Guerra. "I know they, along with camellias, have become a staple in Pensacola. Right now, purple-blossomed Penny Mac hydrangeas have been catching landscapers' eyes. It is a brand new, mass-produced variety that blooms on new growth."
It is important that clients work with landscapers to carefully select plant grades and sizes to ensure they will grow into a specific canopy size within their preferred timeframe.
"However," warned Barker, "it is an oversimplification to suggest there are general locations on a site to get maximum use with shrubs and hedges. Designs are completely different for each site based on many factors such as optimizing light and shade elements, grade and drainage, soil variations and the overall look our client desires to achieve."
According to Hill, more homeowners have leaned toward a "three-tier system." For example, a tall, shady shrub such as a podocarpus is paired with a long and leggy purple dwarf loropetalum and a trim, upright flax lily.
"Smaller bed areas still have the potential to be elaborate and offer plenty of texture without having to consume so much space," Hill said. "Shrubbery with dark leaves and deep, rich colors complement and contrast with the often white, tan and brick-accented homes you find along the coast."
But you don't have to ditch the fence entirely; green screening can encompass a combination of vegetation and wood.
"A section of hedges followed by a partition of horizontal slat fencing that is the same width and height as the plants creates a contemporary, natural look," Hill said.
Both Barker and Guerra advocate for the use of Confederate jasmine vines along a trellis or wood partition, as long as you're committed to maintaining them. Certain species of vine can potentially "creep" and crowd other plants, or embed into house siding and cause issues.
Too, most evergreen shrubs require annual pruning, spot pest and fungal control and proper irrigation.
Maintenance requirements, said Hill, can be limited by installing dwarf-variety and mature plants, so growth doesn't exceed 6 inches per year.
But Guerra is always one to stress that beauty comes with a cost.
"Homeowners often come to us looking for a maintenance-free, extravagant yard, but those two things don't necessarily go together," he said. "If you want a beautiful yard, you're going to spend some money first, and then you'll need to make a maintenance plan. Take the time to research the care and chemicals your plants need, and invest in a professional service if you can't put in the work." 
Did you know?
Viburnum shrubs may be deciduous or evergreen and are native to Asia and North America, according to the informational gardening site Gardenia.net. They produce sweetly fragrant flowers and colorful berries. Their stunning fall colors range from glossy red to scarlet purple. The shrubs are easy to grow and prefer moist, rich, slightly acidic, well-drained soil.