Green Houses
Sustainable options can save you money while going easy on the planet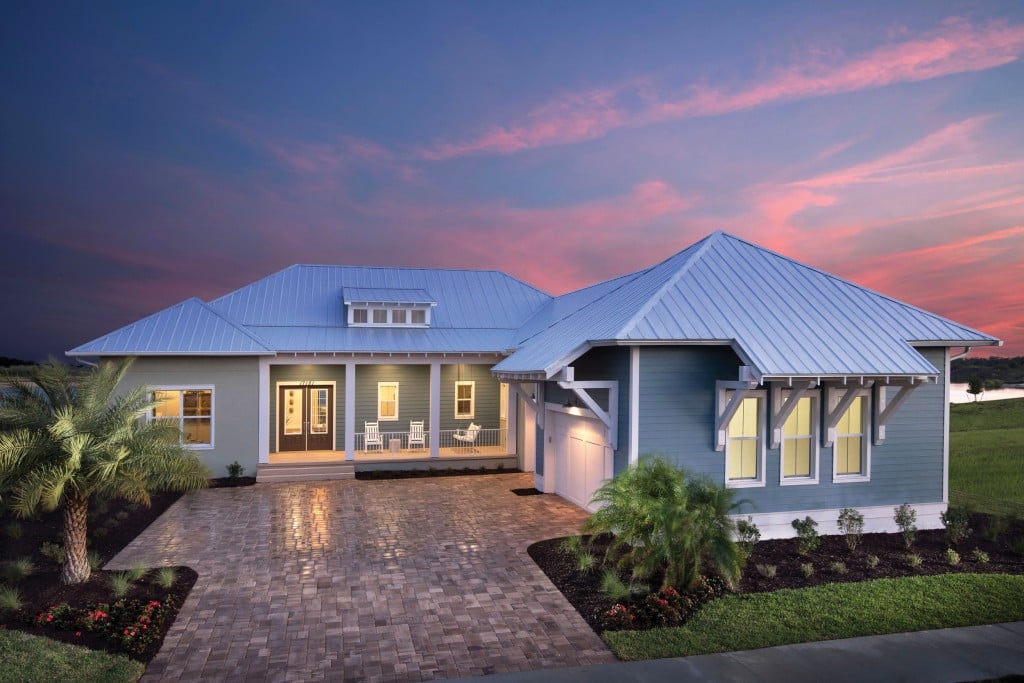 Selecting eco-friendly and sustainable options for your home will not only benefit you and your family's well-being, but the planet we call home. There are many benefits to pursuing a green-centric home.
"Green certified homes may have substantially lower utility bills and may qualify for advantageous financing, lower insurance rates and government incentives," said C.J. Davila, executive director of the Florida Green Building Coalition.
By simply changing a few lifestyle choices and switching out certain products, you can easily make a big impact. Below are 10 tips for achieving an eco-friendly home.
1. Sustainable Materials
Whether it's flooring, furniture, tile, bedding or any other household furnishing, seek materials that are sustainable or recycled. "It seems very natural to me to use sustainable products such as reclaimed woods, stone, marble, wool and other truly beautiful and eco-friendly products," said Melinda James, founder of M James Design Group, a design firm at Alys Beach. More options include cork, glass tiles, bamboo and recycled cotton. Avoid plastic and particleboard.
2. Furniture Facelift
Before buying new furniture and décor, consider whether you can revive items you already have. A fresh coat of paint or a new fabric can work wonders. If you're not into DYI, enlist a professional to reupholster, paint or handle woodworking.
3. Non-Toxic Paints
Be particular with your paints. Many paints contain volatile organic chemicals known as VOCs, which are hazardous carcinogens released primarily when you paint but can still be present years later. "Eco-friendly products focus on indoor air quality, so it is very important to pay attention to things we bring into our homes," said James. "For example, when selecting beautiful paints for our projects, we choose zero VOC Benjamin Moore Aura paints."
4. Shop Vintage and Local
Vintage, antique and thrifted furnishings are often one-of-a-kind treasures that add uniqueness to your home. You can feel good about the fact these pieces are experiencing new love and are not contributing to waste. "We have a selection of vintage items that we have handpicked and are classic novelty pieces," said Christina Vital, owner of Abode Beach Interiors in Santa Rosa Beach. "We also specify local artisans to handcraft custom pieces for our clients." As Vital suggests, enlisting local artists or furniture makers is a way to select sustainable materials.
5. Household Products 
Switching your everyday household products to green products can make a big difference in the long run. Transition from harsh chemical cleaning products to plant-based alternatives or make your own. Try organic, natural or eco-friendly bath products. These products should have USDA certified organic, Natural Products Association or BDIH labels on the packaging. Invest in glass or ceramic containers. When shopping, use reusable bags instead of plastic or paper. Don't use paper towels. Instead repurpose old towels or clothing into cleaning cloths.
6. Natural Fibers
If you're in the market for linens, try wool, organic cotton, soy silk, ramie, hemp, organic feather, bamboo and jute. "What makes these products eco-friendly is how they are constructed and the materials used in production," said Charlann Joyner, manager of Outpost in Inlet Beach. "These natural materials are not only superior in terms of comfort and lifespan, but are inherently flame retardant without the use of chemicals." Eco-friendly fabrics are made from plants that are grown without the use of pesticides or chemicals for growth. Outpost carries Cisco Home Upholstery, a green line of sofas, chairs, beds, benches and ottomans.
7. Plants
Plants purify the air by acting as sponges to trap and break down toxins, releasing them as a harmless by-product. They release oxygen, further purifying your home. Plant options include hydroponics. "Home-based hydroponics, or the practice of growing plants in water rather than soil, reduces the total carbon footprint for food production," said Joe Catalano, owner of Coast Hydroponics, based out of Pensacola. The business specializes in grow systems, lighting systems, organics soils and more.
8. Lighting  
Compact fluorescent lights or any bulb labeled energy-efficient will greatly lower your electricity bill. During the day, opt for natural light when you can. In saving energy, we decrease carbon emissions.
9. Window Treatments
To conserve energy, invest in the right blinds, shades or window tinting. Windows should be lined with coatings that provide insulation.
10. Recycle
Pick up recycling bins, consider composting or grow your own garden.