Grain to Glass
Distillery 98 crafts vodka infused with Panhandle spirit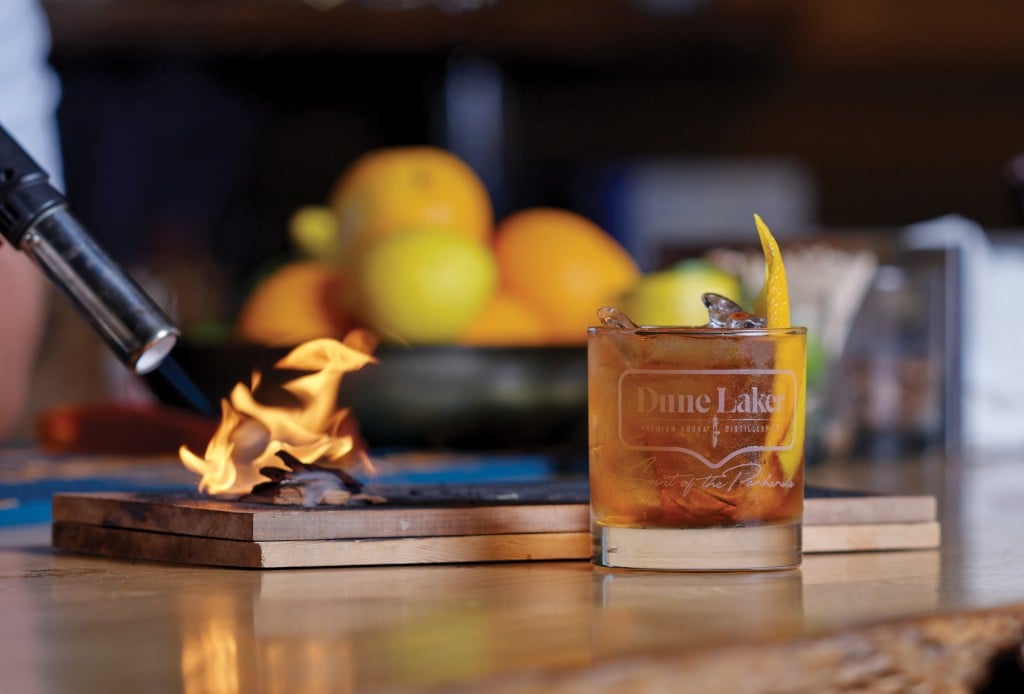 It's colorless and by itself tasteless and can be enjoyed unadorned — neat or on the rocks — or enhanced with a host of fruity flavors. Vodka has been around for centuries. It originated in Europe where it was administered for medicinal purposes before it evolved to become a spirit that is used in "self-medication," only as loosely applied.
"Pour freely. Toast generously." That's the slogan at Distillery 98, where Dune Laker Vodka is crafted. The business presents itself as a "homegrown, sustainably operated micro-distillery," one that is fueled by the passions of its crafters and their commitment to quality.
Opened in 2019, Distillery 98, located in Santa Rosa Beach, was intended as a meeting place where Northwest Florida residents could gather to enjoy spirits made with ingredients from local farms. As a "grain to glass" operation, Distillery 98 conducts its processing, distilling and bottling activities in one place. Its personnel closely supervise every step.
Dune Laker is distilled 18 times and is naturally infused with the spirit of the Panhandle. It is intended to honor "dune lakers," people who enjoy the outdoors and are especially drawn to the dune lakes located along Walton County's Gulf shore. Distillery 98's Harrison Holditch and his brother-in-law David Kapitanoff qualify as lakers, themselves.
They visited South Walton for years with their families before establishing their business and became avid paddleboarders. Indeed, a paddleboarder in silhouette appears on Dune Laker Vodka's label.
"It's the perfect activity to enjoy on the lakes and be more connected to nature," Holditch said.
Distillery 98 produces a flavored vodka, Martin Migration, in addition to Dune Laker while maintaining an event space that hosts birthday parties, bachelorette parties and gatherings of anyone who wants to celebrate the Emerald Coast lifestyle. The business also conducts tours of the distillery.
"We love supporting our local military and veterans as well as sports teams in the community," said Holditch, who has fostered connections with other local businesses.
Nearby Amavida Coffee has a signature espresso martini that combines Dune Laker Vodka, pecan liqueur and Amavida cold brew. The coffee house adds Dune Laker to its lotus drop and pineapple mule drinks, both ideal on a hot summer day.
Distillery 98 supports local events including Paddle for Peace, an activity designed to familiarize people with the healing qualities of water.
At this writing, the business is preparing to market a new product, Half Shell Vodka, which is filtered through oyster shells and will be packaged in a cardboard bottle that people can take to the beach, pool or out on the boat.
Holditch and Kapitanoff strive to limit their carbon footprint in any way they can. Corn used in production is cooled and distributed back into fields. They use locally sourced oyster shells to filter their vodka. Bottles for the new Half Shell Vodka will be made of materials that are 94% recycled.
"It just makes sense for us to do our business that way. We love this area and want to preserve its beauty and natural resources," Holditch said.
Never content to hold still, Holditch et al have renovated the bar and upstairs area at their building and are tacking a porch onto the front of Distillery 98 — the perfect vantage point for watching the sunset while sipping Dune Laker.
SPIRIT
Distillery 98 unites people with activities taking place in the world around them. Its motto reflects its spirit: Pour freely. Toast generously.
(850) 919-2400
Info@Distillery98.Com
35 Serenoa Road Santa Rosa Beach