GOOD LIBATIONS
The Kennedy brings a unique experience to downtown Pensacola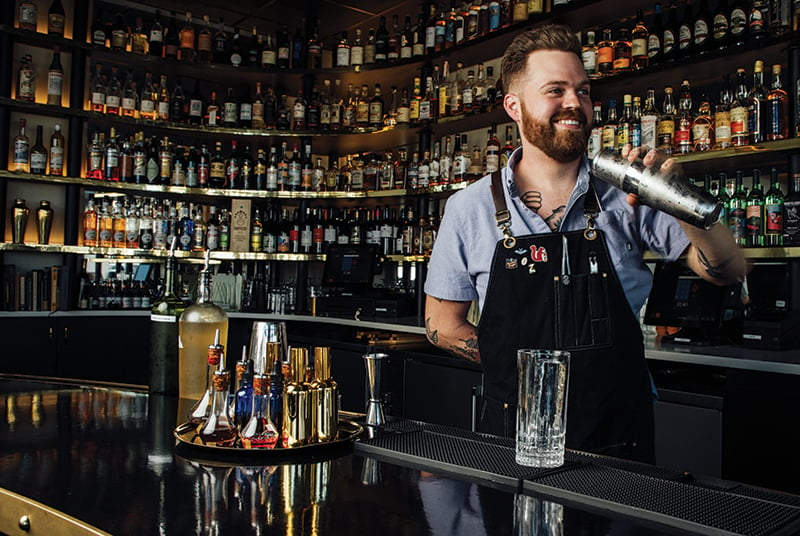 After years of success as owner of the Old Hickory Whiskey Bar, Katie Garrett has brought another attraction to the neighborhood with The Kennedy. Located at 1 South Palafox Place, The Kennedy bills itself as "Where Mid-Century Cocktails Meet 21st Century Libations."
Bobby Switzer, the owner of Palafox Place, said, "The Kennedy draws in a great class of clientele, which contributes to the modern aesthetic of the downtown area. Its warm atmosphere and great martinis make it the perfect place to start your evening."
The Kennedy is what Garrett refers to as "a new concept," explaining that she's always wanted a cocktail lounge mixed with a whiskey bar — not just one or the other. "I was approached by the building owners who wanted to replace a previous business with an upscale bar on the corner of Palafox," Garrett said.
Lessons learned from Old Hickory factor into Garrett's plans for The Kennedy. "In the beginning," she said, "the biggest advantage was knowing how to lay out a functional bar. When Old Hickory was designed, we had no idea the volume of cocktails we would be crafting on a nightly basis."
It quickly became apparent to Garrett that an extension of the whiskey library and additional serving stations for bartenders were necessary.
"As you can imagine, this takes time and costs additional money knowing how we would need to address the volume at The Kennedy," Garrett said. "In the design phase of The Kennedy, we knew exactly how to create a bar that could serve guests in a quick and efficient manner but still look sleek and elegant."
Beyond volume and flow, Garrett learned other key lessons from her past ownership of the Old Hickory.
"We learned how to listen to our guests and reexamine our operating systems a few months after opening," Garrett said. "We started out with a larger cocktail menu and smaller, appetizer-style plates. Once we evaluated our guests' opinions, we quickly learned a more concise cocktail menu would serve them better."
Dinner and shareable plates were other items requested by guests. "Knowing how to grow with your clientele is extremely important in any business," Garrett commented. "At the end of the day, we want to give our guests a space where they feel happy and satisfied after a day at work."
Reactions have been positive from the start, according to the owner.
"When we first opened in September of 2019, our guests were excited to have a space where they could dress up and grab a drink before a date night or evening with friends," Garrett said. "At the time, our space was one of the only spots where you could enjoy drinks in a fancier atmosphere — a place where you didn't feel you had to quickly drink your beverage while waiting for your table before dinner."
The community has grown over the past three years, establishing regulars and new guests who step outside their comfort zones to try cocktails they've never heard of before. "Our staff enjoys helping people cross into adventurous libations," Garrett said, "even with something that may seem as simple as trying a clarified Bushwhacker."
Matt Nichols, manager and beverage director of The Kennedy, says his favorite cocktail is the Bamboo. "It's low in alcohol but very complex," he said. "I really enjoy the cocktail's flavors, and
because of the low alcohol content, I can enjoy more than just one a night."
With a growing interest in fine whiskeys and cocktail menus, The Kennedy is a proper place for locals and visitors to try a more upscale take on a relaxed evening.
---
To learn more about the menu offered at The Kennedy from specialty cocktails to sharable plates, visit thekennedy.bar
---
---