Good Business
Jimmy Patronis believes Florida's prosperity is rooted in safety and justice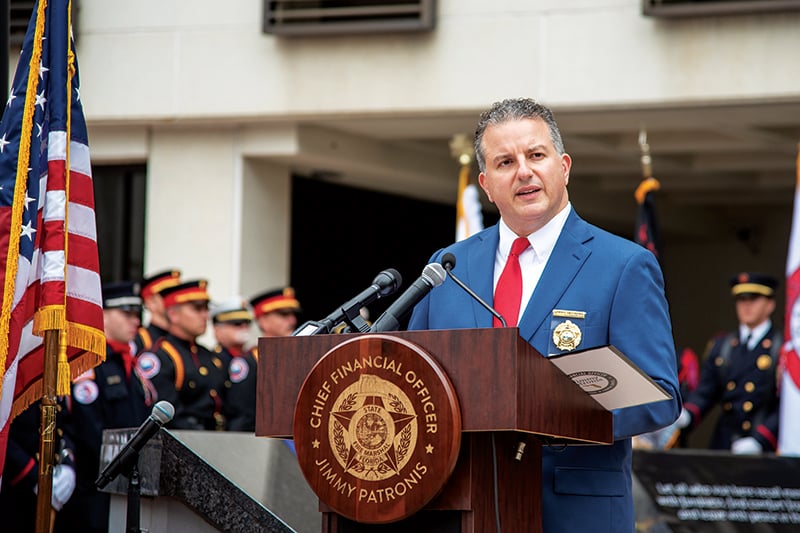 Every Floridian from Pensacola to Key West is Jimmy Patronis' customer, and the customer always comes first. That is a lesson Patronis learned early from working in his late father's popular Panama City seafood joint, Capt. Anderson's Restaurant & Waterfront Market.
These days, Patronis co-owns Capt.Anderson's with his brothers, but keeping his customers happy goes far beyond Greek salads and seafood. As Florida's chief financial officer, Patronis' varied responsibilities impact the entire state. He isn't just serving plates anymore — he's spinning them.
The role of CFO may seem straightforward. As Patronis says, he is the business manager of the state, responsible for signing checks, monitoring investments and balancing the books. Much like the restaurant business, however, there is a great deal more going on in the back of the house than most people realize, particularly when it comes to times of crisis.
The CFO's office is responsible for coordinating all search and rescue efforts throughout the state, a monumental task in a state beset by cycles of storm damage.
"Florida has seen its share of disasters," Patronis said. "Probably the first real storm that I played a role in as CFO was Hurricane Irma. That storm touched over 40 counties in the state. It was a massive storm, an incredible threat to the health, welfare and finances of the state."
Since then-Gov. Rick Scott appointed Patronis to the position of CFO in mid-2017, Florida has seen more than six major hurricanes. Each time, Patronis' team has been on the ground.
"Prior to the storm, we are out there turning up the volume, helping people understand the threat of the storm, helping them get their financial home in order and understand that, if they are going to be filing an insurance claim, these are some things you should consider doing now before the storm lands," Patronis said.
Once the storm has passed, his office deploys swaths of first responders to wade through stormwater, pull people out of rubble and all too often, identify victims claimed by nature's wrath.
Speaking candidly, Patronis said he hadn't fully understood the importance of first responders and the burdens they carry. Whether responding to the aftermath of a hurricane or a routine 911 call, he said, first responders handle some of the most traumatic events imaginable. They are at a higher risk of PTSD and suicide, yet they received no PTSD benefit from the state. Something had to change.
"A woman reached out to me whose brother was a firefighter," Patronis said. "He had responded to one too many bad calls, and he committed suicide. We worked together and passed legislation to get these men and women access to the mental health benefits that they need to live a normal life."
Even with increased access to mental health benefits, first responders often have a difficult journey, he added.
"It's hard for these men and women," Patronis said. "They have a very hard outer shell, and for them to come forward and say, 'I need help. I am having trouble sorting through my demons,' it's hard. They have our back 24/7, 365. It was about time for the state of Florida to say, 'You know what, we've got your back too.'"
Patronis also discovered that not all who make an appearance in the aftermath of a natural disaster are heroic. Since his reelection in 2022, he is taking a hard look at Florida's Assignment of Benefits process and what he describes as a predatory exploitation of the vulnerable in times of crisis.
Assignment of Benefits, or AOB, is a legal agreement between a contractor and a homeowner in which the homeowner signs their insurance claim over to the contractor in lieu of cash payment. In its proper execution, AOB allows work to begin immediately without the homeowner having to wait for insurance money to arrive. When used inappropriately, however, AOB can be financially and emotionally devastating. All too often, Patronis said, once the homeowner signs over the benefit, they never see the contractor again.
"I tell people there is the best in recovery and the worst in recovery as far as what you see of humanity," Patronis said. "The good Samaritans arrive day four, day five, but the predators arrive hours after the storm."
Patronis' office works diligently to investigate these cases, but because AOB is a legal process, it can be difficult to prove fraud. Furthermore, even a strong case can find itself at the bottom of the pile once turned over to the State Attorney's Office.
"These prosecutors that work for the state attorney, they only have so many hours in a day," Patronis said. "If they are looking at a murder or insurance fraud, one was physically hurt and the other one was financially hurt. They have to prioritize."
As a member of the Executive Branch, he has no direct power over the actions of the state's judicial system, but he has become quite vocal. He has gone as far as advocating for the State Attorney's Office to dedicate a number of prosecutors to insurance fraud cases or to eliminate the AOB process altogether.
For Patronis, creating a system that is safer is not simply the right thing to do, it's good business.
"No one is going to relocate to the state if it's not safe," he said. "A business is not going to make an investment if it's not safe. You are not going to have prosperous communities if it's not safe. So, I started really understanding how much that safety and security and a robust safety net complements good, quality economic development and prosperity."
---