Goldie Lahr Sings From the Heart
Life's winds took her where she wanted to go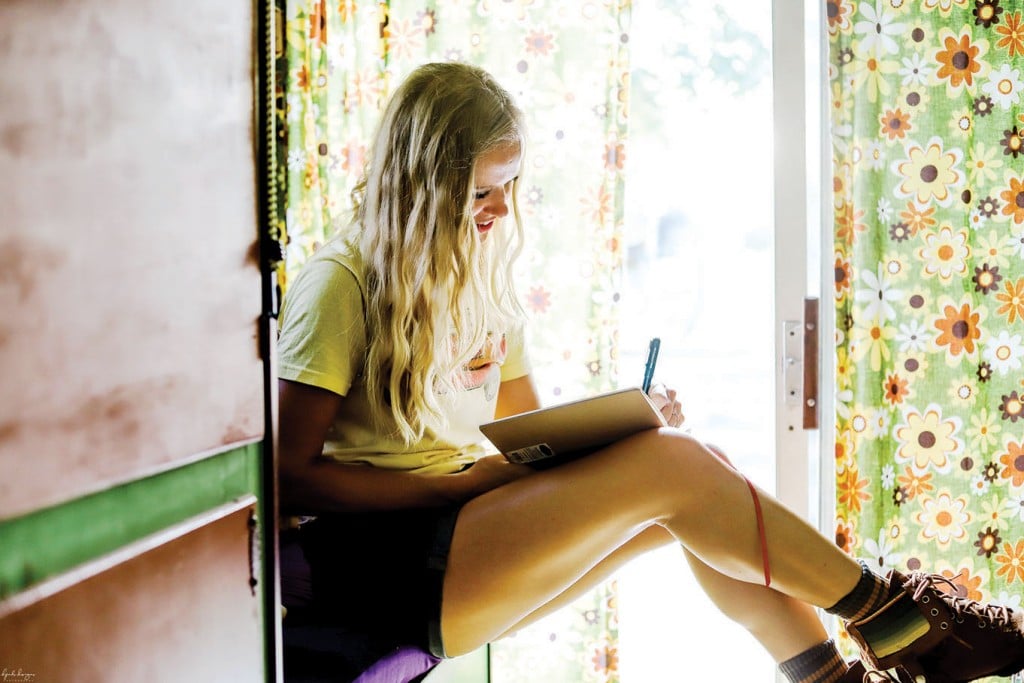 Somebody once posed a question to Goldie Lahr: "If you were offered by, say, an angel, the grace to play one song in the whole universe, perfectly, in its ultimate celestial version, what song would it be?"
She thought and finally said, "OK. I know the one that would be the go-to song for me: Pachebel's Canon in D. That way I can be a part of many people's happiest moments!"
In such a way, Lahr, a self-described folk-rock musician, throws a wrench into one's preconceptions of where she comes from. A solo act, she sings everything from traditional numbers like Patsy Cline to contemporaries like Brandi Carlisle. She plays guitar, piano or fiddle, topping off standards with her own originals, like adding whipped cream and a cherry.
Lahr's lyrics are tight with staggered rhythms that can't be taken for granted yet still work out right. The title song in Goldie's latest album, Hello, Oklahoma, expresses, in Lahr's classic Country Queen vocal style, a sweet ambivalence about finding home and flying away at the same time.
Hello, Oklahoma; hello brand-new day!
Hello to all the promises coming my way.
High as a kite we'll fly;
The wind will take us where we want to go …
In an interview, asked why she left Oklahoma where so much of her heart seemed to lay, she cryptically explained that "expectations got the best of me," and left it at that.
A 9-year-old Goldie once portrayed Olympic gymnast Kerri Strug in her own bedroom production of a Billy Mays-style video pitch, touting a half-price sale on her collection of rag-doll dogs. The well-thought-out pitch, interrupted by a pretend phone order, was complete with a one-sided conversation worthy of a shopping channel gem jam.
It's not hard to intuit what made Lahr blissful, even then. As a big girl, her videos can be tongue-in-cheek, like "I Put A Spell On You" with its purple lipstick and skeleton hands. As part of the Belle Anchor Belles, she and at least two other Navy wives dress in sailor suits and sing Andrews Sisters-style boogie-woogie.
"The Belles always love playing at the Aviation Museum at NAS Pensacola," Lahr said. "It's great talking to the volunteers there; they all have amazing stories of their own!"
Lahr was born in Pensacola as Rachael Aune. Her Norwegian progenitors' gift of blonde-tudinousness made her nickname inevitable. Her father was a Navy officer, which usually guarantees that a family will not be living in one berg for long. Before she left home to undertake history and religion studies at the University of Oklahoma, she grew up living outside Fort Worth, Texas. She became a Lahr upon marrying naval aviator Lt. Robert Lahr, another Norwegian scion and great, great-nephew of the Cowardly Lion from The Wizard of Oz.
While Pensacola is her base of operations, Lahr frequents venues in New Orleans, St. Louis and Rochester, Minnesota. But — "Hello Pensacola!" — a majority of her engagements are around the Panhandle: Milton, Niceville and Whiting Field Naval Station, the Village Inn in Destin and Peddlers on Walton County's Highway 30A.
At home, Lahr's menagerie includes her cats Fats Domino and Dolly Purrton, her dogs Gunner and Billie Pawliday and her chickens Linda and Louise.
Son Billy, seven months old at this writing, loves to scatter the neighbor's chickens but isn't intimidating enough to deal with the tough-minded Linda and Louise, who were born and bred around dogs.
Musicians, like most artists, spend years developing their skills. If the apprentice is determined and practices, he can expect at least a year of humiliations playing before audiences and should consider himself lucky if paid in beer.
As a journeyman, he may need to fight an alcohol problem from getting too much beer, but with a pay scale that leaves him walking dogs to pay the rent.
Lahr long ago paid her dues on those first two rungs, but when the standard old question arose as to where she sees her career being in five years, she laughed and said, "I don't know, but I like where I'm going wherever that is. I'm still happy to have made it to where I can say I'm a professional."
She hesitated a few seconds, then grinned and added, "You know what I mean by professional, right? That means making more money playing than you're spending on equipment!"
UPCOMING APPEARANCES
Goldie Lahr is scheduled to perform at the Beardless Brewhaus in Milton on April 17 and May 15 and at the Beach House at Spring Hill Suites in Navarre on May 7, May 22, June 5 and June 25. All engagements begin at 6 p.m.