Gigi's Boutique & Eats
Shop and refuel in an atmosphere flavored by Southern hospitality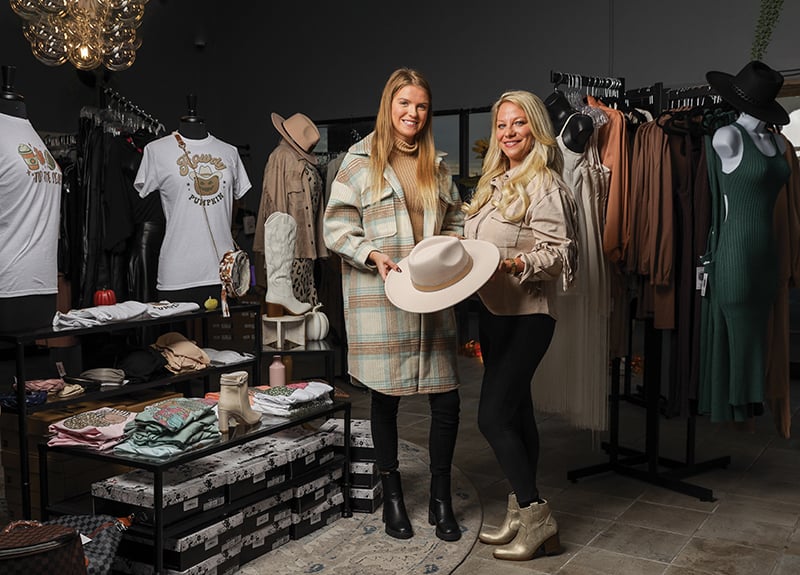 Debra Fortson and Madison Williams know a thing or two about facing challenges.
In August of 2020, five months into the coronavirus pandemic, this mother-daughter duo opened GiGi's Boutique on Nine Mile Road in Pensacola. A few weeks later, Hurricane Sally wreaked havoc across the area.
"We feel like if we survived the pandemic and a hurricane, we can pretty much make it through anything," Fortson said.
In March, with that same confidence, Fortson and Williams rebranded their business as "GiGi's Boutique & Eats." They expanded their space by adding some funky furniture around the shop and fresh strokes of hot pink paint to the walls and introduced a simple menu that includes shareables, small plates and beverages from coffee to champagne.
"Pensacola's big, and there are a lot of boutiques, a lot of competition," Fortson said. "It gave us a little niche that's different."
As they head into their third year in business, drawing customers of all ages from Pensacola, Pace, Milton and Orange Beach, all signs indicate that their plan was a success. For many, shopping at GiGi's Boutique & Eats is a bit like hanging out at a best girlfriend's house, where they can try on clothes and shoes, drink mimosas and dish on everything from family drama to the latest celebrity gossip.
"It's almost like a therapy session," Fortson commented. "Women love to be able to go somewhere they can connect with other women about what's happening in their lives."
The boutique offers an eclectic assortment of T-shirts, jeans, dresses, hats and shoes, while also carrying home décor and gifts featuring trusted brands like Tyler candles and FarmHouse Fresh skin care products. The new menu has proven a perfect fit for girlfriend get-togethers and corporate parties, as well as solo shoppers who desire a relaxing glass of wine while they browse.
"That's one thing about Pensacola — you make a customer, and you've made a friend for life," Fortson said. "A lot of our customers have gotten to know us, and they pretty much know our entire family."
From the beginning, Fortson and Williams wanted to create a space that was fun and stylish, but also down-to-earth and affordable.
"That's our motto: fun and fashion at a fair price," Fortson said. "You're not going to feel like you have to come dressed in your Sunday best to shop with us. It's nice, comfortable and kids are welcome, too."
In fact, Williams' 3-year-old daughter, Nola, is a regular at GiGi's. "She loves her dresses, shoes and makeup," Williams added. "She's a little fashionista."
The boutique, they explained, is simply a reflection of their personalities. "We like pink and Southern hospitality," Fortson said. "We're just country girls." Even the music playing in the shop, everything from Dolly Parton to Diana Ross to Rihanna, is chosen with care.
"We love displaying strong women, especially artists," Fortson said. "I guess we want to be role models for Nola and show her that women can be business owners
and succeed."
Fortson attributes much of the boutique's success to being located next to a large Goodwill thrift store and a busy Harbor Freight Tools.
"The foot traffic here at this little shopping center, even though it's 60 years old, you can't beat it," she said. "And Nine Mile Road is a hot spot for growth."
Fortson also credits her daughter's flare for staging and merchandising.
"She's my creative and my tech," she said. "Madison has taught me a lot of tech stuff necessary for operating a modern business."
Always an artsy kid, Williams has developed a discerning eye for exciting looks but says her personal fashion style is a bit more understated.
"I like streetwear, white tennis shoes and graphic T-shirts," she said. "I'm not a girly girl. I like to be comfortable."
But Williams is not afraid to try new things, especially when it comes to stocking clothes and other items that shoppers want. She loves traveling to the Dallas and Atlanta markets, and whether dressing mannequins or ordering merchandise, she keeps her eye on social media for all the latest trends.
"TikTok is the place. It's all different kinds of ages," Williams said, adding that she and Fortson also hired two social media managers to help them maximize the shop's presence on TikTok, Facebook and Instagram.
For Fortson and Williams, the best part of their adventure is experiencing all the ups and downs of operating a business side by side.
"We get to spend time together and blend our creativity and fashion," Fortson said. "It makes us feel blessed!"
---
---