Fusion of Flavors
Pensacola eatery unites the Mediterranean and the South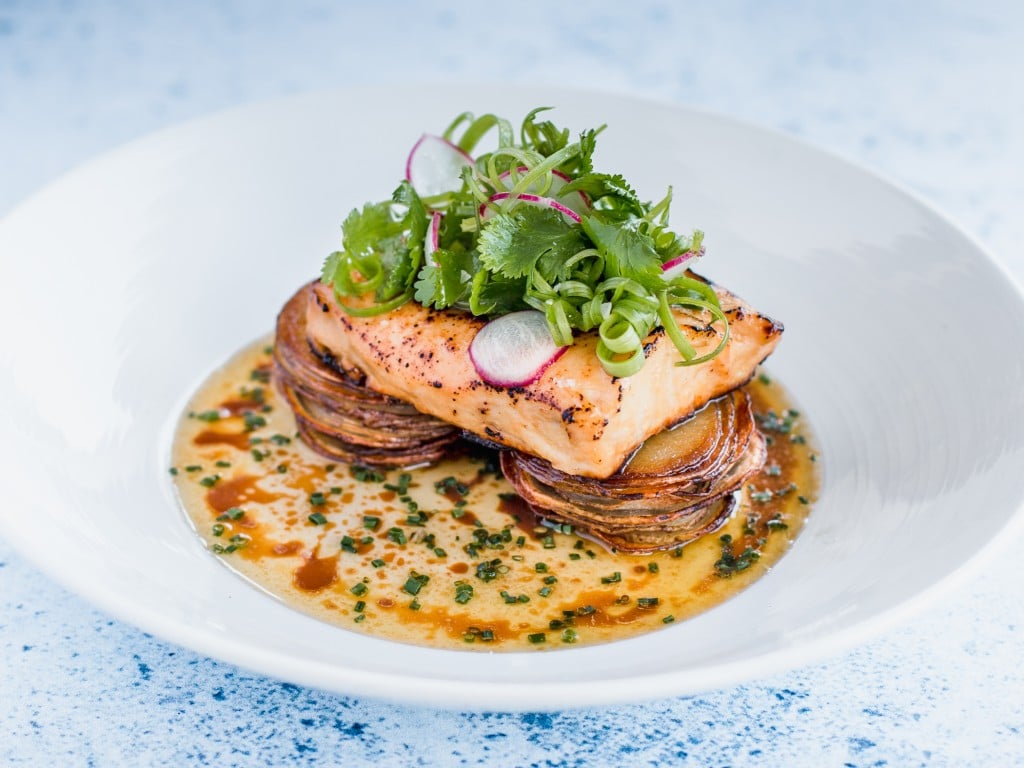 Chef George Lazi, his wife Luba and his team of cooks and servers have made their mark on Pensacola's restaurant scene with a unique blend of two cultures.
They like to call their approach "South Meets South," which combines recipes from the Mediterranean with some from Dixie.
"I think we are a favorite restaurant in this town," Lazi said. "We have put ourselves on the map by working very hard to provide a very consistent experience, day after day, holiday after holiday."
George was born in Soviet Georgia, and when he was 19 years old, he moved to New York City. His first job there was at a kosher deli in Queens.
His gradation from the culinary program at the Art Institute of New York enabled him to earn a position at Jean-Georges, a renowned French restaurant. Then came an opportunity at Fig & Olive, and six years later he was its corporate head chef.
As a teen, Luba emigrated from Kazakhstan to New Orleans before relocating with her family to Pensacola in 2000. Upon earning a degree in fashion merchandising from Florida State University, Luba made her way to New York City for an internship with Bergdorf Goodman.
George and Luba met at a Christmas party, fell in love and eventually were married. When her mother became seriously ill in 2013, the couple moved to Pensacola to help out.
Luba's mother recovered, and the couple decided to build on George's credentials as a chef familiar with fine foods.
They founded George Bistro + Bar in 2015 on Garden Street. In 2018, they moved to a larger location on North Ninth Avenue, not far from Pensacola International Airport.
"Our decision-making process always involves how to give our guests more enjoyable and unforgettable experiences," Lazi said. "We moved to our current location because it has a larger kitchen for providing a wider variety of cuisine, and it has a larger seating area for our guests."
With the move, George Bistro + Bar expanded from 92 to 160 seats. Its staff doubled from 50 to 100. And it's now open from 8 a.m. until 10 p.m., seven days a week.
During the first wave of COVID-19, the doors were closed, but George kept its drive-thru window open.
"It gave people a boost of happiness when they had nowhere else to eat," Lazi said. "I think the community is feeling the love and care that we have given to them the past seven years. When you serve customers, thousands and thousands every year, it builds up your reputation and you become one of the staples in the region. I think we serve the whole Gulf Coast now."
Lazi's favorite offerings:
"Our George Fries are a signature appetizer and a must-have when visiting, especially with friends," he said. "They're made from hand-cut fries, andouille sausage, cremini mushrooms, Parmesan, feta, rosemary and sea salt. They're served with curry ketchup, basil aioli and roasted red bell pepper aioli."
Lazi added, "One of our best-loved dishes is our Alfredo Pappardelle. It features our house-made pappardelle pasta, creamy alfredo sauce, wild mushrooms, white truffle oil, parmesan and scallions."
Pappardelle is a broad, flat pasta, similar to wide fettuccine, and originates in the region of Tuscany.
Lazi also mentioned Very Berry French Toast. This dish is made with artisan challah bread with vanilla bean and brown sugar mascarpone, topped with raspberry and blueberry sauce, house-made caramel and berries.
And of course, there's a wine list. It offers 19 wines by the glass, plus 32 by the bottle.
"That includes a large selection of bubbly for celebrations," Lazi said. "Our goal is to offer a little bit of everything, with our main focus centered on pairing wines with our menu."
The restaurant offers outdoor seating on its porch and beneath a covered, heated pergola. It has a full-service craft cocktail bar.
---
Surf and Turf
In December 2021, Chef George and Luba opened Pearl & Horn. It is part of a collection of eateries known as The Garden and located at the intersection of Palafox and Main streets.
"We have always felt a connection with downtown," Lazi said. "It's a great location with great potential."
Pearl & Horn offers menu items including shareables, soups, salads, burgers, and other sandwiches and desserts.
Most will find its broiled oysters, topped with Parmesan cheese and garlic butter and served with French bread, to be irresistible.