Fostering Connections
Sea-Life Center introduces visitors to marine wonders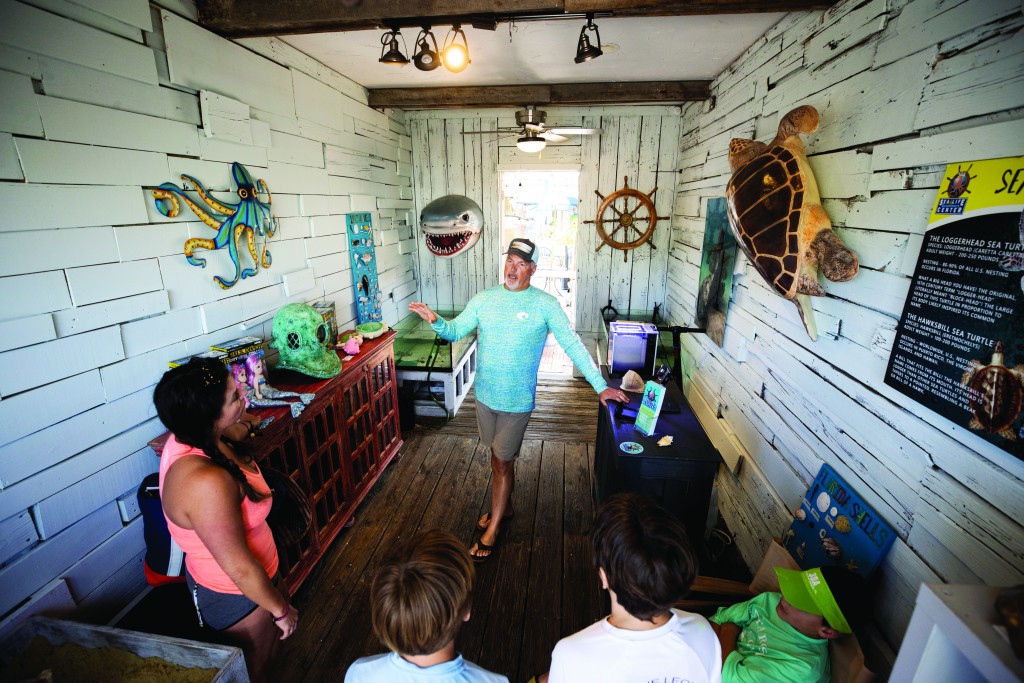 "Their experiences and the lessons that parents can teach their children are going to last a lifetime." — David Demarest, director of communication for the Walton County Tourist Development Council
For five years, Joe Moore and his family have been inviting people to discover the natural wonders of South Walton County and beyond.
Moore, his wife Sheryl, and daughters Lexi and Zea, own and operate the 30A Sea-life Center, located on Logan Lane, off County Road 283 just north of Scenic County Highway 30A.
"We have another business called Appleseed Expeditions, and we take kids on science trips and had our office there," Joe Moore said. "I thought it would be great to have a marine science center because it's right next to Grayton Beach, which is one of the biggest outlets for coastal dune lakes, and there's an artificial reef right off the coast.
"We thought it would be great to teach about all the different species that live along 30A because it's such an unusual ecological area," he said.
"My favorite parts are the excursions," said Christy Gibson, manager of visitor information at Visit South Walton. "It gives the kids a chance to get out in nature and interact with marine life in a way that they normally wouldn't be able to."
One of Moore's favorite snorkeling trips visits a cove near Shell Island in St. Andrew Bay in Bay County.
"Between 20 and 50 green sea turtles, between 2 and 8 years old, hang out there until they get big enough for the open ocean," Moore said.
David Demarest, director of communication for the Walton County Tourist Development Council, said preservation and ecology are "hugely important" for South Walton.
"They're a big part of who we are," he said. "As the TDC, we're behind the funding that makes the nearshore snorkeling reefs. When we reach out to potential visitors, we definitely reach out with a message that's related to the natural qualities of the area.
"Businesses like 30A Sea Life help to tell that story," he said.
Demarest said people who experience marine life and natural systems while in South Walton develop a strong connection to the area.
"Their experiences and the lessons that parents can teach their children are going to last a lifetime," Demarest said. "And what we see happening in later generations, those kids grow up and bring their own kids here. And the cycle repeats itself. The more we can do as a community to facilitate an appreciation and an understanding for the natural ecology and biology of South Walton, the better."
Moore grew up in Texas and said that at age 9 or 10, he knew he wanted to be a marine biologist.
"I loved the research they were doing at the South Padre Island University of Texas research facility," he said. "So, when I was older, I wanted to develop a marine science program that plants a vision and a purpose in the lives of young people, especially at-risk kids.
"Our message of 'stay in school, stay focused on your dream' is planting a seed of hope in their lives, and it's also helping with preservation and conservation programs."
Moore discovered the Emerald Coast when attending the University of West Florida.
"When I got married, I lived in Tampa for a while, but my wife and I decided to move here because this is where we wanted to raise a family."
Lexi Moore is 7 and Zea is 13.
"They help out in the summer, and they love arts and crafts," Moore said. "They help collect creatures with me."
Last summer on a snorkeling trip to Panama City Beach, Lexi got to swim with dolphins near the pass to St. Andrew Bay.
"We put her in the water, and they swam around her; she actually touched one of the dolphins," Moore said.
Lexi is also fond of her pet stone crab named Bella.
The family has a video of a thimble-sized octopus walking along Zea's arm.
"Zea helps kids make sea turtles out of clay," Moore said. "And she can make sea turtles, dolphins and sharks."