Flying High on the Emerald Coast with the Duncans
Bird's Eye View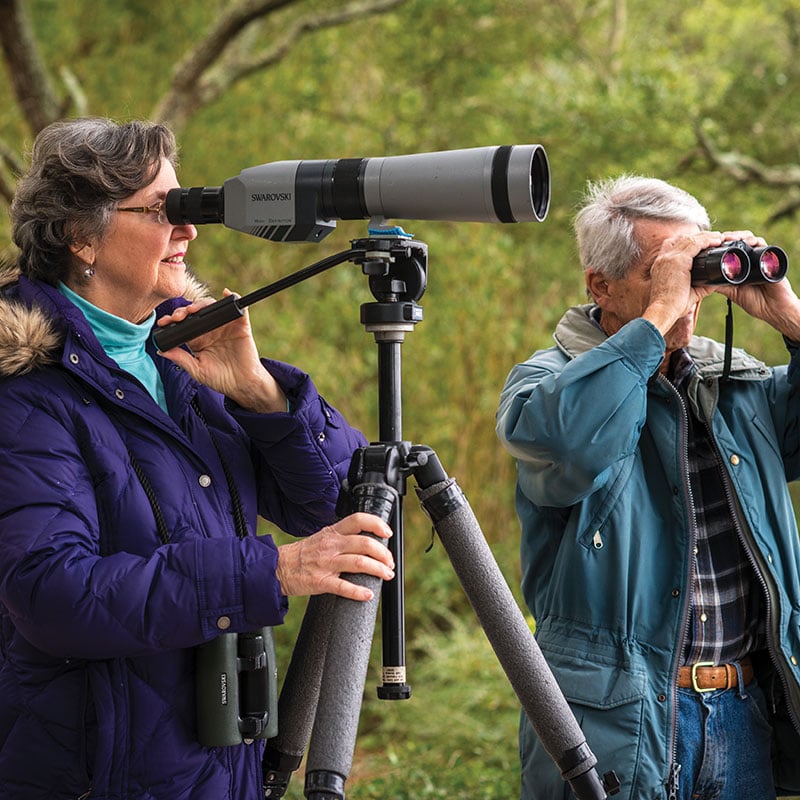 Though you may not realize it, the Emerald Coast is prime territory for bird watching enthusiasts of all kinds, from the most casual observer to the truest tracker. Areas including Pensacola and Gulf Breeze, with their undeveloped lands along the Gulf Islands National Seashore, play host to countless species of interesting birds that keep birders on their toes, eyes trained on the sky and ears open to the songs of the wild as their feathered friends flit and fly, unaware that they're playing to an audience of adoring fans who track their every move.
For Gulf Breeze residents Bob and Lucy Duncan, the fact that they live in an area so rich in bird life is one of the best things about living along the coast. They see far beyond the obvious beauty of the beaches and listen not so much for the sounds of the waves crashing into the shore, but for the very distinct calls of the birds that so captivate their passion and ignite their imaginations as they meticulously gather details on these winged wonders and catalog them like treasures.
The Duncans have been awed by all things avian since 1967 when they began to take notice of the rich variety of birds that they saw around their neighborhood.
"Once you really start noticing the birds, it makes you realize that there are a lot more species than you ever dreamed," says Lucy, a retired Santa Rosa County school teacher.
Getting immersed in the culture is fairly simple, according to Lucy, a former board member at the Francis M. Weston Audubon Society in Pensacola.
"Join the local Audubon Society and take part in their field trips," she advises. "Take birding classes –– you'll have the opportunity to go birding with knowledgeable birders, and they'll be able to help you get started. If you're not inclined to enroll in a class, start learning your neighborhood birds and compare them with one another. Find them in the field guide, and take notice of why certain birds are grouped together in families and orders," she continues.
"Keep a list of the birds you see and identify, the date you see them and where they were. This starts your life list, and while it's an optional activity for birders, it's really a wise one, because keeping those lists is also an ideal way to reinforce learning."
Lucy finds that once you see the bird, identify it and record its name, you're likely to remember it. That leads to curiosity about birds and their environments, their behaviors and life histories.
In their past 40-plus years of bird watching, she and Bob, a retired Civil Service worker whose white hair belies his youthful enthusiasm for the never ending hunt, have traversed the map in search of new species to add to their ever-growing list, tracking and photographing and taking notes on everything from plumage to feeding habits.
So what, exactly, does a birder do?
"That really depends on what an individual's interests might be," says Lucy. "Some are simply satisfied to take photographs and watch their feeders, while some may prefer to take a more intense approach and actively seek out the birds and maintain lists."
There seems to be no shortage of lists from which to choose, ranging in scope and detail so that, whether the interest is a flight of fancy or a scientific study, birders of all levels can collect, analyze and share their finds with their fellow bird lovers.
"There are many, many lists, and for some listers, those lists can become quite like a competitive sport," Lucy observes. "They can be very focused in one small area, like yard lists, which track birds that you see while you are actually, physically in your yard. Our total is 278, one of the highest in the nation," she says proudly, her eyes shining brightly as a smile plays across her lips. Looking around the Duncans' well-shaded, densely planted plot of land, one can easily see why so many birds would happily stop by.
As Lucy tells it, the northern Gulf Coast and our coastal plain offer rich and varied habitats, from the vast Gulf of Mexico to the many bays, beaches, marshes, river bottomlands, agricultural lands and forests.
"Some of the best areas to go bird-watching locally are on the Blackwater River and at Fort Pickens," she says, rattling off facts about birds with the ease of breathing. "Every habitat has its own complement of species, and, in Northwest Florida, over 400 different species of birds have been recorded."
For these lifelong birders, some of the most memorable sightings have been the ones that happened when they were least expected. "Once, when Bob and I were casually birding our favorite trail at Fort Pickens, we saw movement under the thicket on the trail's edge that made us pause, and what we saw made us gasp in surprise. Much to our shock, we'd seen a green-tailed towhee, which is a bird common in dense brush on mountainsides and high plateaus of the western U.S., and it really shouldn't have been here," Lucy recalls.
They spread the word throughout the local area and the Southeast using various birder networks and it didn't take long before others arrived with their binoculars and cameras in hand, hoping that they would be rewarded.
"Birders came from every state in the Southeast just to get a glimpse!" she exclaimed.
As Lucy continues to share stories of triumphant sightings, one tale stands out from the rest, one which could be considered by some to be a wild goose chase. Nonetheless, it is one that will never fade from memory. Many years ago, while in the midst of preparing dinner for friends, the Duncans received a phone call telling them that a Caribbean elaenia, a tropical flycatcher never before seen in the U.S., had been discovered several hours earlier at Fort Pickens.
Lucy was conflicted by the news, but she knew that it was unlikely the bird would still be there hours after it was sighted.
"Even though I knew I was going to have to abandon my desire to see the bird in favor of continuing my dinner preparations, I sent Bob off in search of it without me, shoving a camera into his hands before I went back to stirring the spaghetti sauce," she says.
Their son found the bird, Bob photographed it and they confirmed its identity. From that point, both the plot and the sauce thickened.
The Florida Ornithological Society was meeting in Tampa at a banquet, and the Duncans knew they would want to know about the sighting, but this was in the days before cell phones. Bob telephoned the convention headquarters and asked to speak to any birder who could take the call.
"Daylight came, and dozens of birders, including me, were scanning trees searching for a 4-inch bird we had never seen before," Lucy tells. "It was not to be found, but not one birder regretted the chase!"
Whether you're hiking the trails with field guide and binoculars at hand or sitting on the porch watching alertly for whatever might be passing through, birding truly is an activity limited by neither age, nor gender, or physical ability. Open your eyes to what's around you, and you might be surprised at what you've been missing.
---
Birding Basics
When selecting binoculars,

make sure the magnification is at least 7-power and the diameter is four to five times larger than the power — 7 x 35 or

8 x 40, for example. The larger the lens, the heavier the binoculars — so be sure it will be comfortable to wear around your neck and carry for a few hours.

Purchasing a field guide is easy,

but be sure to learn how to use it. Trying to identify birds flying around at 30 miles per hour while flipping through pages is not an easy feat and can lead to frustration. Learn how the guide is organized so you know the general section to turn to — most guides are in phylogenetic order (based on evolutionary history). Some tech-savvy birders may find it easier to download a field guide app on their smartphone, such as Sibley Birds, where you can see pictures and hear recordings.
Identification Tips
Shape and Size

Details like the size and shape of the body and length of the tail or legs.

Plumage

Pay attention to feathers and color markings that could set the bird apart.

Behavior

How the bird acts, flies and gets its food.

Habitat

Where you are geographically, whether in salt marshes, deciduous forest, urban, etc.

Voice

Listen closely, each bird has its own specific call and song.
Backyard Birding
By Kate Mueller
Nothing is better than waking up with your morning coffee and finding a bluebird — or a cardinal or a red-belied woodpecker — outside your window waiting for you. Making your yard more attractive to birds can be a simple matter.
"Just add water," said Cindy Wolf, owner of the Wild Birds Unlimited Nature Shop in Panama City. Water, frequently overlooked by people who focus on feeders, is the most important element in attracting birds.
Drinking and bathing water will draw birds not interested in the foods you offer them. Putting a mister, dripper or water wiggler in your birdbath will entice tanagers, warblers and hummingbirds.
Added Wolf, "It's a good idea, too, to enhance the habitat in your yard by adding plants that will serve as nesting areas and safe retreats for birds."
On average, birds eat 20 percent from feeders and 80 percent from the land. Providing blends with sunflower seeds, safflower and millet, for example, will attract a variety of birds. Planting native berry-bearing plants is also a good idea. During nesting and migration, high-energy foods like suet, bark butter and mealworms will attract insect-eating birds.
Putting your feeder near bushes and trees is essential for protection against predators, and baffling your feeder pole will keep unwanted visitors (snakes, raccoons and squirrels) away. Birds in search of a place to raise their young can find a secure home in your backyard with the use of nest boxes.
eBird Hotspots
According to eBird.com, local birders flock to these nearby locations listed on the Great Florida Birding and Wildlife Trail (floridabirdingtrail.com).
Shoreline Park, Santa Rosa

Gulf Breeze Wayside Park, Santa Rosa

Gulf Islands National Seashore — Naval Live Oaks Visitor Center and N. Bay Trail, Santa Rosa

Pensacola Pier, Escambia

Gulf Island National Seashore — Fort Pickens, Escambia

Garcon Point WMD — South Trailhead, Santa Rosa

Okaloosa Holding Ponds, Okaloosa
The Great Florida Birding Trail
The Great Florida Birding Trail is 2,000 miles of self-guided trails that span 515 birding and wildlife viewing sites throughout Florida. The Panhandle section, established in 2004, extends from Escambia to Jefferson counties. Points of interest along the trail in the Emerald Coast region include the Gulf Islands National Seashore, Naval Air Station Pensacola, the Edward Ball Nature Trail, Blackwater River State Forest, Grayton Beach State Park, Pine Log State Forest, Camp Helen State Park and St. Andrews State Park. Pamphlets are available online to download to your computer, your smartphone or tablet for free.
Website: floridabirdingtrail.com App Name: Nature Viewing Along the Great Florida Birding and Wildlife Trail
For more information on becoming involved with the FMWAS, visit fmwaudobon.org. Great tips for beginning your adventure as a bird-watcher are available online at floridabirdingtrail.com.