First Note Farms Bring Musical Talent to Santa Rosa Beach
Tommy Jackson used his financial expertise and ear for talent to create a retreat for gifted musicians at First Note Farms.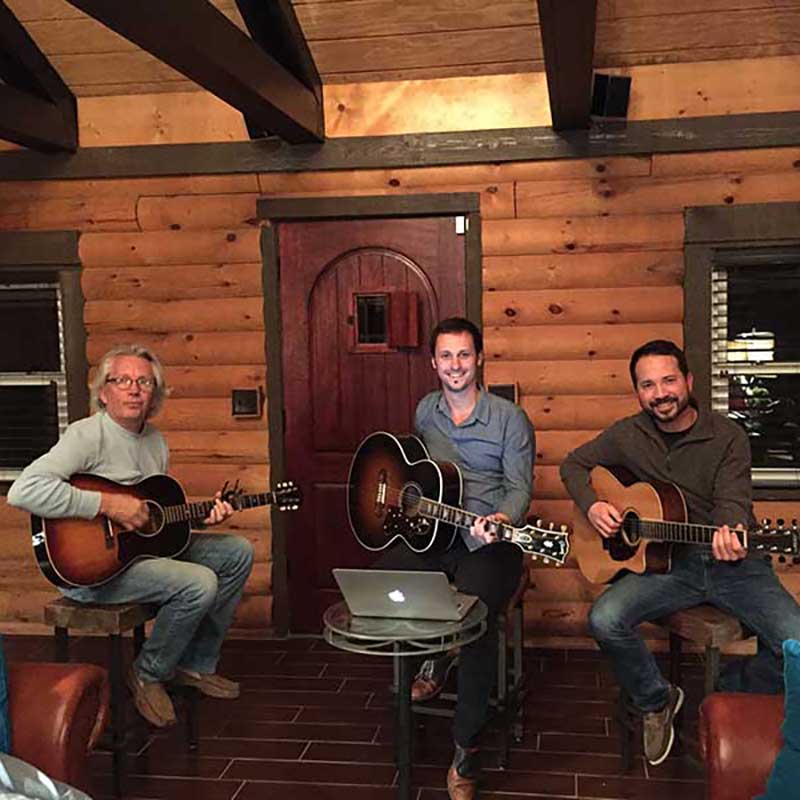 Tommy Jackson is the man with the golden ear, I learned, sitting with him in his recording studio at First Note Farms.
He invited Jamie Kent to write music at First Note Farms on a tip from Dave Brainerd, producer of the Grammy-nominated country artist Brandy Clark, after Kent opened for one of Clark's shows in New Hampshire.
Two years later, Kent's album, All American Mutt, opened at No. 16 on the Billboard Top Country charts. Rolling Stone named Kent one of "Ten Country Artists You Need to Know" last year.
Jackson heard the star in Alyssa Senseney as soon as he listened to the schoolteacher and mother of four sing at her sister's wedding. She, too, had recorded in the studio where we were sitting.
He heard the star in Jacque Jordan, when his brother, the musician Tim Jackson, invited her to audition at First Note Farms.
Tommy was sure that audiences would be as surprised as he was to hear such a soulful, bluesy voice coming from a wide-eyed college student.
As Jackson played tracks from these artists, his eyes lit up as though he were reliving those moments of discovery.
He explained that his music company, First Note Entertainment, is so named "because we find the note first — we discover the artist, the song, before they become known."
Standing Ovations
A top-ranked financial advisor in Birmingham, Alabama, Jackson founded First Note Entertainment in 2010 after buying out his brother's catalog of songs. Because his brother, sister and mother all settled in Walton County, Jackson always considered it a second home.
Based in Santa Rosa Beach, First Note Entertainment develops artists, publishes songs, produces live performances and has recently launched the digital music platform First Note Play.
Jackson opened First Note Music Hall in 2012 and began inviting rising stars to perform to sold-out crowds in Santa Rosa Beach.
His shows were unique in showcasing several performers from multiple genres — country, pop and singer-songwriter — each playing a few of their very best songs. As master of ceremonies, Jackson himself introduced each performer.
Two years later, he sold the venue as an investment property; it is now the restaurant Trebeaché. For the past several years, First Note has worked with local venues to stage showcases, including Trebeaché and WaterColor, the planned community in Santa Rosa Beach.
Twenty performers have stepped from the First Note stage into major label record deals. "Our audience is known for standing ovations," Jackson said and smiled.
First Note Farms was born in 2015 when Jackson bought 90 acres of coastal farmland in Santa Rosa Beach and developed it into a retreat to host songwriters.
There, in addition to helping artists write and work on their performances, Jackson works with them to formulate business plans.
Based on the impact that online discount brokerages like eTrade had on the financial services industry, Jackson foresaw what music streaming services would do to the ability of musicians to make a living from their songs.
"Music is pretty much free now, as far as the artist is concerned," he said. "We teach artists how to position themselves to be able to make money from a tour and merchandise."
Far from Nashville
Jackson likes to describe First Note Farms as a vision, and from a rocking chair on the front porch, I had to agree.
He remodeled the existing farmhouse with four bedrooms to house performers with plenty of space to play music, and a recording studio to get down inspiring first takes.
"They're used to writing in cubicle environments. Here, they're going to the beach," Jackson said.
He showed me the trails where four-wheelers roam, and the pond stocked with fish where artists can cast a line.  From a picture on Jackson's phone, Brian Melo, former winner of "Canadian Idol" and currently with the popular group Apollo's Crown, grinned after he shot a gun for the first time on a range on the property.
He looked like he was having a blast.
"You get musicians out here and they relax and have fun, and then you see three or four disappear with a guitar and you know they're writing," he said.
Indeed, First Note Farms is far from Nashville and New York. The Gulf of Mexico is just 4 miles away.
"Every time songwriters come down here, they go out on the beach and decide to write about it," Jackson said. It seemed like common sense to produce an album in tribute to the people and places of 30A.
Distributed by First Note Play, Come Away to 30A features songs by First Note artists Jamie Kent, Tim Jackson, Lindsey Thompson, Will Thompson and Anthony Peebles.
Getting the album right has mattered to its producer. Jackson asked the owner of The 30A Company, Mike Ragsdale, whether he approved of Jamie Kent's single, "30A Sticker," an homage to the iconic blue emblem appearing on bumpers across the region.
He also got the thumbs up from the owner of Bud and Alley's, Dave Rauschkolb, who inspired another set of lyrics on the album.
Tommy Jackson used his financial expertise and ear for talent to create a retreat for gifted musicians at First Note Farms.
Something to Build on
Jackson believes he can bring serious attention to an area that's already serious about music.
He said he's impressed with acts like Chris Alvarado, Duke Bardwell & the Boys, Dread Clampitt and Forrest Williams Band, and with the 30A Songwriters Festival that already draws thousands to South Walton each January. "I want this place to be like Muscle Shoals in Alabama, or Austin, Texas," he said.
The local music scene is something to build on, Jackson believes. Literally. We walked around the grassy pond at First Note Farms where he envisions a music venue with a large deck overlooking the water and big enough to hold 350 music fans.
How soon this will happen depends on obtaining permits to build, Jackson said; then again, he has already managed to accomplish a great deal at First Note Farms in a short amount of time.
Starting in 2018, Jackson wants to host three music festivals each year.  Standing in Jackson's field, looking at the tranquility that surrounded us, I asked if inviting the public into First Note Farms would spoil the haven he has worked so hard to create.
Jackson responded with what could be called an essential truth of his business model: "As much as artists love sanctuary, they also love to be on stage.