Fireplace Ambiance
Discover the ideal fireplace for your home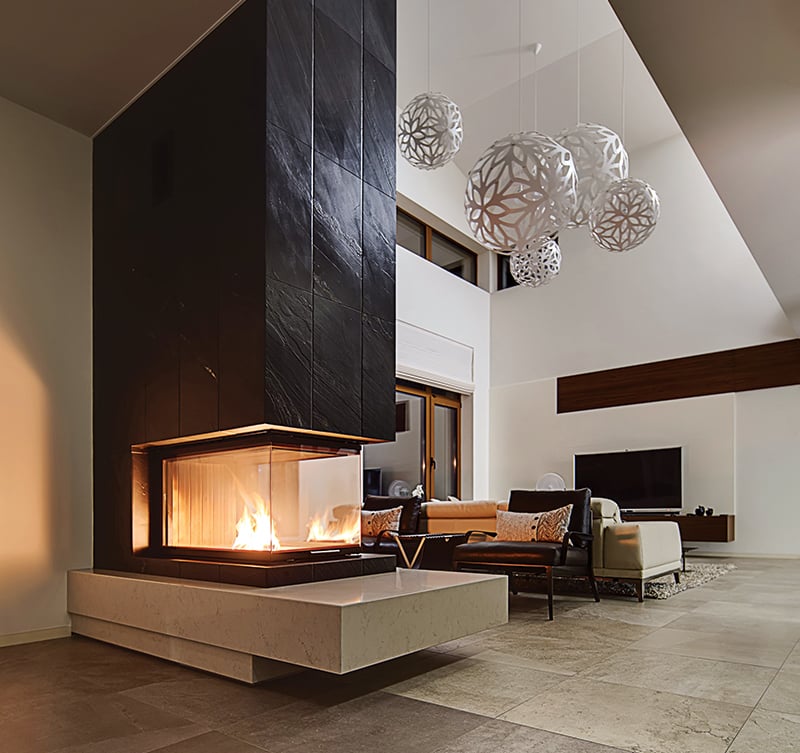 Fireplaces are inviting and purposeful. They not only keep us warm on chilly evenings but become a natural focal point in any room. With numerous types of fireplaces, it's vital to assess your needs before purchasing a new one. Whether adding a fireplace to new construction or an existing house, the range of options is dazzling, trending from sleek, linear models to traditional mantel designs.
"You need to establish how you want to use the fireplace and what you expect from it," advises Todd Pumphrey, president of Hearth & Fireplace Creations in Valparaiso. "For example, depending on where you live, you may want a fireplace more for its looks than whatever heat it may produce. And, of course, you must consider costs, maintenance and above all, whether you want to go with wood, gas or electric."
Gas fireplaces
If you're looking for a fireplace that involves minimal mess, a gas type could be just the ticket. It doesn't produce smoke or ash and includes convenient features such as remote-control operation, a timer and a thermostat. Some can even connect to Wi-Fi, so you can start the heating on your commute home from the office and walk into a perfectly heated home.
Both Pumphrey and Peter Horn, owner of Artisan of Seagrove Beach in Valparaiso, say that gas fireplaces are the overwhelming choice in Northern Florida. Styles include long and slim modern designs. However, if traditional is more your style, a gas fireplace fits well into a classic mantel. For both options, you'll need access to natural or bottled gas.
There are different ways to vent a gas fireplace, explains Horn. Flues can run up, down or sideways, which makes these fireplaces suitable for most property types, including apartments and townhouses. Vent-free gas fireplaces are also available. They are highly heat-efficient, but Horn warns that they can produce an odor that some people might object to.
There are many different sizes and looks of gas logs, so Pumphrey suggests that interested buyers see them switched on before purchasing.
Wood-burning fireplaces
It's hard to beat a wood-burning fireplace. The flickering flames are amorous, and a natural fire is perfect for roasting marshmallows. However, it requires a fair amount of work and maintenance, including gathering wood logs, lighting the fire, cleaning out ash and chimney sweeping.
There are built-in types with intricate masonry, modular masonry and zero-clearance models. Zero-clearance designs are premanufactured models that can be installed directly against combustible materials, including wood and paneling. The latter is the most popular, notes Pumphrey, because it's easy to install and requires less structural support.
In addition, free-standing fireplaces range from traditional, country-style stoves to sleek, contemporary designs, such as pod-styles, that serve as functional art. They can be installed in any room but should be mindfully kept away from kids and pets to avoid collisions or burns.
Electric fireplaces
Electric fireplaces are the ideal option if you don't want the hassle of a flue and hope to take your fireplace with you should you move. Pumphrey says these designs have undergone vast improvements and look entirely different from a few years ago; they are a quantum leap from those made 20 years ago.
"They are so realistic that visitors to our showroom don't realize they're looking at an electric fireplace," he says. "We typically have to point it out to them."
Jack Goldman, CEO of the Hearth, Patio & Barbecue Association (HPBA), agrees. "It's no wonder electric fireplaces are trending," he said. "They are gorgeous. You know those stunning, long horizontal fireplaces you often see in hotel lobbies? They're now in living rooms, bedrooms and even bathrooms."
---
More Info
For more information, visit HPBA's website to discover greater details about fireplaces, stoves and heater elements. The how-to resources page also informs visitors about wood and pellet tax credits, tips for installation and a long gallery of inspiration.
---