Finding Solace
Become one with nature, and enjoy sweet stress relief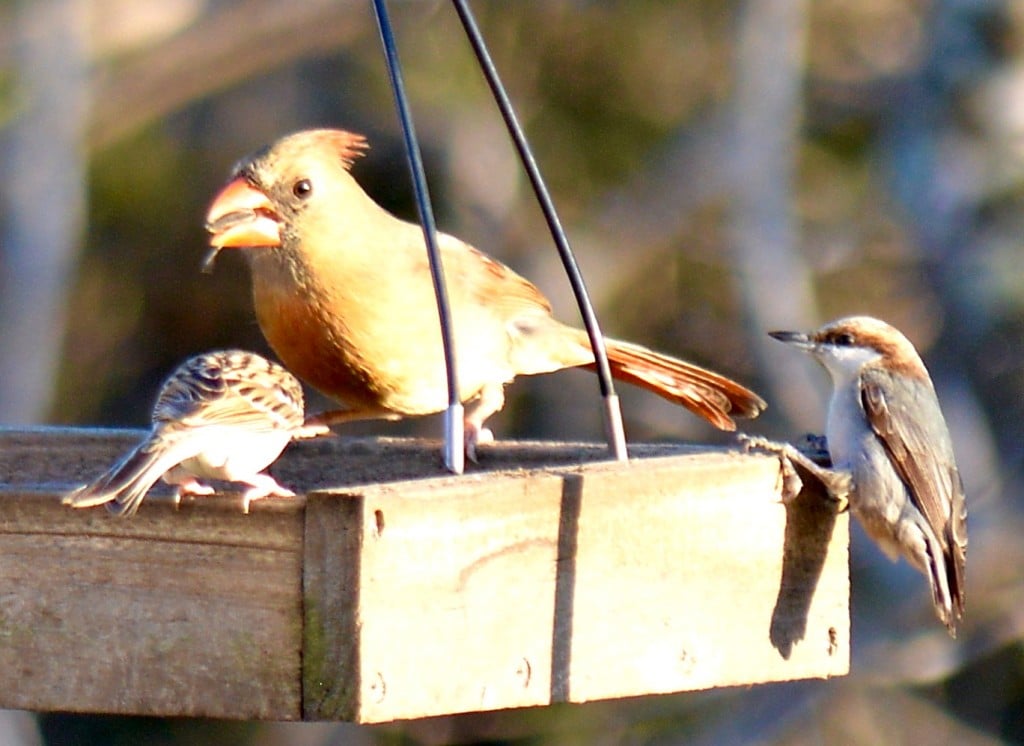 While filling the bird feeder this morning, I was joined by a brown-headed nuthatch who greeted me at close range — our faces were separated by no more than six inches, never mind six feet — with its two-syllable song, closely resembling the sound a dog toy makes when squeaked.
The diminutive bird, equipped with a chisel-like beak that appears too long for its head, selected a millet seed from the mixture in the feeder and disappeared in the nesting box that I tacked to a pine in the conservation area behind my house a few weeks ago.
The BHN likes to shoot almost vertically, like a Harrier jet, to the tip-tops of tall trees. It is among those species that defies that definition of humans, long since passé, which held that we are unique as tool users. It is seen, according to the authoritative website of the Cornell Lab of Ornithology, to use bits of bark as a pry tool to uncover food hiding in the trunks of trees.
Not far from the feeder, a mated pair of bluebirds made repeated trips to another nesting box, mounted on a post. Bluebirds, presumably the same pair, occupied the house a year ago and raised two broods.
I have noticed in recent days that people along my street, folks who heretofore had paid no attention to birds, are putting up feeders and nesting boxes. The pandemic, I believe, has something to do with the spike in that activity.
"Our customers have been calling to ask if we are open and to make sure that they will be able to get their supplies," said Richard Duncan, who owns the Wild Birds Unlimited Nature Store franchise in Panama City with his wife Karen. "They are commenting on the pleasure and the relief from bad news that watching the birds gives them."
So it is that Duncan, to date, has experienced no decline in business despite the widespread impacts of the COVID-19 virus. And, so far, he has experienced little supply-chain disruption.
"I have one supplier that I can't get product from right now, but they are not a major one for me, fortunately," Duncan said. "They are located in St. Louis, where everything is locked down."
To this point, Duncan is welcoming people to shop inside his store, but, for some, he places telephone orders on the curb outside the business.
The coronavirus notwithstanding, "nesting season is underway and it's an exciting time of year," Duncan said. "Given the way that Hurricane Michael thinned out the tree canopy, bluebirds are flourishing. We are seeing them now in numbers in the Cove and St. Andrews (neighborhoods of Panama City), where we didn't used to see them. Before long, the fledged juveniles will be flying about."
There is, for me, much that is enriching and confidence-inspiring about the resiliency and adaptability of the natural world. Wildlife refuges are human refuges, too, places where we can relax, recharge, recommit.
And, don't underestimate the power of a tiny bird. In moments that I spent at the feeder this morning, there was just me and a nuthatch, nothing else.