Finding Calm in Chaos
Pensacola artist Ryan Mayall unleashes emotion on the canvas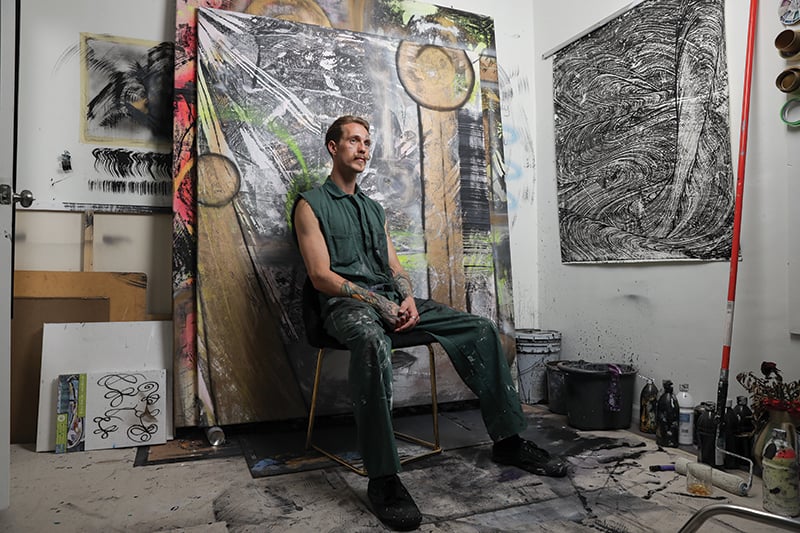 For Pensacola abstract artist Ryan Mayall, everything in life is art.
Mayall found his first creative identity in poetry after experiencing a breakup in 2014. He was on a flight home when an unfamiliar sense struck him.
"I couldn't form coherent thoughts within myself, like nothing made any sense," Mayall said. "I was just completely irrational within my own mind."
He was having a panic attack. As the concentrated stress and anxiety consumed him, something spoke out from within, compelling him to write. Heeding this prescription, he took to his notebook.
"That was my first experience of using creativity as an outlet for my emotions," he said.
Mayall continued to write, crafting and self-publishing 18 copies of his collection entitled EartHeart.
In 2016, Mayall found himself called to a new creative realization when a visit to a friend's house sparked inspiration.
"She had a canvas on her kitchen table, and she was just pouring paint on it, moving it around," Mayall said. "And at one point, she looked at a section of the canvas and said, 'Wow, it looks like an elephant.'"
Mayall described watching her work as an "aha moment," adding, "With imagination, there is no limitation."
That evening, he felt a sense of determination. Mayall took some acrylic paint from the craft store, stripped a mass-print canvas from his wall and sacrificed it to the moment. Thick brush strokes covered the design with black pigment. Then, he poured various colors across the surface.
"(It was) just a total emotional release," he said. "And then, I found myself crying."
Three cathartic paintings later, Mayall had found a new outlet to explore.
"With painting, it is a universal language," he said. "And I had this realization that through writing, I was limited to English."
Mayall's artistic language is instinctual, spontaneous and abstract. He appreciates that the interpretation of his work is left open to the observer.
"With abstraction, it's an opportunity to give people a new reality," he said.
Mayall started out experimenting with fluid painting, but he soon graduated into his own style through an accidental act of design born from an eager impatience.
In an attempt to quicken the drying process, Mayall pressed his wet, painted canvas against an unpainted canvas. He realized, when separating the two, that he was creating art through the impression alone. That moment moved him toward his signature monoprinting style.
Mayall's paintings emphasize light and dark with primarily black and white impressioned backgrounds. He incorporates theme and symbolism through design. Brushstrokes speak to movement through darkness. Minimalistic color calls to emotion. Gold circles are representative of spirit. Environmental elements mirror the human experience.
"I really like to add insects and snakeskin, found objects," he said. "I've got some iridescent and reflective films that I really like to use. But one thing I like to touch on mostly is the butterflies."
Mayall became fascinated with butterflies and moths, studying their colors and design, but he was especially intrigued by their lifespan.
"They're just such a delicate and unique beauty," Mayall said. "They seem to be very abundant. There's so many of them, but with each one, they live a very short period of time."
Preservation of existence translates to legacy. Mayall hopes that the legacy of his work will continue to have an impact long after he is gone.
"The paintings have always been chaotic, but there's always been one message of, I guess you could say, hope," Mayall said. "I hope it will be a moment of self-realization and peace for the viewer."
Mayall currently works out of his home studio in Pensacola since separating from Easy Going Gallery where he served as co-founder and art director. There, he sought to create a space for artists to rise through solo exhibitions. Ultimately, he left the gallery to pursue his own individual vision.
"In Pensacola, there were no galleries to be found that an artist could exist by themselves," he said. "I love the power of community, but I also love the power of one person's story."
Mayall's work has been featured in Fort Walton Beach at the Maxine Orange Gallery and can soon be found at interior design studios in Pensacola and 30A. He's found success selling his work nationally and internationally to art collectors through his online platforms and website, RyanMayall.com.
---
Translating Art
In an attempt to describe his style, abstract artist Ryan Mayall returned to his first creative love, using poetry as a tool to communicate the general theme of his artistry.
The darkness can be uncomfortable
And when it is, we forget that we
Have the ability to turn the light on.
The movements are meant to comfort you,
Give you a sense of direction
As you navigate through the dark spaces.
The colors are levels of emotion.
The circles are a reminder of wholeness
In the ever-present holiness.
The gold is the common thread between all things,
The androgynous expression unifies everything.
A melting pot of light and darkness.
I can hide in plain sight,
But with the right angle,
It presents itself.
Throughout this journey of observation,
We are remembering to turn the light on
to enlighten.
To open the doors that we closed.
— Ryan Mayall
---