Escape From Ukraine
Breakout of war interrupts an adventurer's travels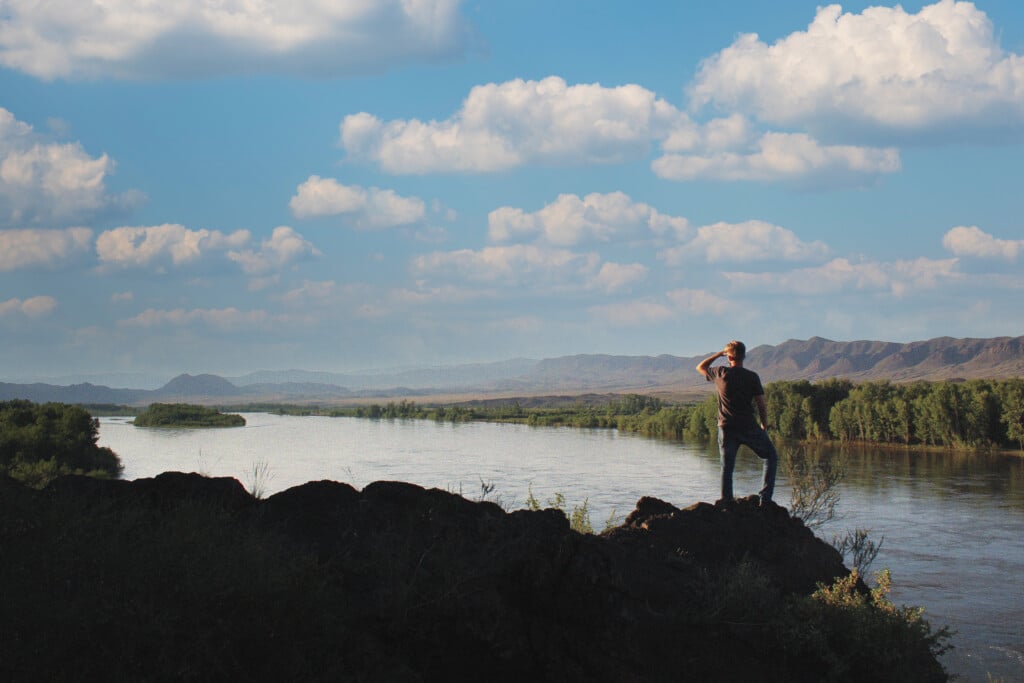 His parents barely recognized him. His sandy hair, bleached by the sun and more than shoulder length, framed a full, bushy beard. His skin was darker then it had been, his limbs more sinewy and his eyes brighter.
For the returning Frank Eastham, years spent backpacking through Asia and hitchhiking and couch surfing his way across Eastern Europe had been the "best times of his life."
He pulls out his phone and shares with me his passport photo in which he looks more than a little bit like Tom Hanks did at the end of Castaway. Today, in a conference room at the Panama City Beach-based business incubator and co-working facility TechFarms, Eastham is clean-cut, fair and the picture of the mechanical engineer I'd expected to meet.
His story, he warns, is a long one and begins with a bad case of wanderlust.
After earning his mechanical engineering degree at Virginia Tech, Eastham, who grew up in Maryland, landed a civilian engineering job at the Naval Surface Warfare Center Panama City Division. After eight years on the job, he abruptly quit.
"My life had been get good grades in high school, go to university, take on a tremendous debt, get a job, pay the debt down and dedicate your time to dealing with bureaucracy," explained Eastham, now 36. "I enjoyed my job, but realized I had left little time for life, and I was in one big grind."
Eastham had never left the United States but always considered himself an adventurous person. He asked himself, "Where's my adventure?" About to turn 30, he felt some urgency about finding it.
DIRT BIKES AND FAIRIES
He calls his first destination the "digital nomad capital of the world."
Chiang Mai, a small city tucked into the mountains of northern Thailand, was at the time of Eastham's arrival in 2015 at the forefront of the remote working movement. He calls it the "digital nomad capital of the world."
"I went there with the intention of finding a low cost of living, low obligations and devoting my free time to self-improvement," Eastham said.
Most of the friends that Eastham would make there were from Canada. He began going to the gym every day, riding motorcycles and making a study of the investment business. He had money, which he had earned as a partner in developing a housing for GoPro cameras.
"After finding my footing, I was ready for the next thing," Eastham said. "I backpacked throughout Southeast Asia, hitting Cambodia, Vietnam and Malaysia. My destinations were the unconventional. I wanted to go to places people thought you wouldn't want to visit and see what we're missing."
Eastham indulged his curiosity about Russia and embarked on a two-month trip to St. Petersburg. He took side trips to Sochi, Moscow, and Tbilisi, Georgia.
But Cambodia beckoned. He moved into a co-working and shared living space in Siem Reap, home to the Angkor Wat Hindu-Buddhist temples and expatriates living frugally. Go there, and it's like traveling 2,000 years into the past.
"One of my dreams was a motorcycle trip to nowhere," Eastham said. "While I was in Cambodia, I rode around for two weeks on this old 1993 dirt bike. You can't get proper parts for it, so I'd be in hotels making my own, fixing the carburetor, just experiencing the ultimate freedom. The next morning, I'd get on my bike and think, 'I wonder where I'm going to go today?'"
Eastham had fully entered adventure mode. A man he had met in Russia asked if he would be interested in hitchhiking across Siberia (in the summer), and Eastham immediately said, "Sure!"
The Russian man, Igor, is from Norilsk, the northernmost city in the world. He is an expert on traveling for free, and Eastham agreed to join him on a two-month-long trek.
Departing Krasnoyarsk, the pair caught rides, crashed on couches in remote villages and camped when necessary on their way east.
One of their most memorable stops was Lake Baikal, a primeval rift lake that is more than 5,000 feet deep. Eastham describes it as a liminal space somewhere between Russia and Tolkien's Middle Earth. Log cabins dot the lake's banks, which are populated by cedars, firs and spruce, and the air is infused with magic.
"If you were to see a fairy float by, you'd just be like, 'Yeah, that tracks,'" Eastham said.
The friends dipped south to Mongolia, where they stayed in traditional yurts in nomadic farming villages. Eastham said the people there were among the happiest he's met. There, he hopped on a dirt bike and helped his host family's 12-year-old daughter herd thousands of sheep and goats.
The pair next traveled to the Tuva Republic in southern Siberia — despite a Russian girl's warning that they would be killed there. Eastham said the tribes of Tuva are ethnically similar to Mongolians but have their own language.
"Apparently, Tuvans aren't crazy about white people," he said. "But we went, and it was fine and beautiful, like the Colorado Rocky Mountains. I started to think, 'Wow, I'm probably the only American who's ever dared come here.'"
Well, maybe the second. A Tuvan who gave Eastham and Igor a ride told them about an American named Shawn who had settled in Tuva 20 years earlier. He fell in love with a Tuvan girl, became a father several times and mastered the Tuvan language to the point where he now teaches it.
"What's funny is a van full of his family ended up giving us a ride out of Tuva," Eastham said. "His wife and kids were in the car, but he was not. One day, I'll meet him."
THEN CAME WAR
By the end of his Siberian summer, Eastham realized he needed to reintegrate into society.
He wound up back in Chiang Mai, and it was at about that time Eastham received a "fateful" call from TechFarms founder and CEO Steve Millaway. The two had known each other since Eastham's time at the Navy base, and Millaway was curious about his adventures.
"He suggested there were opportunities for hiring software developers in Eastern Europe," Eastham said. "To his thinking, Ukraine was a resource. I'd always wanted to visit Ukraine, and I've always admired Steve. He has good business sense, and if he thinks it's a good opportunity, it must be."
Two weeks later, Eastham was on a plane to Ukraine. He met with developers and soon connected with Shawn Hoffman, who would join Millaway and Eastham in establishing a software development company, Teknika.
Comprising 30 employees in the United States and across Eastern Europe, Teknika develops mobile apps, web applications and custom software. Bolstered by developers in Kyiv, Teknika took off in 2019, and the next three years, Eastham said, have been "busy."
Eastham fell in love with a Ukrainian woman, Jenya. They married and soon welcomed a daughter, Kira. Eastham said Teknika survived the COVID-19 lockdowns in good shape, and things were picking up again.
Then, war came.
"A lot of people thought it would be over in two days," Eastham said. "I wasn't that worried about it. We lived in a totally civilian part of Kyiv and thought it would be a political thing, and life would go on. Then it started getting more serious."
Eastham had applied for a marriage visa for Jenya six months earlier. When an invasion looked imminent, he contacted the U.S. embassy to expedite the visa so they could seek asylum in America. With one final appointment scheduled before the visa could be granted, U.S. embassy personnel left Ukraine.
"I had already prepared our apartment," Eastham said. "We had a generator, food, water and I'd been stockpiling supplies just in case. One day, the war just sort of kicked off, and we thought we could ride it out. Plus, Jenya's family and my employees were here, and there was this sense of not wanting to leave people behind.
"We were living on the edge. Foreigners in Ukraine began forming these groups on Telegram (a global instant messaging service) and exchanging rumors, information and planning where to meet if things went down. One morning, I woke up, read that the Belarus border has been crossed and start hearing explosions."
Eastham said society began breaking down, and it became too dangerous to venture outside. A gunfight broke out at the metro station Eastham frequented. Police essentially stopped working as Territorial Defense Forces began patrolling the streets, and paranoia about infiltrators grew among Ukrainian citizens.
The same day Russia crossed the border, Eastham was infected with the COVID-19 virus.
"Right when I need to be ready for action, I'm down," he said. "I thought if it got 30 percent worse, I'd need to go to the hospital. But the hospitals weren't open, and most pharmacies were closed."
When Eastham developed trouble breathing, he went looking for an asthma inhaler in hopes of dilating his airways. He kept his head down as he walked in search of an open pharmacy. Finding one, he waited in line as his phone pinged with Telegram notifications about possible air strikes in Northern Kyiv — precisely where he was standing.
He felt the explosion before he could see it.
"Right down the street is this big, beautiful orthodox church, and you could see the explosion behind it," Eastham recalled. "It felt apocalyptic, like something you'd see in a movie."
Eastham made it home and hunkered down. Everyone he knows flooded his phone with concern, but it was safer to be inside than to be on the road.
"It's kind of like a hurricane; you either evacuate before it comes, or you hunker down when it arrives," he said.
With the help of his father-in-law, Eastham and his family took a train to Lviv. A bus then transported them and other refugees to a spot two miles outside the Polish border, and Eastham walked the rest of the way with his wife and baby girl in the dead of night.
Thirty-two hours after they left their Kyiv apartment, they had a place to sleep in Poland.
When his wife's visa was finally approved, Eastham moved his family into a rental home Steve Millaway had kept open for him in Panama City.
"Steve gave me a soft landing," Eastham said. "I have a place to live, a place to work, but how many hundreds of thousands of people can't say the same?"
Millaway's drone company, AeroTech Corp., is currently manufacturing unmanned aircraft capable of detecting unexploded ordnance and land mines.
"My hope is that the drones take off, we get the funding we need and I get to go back to Ukraine to help with them," said Eastham. "I have a whole life I left behind in Ukraine. The war doesn't seem to be slowing down, and I do worry about the winter.
"I know it sounds bizarre saying I'm excited to go back, but you know what? It's another adventure."
---
---