Equine Energy
Therapist mends hearts and minds with the spirits of horses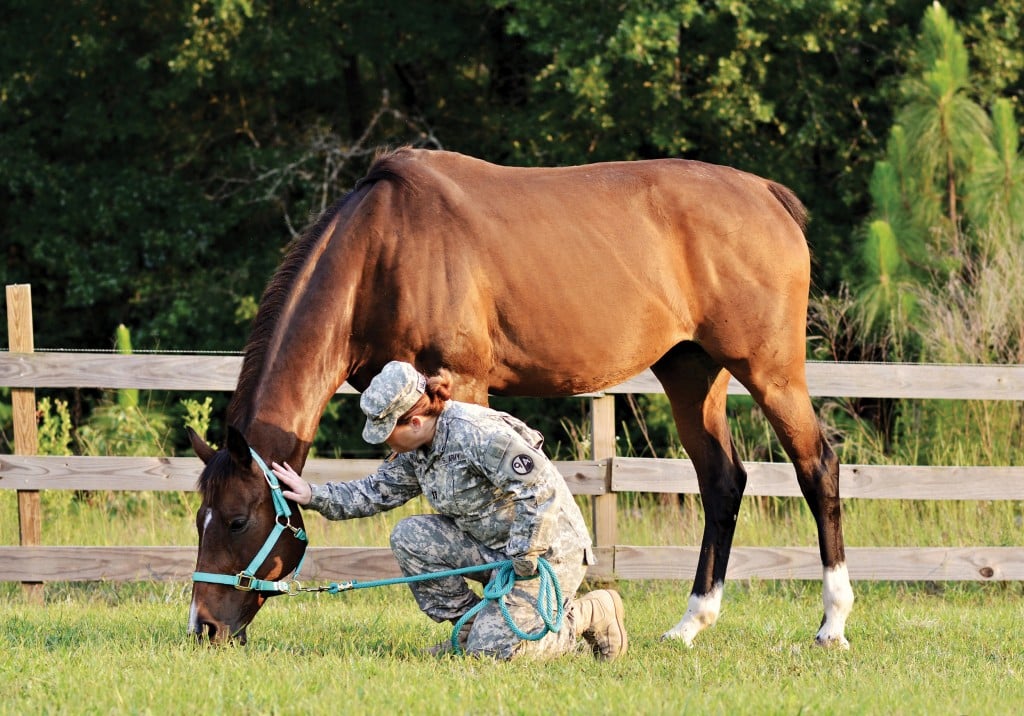 As far back as she can remember, she loved horses, and over time, they overtook her life.
Narissa Jenkins is the CEO and founder of Healing Hoof Steps. The organization, established in 2017, offers equine-assisted mental health counseling and therapeutic riding services. It is located less than a half-mile off U.S. Highway 90 in Crestview.
Humans live every day with regrets, worries and apprehension about the past and the future. By contrast, horses, as prey animals, must stay alert and in the present to survive.
"It's a unique experience for humans to get centered back into today," Jenkins said. "Anxiety lives in the future, and depression lives in the past — neither of which we can do anything about."
Before buying the acreage where her business is located, Jenkins was a cog in a corporate machine. She had begun to ask herself it there was going to be more to her life than making money.
Her future husband encouraged her to take up a hobby, and she began to ride.
"It was my horse that inspired me to make that jump from corporate America to start a nonprofit where nothing existed," Jenkins said about her creation of Healing Hoof Steps.
After spending several years looking for someone to help start her program, she crossed paths with Connie Baldwin, who worked as a team leader for equine therapy retreats with the Lone Survivor Foundation.
"That was the beginning — having somebody that understood what I was trying to do, how to do it and how to use this model of therapy," Jenkins said.
Now, Baldwin is the clinical director of Healing Hoof Steps, and she's helped Jenkins' dream come to fruition.
Jenkins, the daughter of a combat search-and-rescue Vietnam veteran, said she grew up not understanding why her family didn't attend happy occasions such as parades and fireworks displays. As an adult, she came to realize that such avoidance was rooted in her father's traumatic war experiences.
She feels a deep connection to veterans and to their families who struggle alongside them. Veterans often resist suggestions that they consult mental health professionals. They may believe they can tough things out on their own, or they may find that counselors who have never experienced combat cannot relate to what they went through in war zones.
"To be able to help families heal, even if it's just a little bit, it's worth it," she said.
Healing Hoof Steps is one of just 27 programs in the United States that receive funding for mental health through a Veterans Administration sports grant.
"We've got to start making it OK to get help; we've got to take the stigma away," Jenkins said. The grant allows veterans to receive services they need without the fear of documentation and how it could affect their careers.
According to demographics listed on the VA website from 2018, Florida's 1st Congressional District has the highest number of military personnel and veterans per capita in the country. The district extends from the western edge of the Florida Panhandle to just west of Panama City.
Healing Hoof Steps serves veterans, at-risk youth and people who suffer from trauma in many forms. The program is open to clients age 5 and up. The business employs three licensed mental health counselors and one clinical psychologist, who were all trained per the Eagala Model of equine therapy standards.
This form of therapy uses metaphors and interactions with horses to help patients. One scenario, Jenkins explained, involves a patient filling a bucket with scoops of horse manure. Each scoop represents a problem or worry, and patients are required to carry the bucket throughout a therapeutic session. The weight of the bucket becomes a burden and illustrates a truth: We should put some things down rather than carrying them with us in everything we do.
In February 2020, Healing Hoof Steps added a therapeutic riding program led by certified instructors who take a holistic approach to patients with physical, emotional and behavioral conditions. The riding sessions may be coupled with counseling sessions, depending on a patient's needs.
Jenkins is planning to better serve the community with an expanded program. Healing Hoof Steps will be collaborating with Alaqua Animal Refuge to provide weekly mental health sessions in Freeport, something Jenkins and her team are very excited about.
"Watching my childhood dream help foster others' healing and their dreams is the coolest part of this whole thing," Jenkins said.
EQUINE THERAPY
Promises Behavioral Health, a business with offices in four states including Florida, cites five areas in which horses can effectively teach people lessons: identifying and coping with feelings; communication and interpersonal skills; setting boundaries; overcoming fears; and trust. Promises Behavioral reports that horses, due to their strength and size, can bring up unmet needs, fears, past trauma and feelings of inadequacy or lack of control. Equine therapist Dede Beasley says many people fear that a horse won't like them and might hurt them physically or emotionally. Rather than trying to escape or get defensive, people learn to tolerate and​​ process the emotion. "When I do equine work, I feel like I'm witnessing grace. In the barn with the horses, everything is just as it should be," Beasley says. "These special animals allow people to bring all kinds of issues into the horse's world and accept them as they are, imperfections and all."