Emerald Coast Couple Release New Cookbook Flavor For All
So much of life revolves around food and rightly so.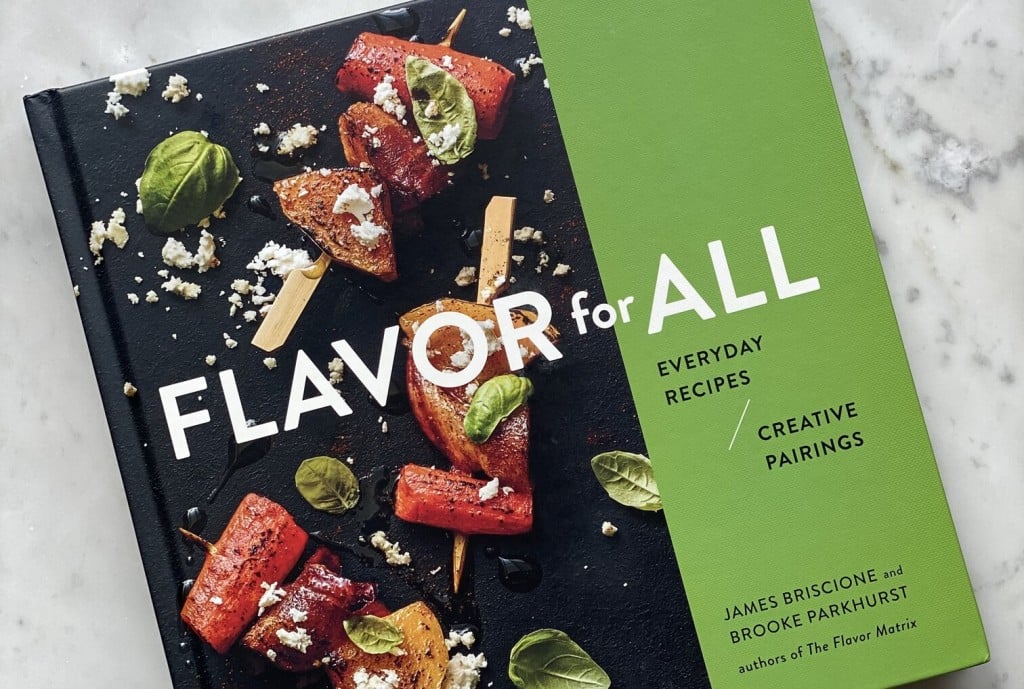 So much of life revolves around food and rightly so. We not only need it for nourishment of our body, but it also feeds our soul. There is a science to food, one that directly correlates with our senses and coordinates with the taste buds on our tongues. James Briscione and Brooke Parkhurst are like scientists, delving into the chemistry of flavors that create cravings and cultivate emotions. 
Briscione and Parkhurst, authors of the 2018 cookbook The Flavor Matrix, have released a new cookbook titled FLAVOR FOR ALL: Everyday Recipes and Creative Pairings. Their first cookbook, The Flavor Matrix, was a highly popular, science-based reference guide for flavor pairings. Flavor For All contains much of that chemistry, of flavorful pairing, but in a more approachable form that features everyday recipes. 
"This cookbook is accessible yet science focused, which are two things that sound like they wouldn't go together, but they do," said Briscione. "In each recipe, there is something unexpected that has been proven to taste delicious while also being surprising." 
Think kiwi and jalapeno, chilled crab and apple, or asparagus and potato chips. The couple has taken home-cooked favorites and added an unexpected twist that enlivens your taste buds in new and exciting ways. 
As parents and business owners, they are keenly aware of the need for ease in the kitchen. They present recipes that are attainable yet enjoyable to both cook and eat. The cookbook welcomes you into their kitchen, while encouraging you to make each recipe your own.
"We hope to broaden our reader's horizons and make them more creative cooks who are more open-minded in the kitchen," said Parkhurst. "We are sure that within these pages you will find some of your new favorite recipes."
Briscione, Parkhurst and their two children cook recipes from the book together. One repeat every morning has been the bourbon-pecan-and-coffee sweet rolls. With fall in the air, their family loves the rich flavors of the pan-seared pork medallions with apples, balsamic vinegar and bourbon. The creamed kale and caramelized onion mac-and-cheese is a favorite of their 5-year-old son. 
The cookbook contains over 100 recipes that are sectioned by food group, with openers that provide helpful tips for gaining cooking confidence. The chemistry of flavors is explained in a guide to the six tastes: fat, sour, salt, umami, bitter and sweet. 
The couple's wealth of culinary knowledge stems from their extensive backgrounds in the industry. James began his career in the food service industry as a dishwasher, working his way up to being a chef in some of the top restaurants in Birmingham, Alabama, and New York City. Briscione is the first two-time Chopped champion and the former director of culinary research at the Institute of Culinary Education. 
"That was my culinary school, learning from chefs," said Briscione. "I have always been driven and taught by amazing chefs. It was in that on-the-job training that my passion developed, and I just kept pushing to learn more." 
Parkhurst is from a big family that introduced her to the art of cooking at an early age. In living abroad, she immersed herself in the culture of food. In New York City, she met a certain chef — and the rest is history. 
Currently, Briscione is the executive chef and Parkhurst is the wine director at Angelina's Ristorante Italiano. They produce regular content for The Food Network and have published four cookbooks together. Flavor For All is a cookbook that is comfortable enough for the inexperienced cook while also catering to seasoned cooks craving culinary knowledge. The recipes are fitting for a Thursday night dinner with the family or a dinner party where you want to impress. It truly is for all, as good food should be.